WE ARE BACK! HOT GIRL SUMMER 2021 TRAP POETRY TAKEOVER!
About this event
WE BACK OUTSIDE!!!
Learn how to RHYME like a poet/rapper, while dancing to CLASSIC TRAP and all of the classic TWERKING music! Then turn down at the end to enjoy some real poetry from the best poets in the South! Eat, drink, laugh, dance and shop all in one night! Vendors will be in the building!
DRESS CODE: HOT GIRL & HOT BOY SH*T!
Enjoy real drink specials with a real liquor selection!
Individual tickets are $35 (includes admission, complimentary drink, and writing supplies)!
NO TICKETS AT THE DOOR!!!!!!!!!!!!!!!!!!!!!!!!!!!!!!!!!!!!!!!!!!!!!!!!!!!!!!!!!!
Covid-19 Guidelines in FULL EFFECT
SUPER LIMITED CAPACITY
Everyone will be screened upon entry. MASKS ARE REQUIRED!
VENDORS/POETS WANTED
If you are interested please email us at TrapPoetryWorldwide@gmail.com
FOLLOW US ON IG/FB @ TrapPoetrySipnWrite
Doors open @ 7:30pm
Show @ 8:00pm
1212 E 10th St, Charlotte, NC 28204
Date: Saturday, June 19th, 2021
(Parking available in the front, and across the street at school parking lot).
Entrance is around the back of the building!
Please note that by purchasing a ticket, you are also giving us consent to record or include you in any photography & footage that may be captured.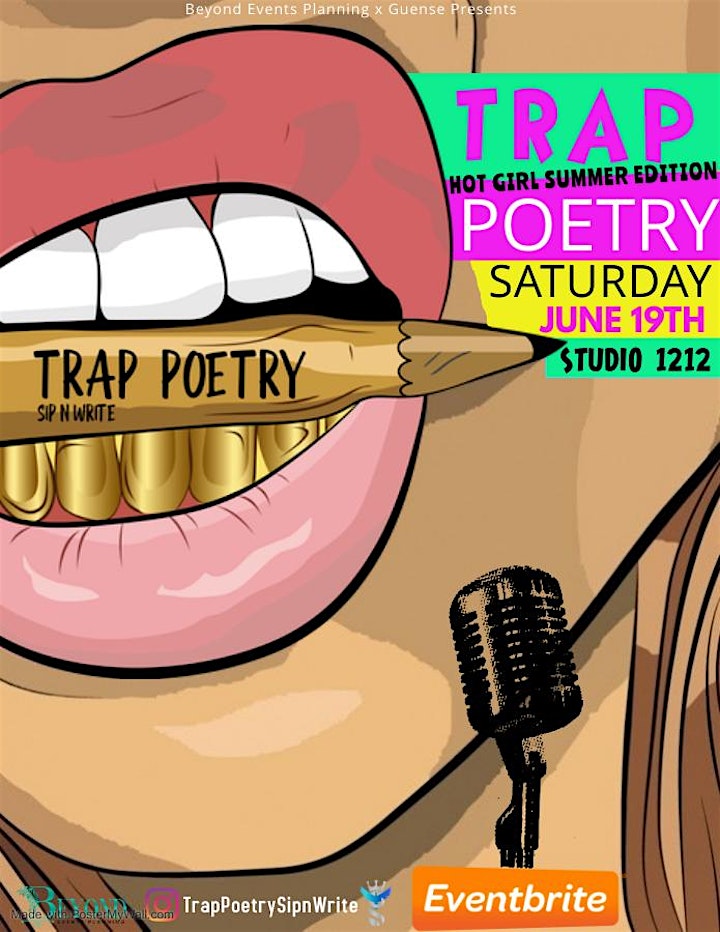 Organizer of JUNETEENTH HOT GIRL SUMMER TAKEOVER: Trap Poetry Sip n Write