Description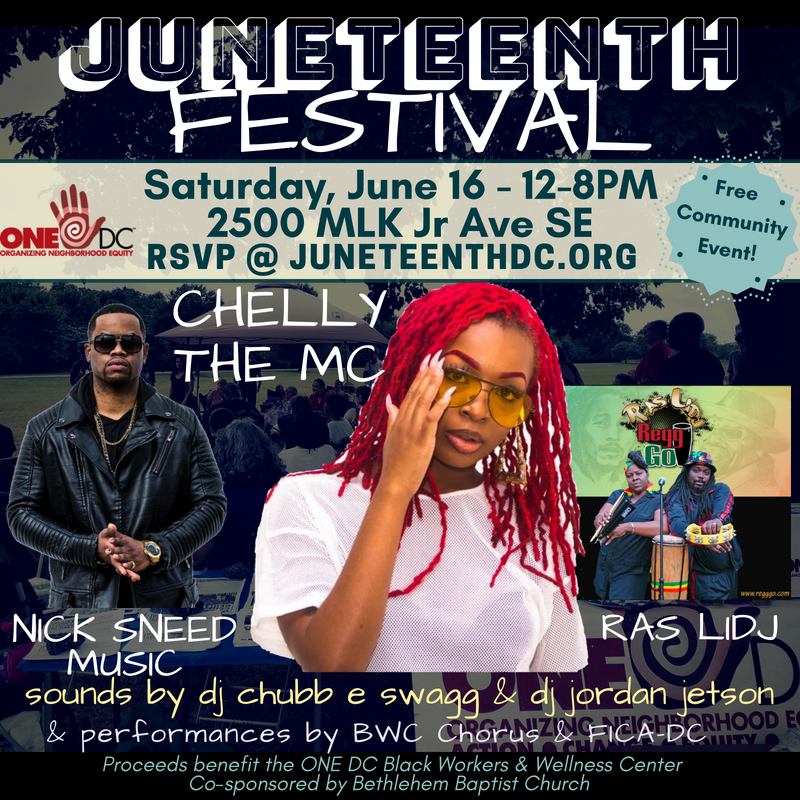 Juneteenth Festival will feature live music, featured speakers, food vendors, community outreach boothes, and local artists, crafters, jewelery-makers, & clothiers!

Featuring performances by: Chelly the MC, Nick Sneed Music, Ras Lidj & Deep Band, and sounds by DJ Chubb E Swagg and DJ Jordan Jetson. Community performances by ONE DC Black Workers Center Chorus and FICA-DC.
Event will also feature:
Learn the history of

Juneteenth

& why we continue to celebrate today
Live "FREEDOM" mural painting by the 411 Collective (volunteers & emerging artists welcome to learn & help!)
South Africa Photo Exhibit in honor of the 42nd anniversary of the Soweto Uprising
Community performances by the ONE DC Black Workers Center Chorus and capoeira group FICA-DC.
Commemorative

Juneteenth

t-shirts & posters for sale
FREE Ben & Jerry's ice cream starting at

1:00 PM

and free popcorn!
Pop-up shop with local jewelery-makers, artists, clothing companies, crafters & more
Community partner tabling - find out how to get involved organizing for justice in DC
Food trucks & food vendors
To sign up to become a vendor or outreach partner, click here.
---
About
ONE DC and Juneteenth on Georgia are excited to announce our Juneteenth in DC 2018 events celebrating Black liberation and justice! Juneteenth is an annual celebration to commemorate the emancipation of enslaved Black people in Texas on June 19, 1865. This is a time for us to reflect on our collective history of fighting for emancipation and equity, to celebrate and be joyful about our triumphs, and to recommit with passion and discipline to the current struggle for liberation.
In December 2017, ONE DC purchased the building at 2500 MLK Jr Ave SE to house our ONE DC Black Workers & Wellness Center, a member-led space that builds racial and economic justice through popular education, direct action and worker-owned alternatives. All proceeds received from Juneteenth will go toward our goal of fundraising to renovate & operate out of the BWC!
---
Can't make it?

Visit juneteenthdc.org for a full listing of all our Juneteenth events!