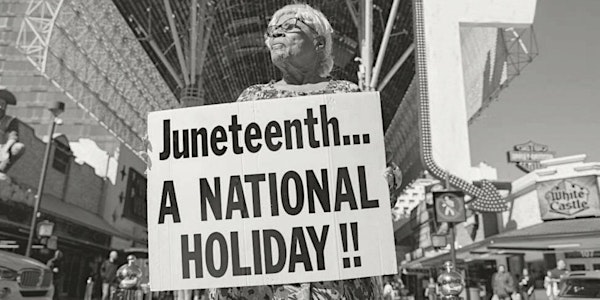 Juneteenth Federal Holiday Celebrations 2022 | Boulder County
Location
Various locations, Check Dates: Longmont Museum, Roosevelt Park, Boulder High School
700 Longs Peak Avenue
Longmont, CO 80501
Join us on June 16th-20th in celebrating the Inaugural Juneteenth Federal Holiday! Flag raisings, education, and community events!
About this event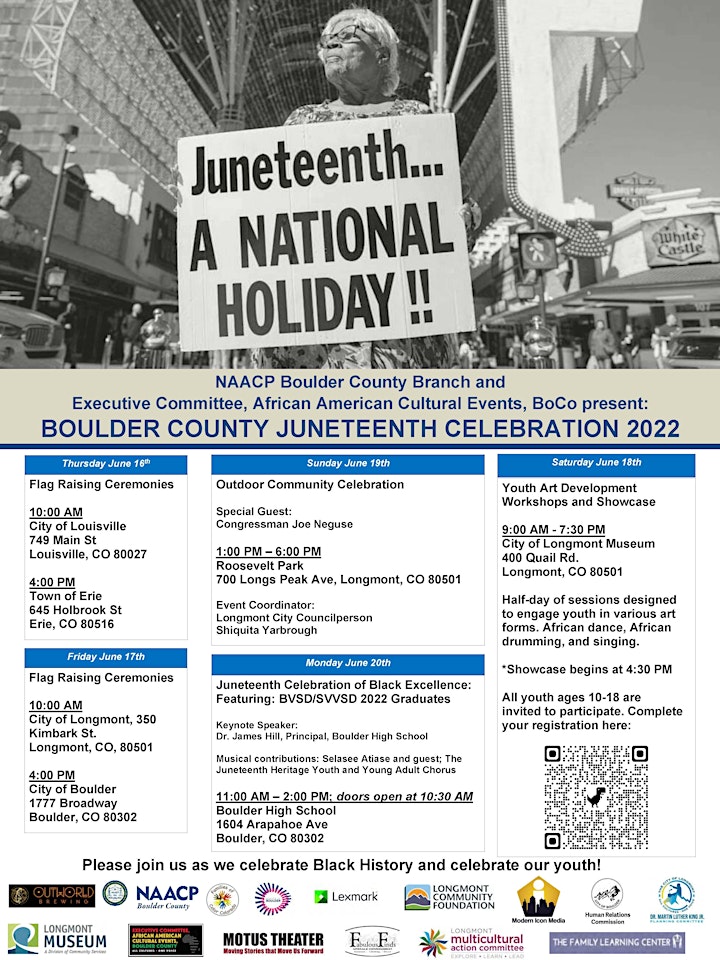 We're proud to be hosting the Inaugural Juneteenth Federal Holiday Celebrations for Boulder County! 7 events and celebration locations give community members the opportunity to experience history, culture, education, and grow their understanding of why Juneteenth is an incredibly important day in our history! These events are brought to you by the NAACP Boulder County Branch and ECAACE.
Read more about our events and their dates/times below!
Registrations help us make sure we have appropriate resources for each event and to keep you up to date on the activities - please register via Eventbrite!
Juneteenth Weekend Events:
June 16, 2022 - Flag Raising Ceremonies *Various Locations*
City of Louisville, 10:00 am
749 Main St. Louisville, CO 80027
-
Town of Erie, 4:00 pm
645 Holbrook St. Erie, CO 80516
---------
June 17, 2022 - Flag Raising Ceremonies *Various Locations*
City of Longmont, 10:00 am
350 Kimbark St. Longmont, CO, 80501
-
City of Boulder, 4:00 pm
1777 Broadway Boulder, CO 80302
----------
June 18, 2022 - Youth Art Development Workshops & Showcase Performances
9:00 am- 7:30 pm
City of Longmont Museum
400 Quail Rd., Longmont, CO 80501
Youth Workshops begin at 9:00am
Lunch is provided to the workshop participants at 12:00pm
Showcase Performances begin at 4:30pm
Reception begins at 6:00pm
Full-day of sessions designed to engage youth in various art forms from African dance and African drumming, to singing and journalism. All youth ages 8-18 are invited to participate.
Workshop Descriptions:
African Drumming: In a class setting, a professionally trained instructor will guide youth participants through various west African traditional drum rhythms, popular songs, and dance steps. The instructor will teach these musical expressions collectively, and participants will be divided into drummers and singers/dancers and will be ready to perform during the showcase portion of the afternoon.
African Dancing: Moving and dancing to the African beats, rhythms, and sounds - participants in this high-energy workshop will experience a fun and educational learning opportunity. Participants will learn various African dances and perform these moves during the showcase portion of the afternoon.
Singing: The singing workshop will provide a unique opportunity for participants to work together collaboratively to create music that will be performed throughout the weekend. This workshop will assist participants in developing their vocal abilities and engaging in various song styles and genres. At the end of the workshop, the united voices will perform songs during the showcase portion of the afternoon.
----------
June 19, 2022 - Juneteenth Outdoor Community Celebration w/ Congressman Joe Neguse
1:00 pm- 6:00 pm
Roosevelt Park, 700 Longs Peak Ave, Longmont, CO 80501
*Event Coordinator Longmont City Councilperson Shiquita Yarbrough*
----------
June 20, 2022 - Juneteenth Celebration of Black Excellence: Featuring BVSD/SVVSD 2022 Graduates
11:00 am- 2:00 PM
Boulder High School, 1604 Arapahoe Ave., Boulder, CO 8030
Come support and celebrate these amazing Black high school seniors from Boulder Valley School District and St. Vrain Valley School Districts! The event will also include a choir performance!
----------
Please join us as we celebrate Black History, African-American History, and our youth! After the success of last year's virtual Juneteenth Boulder County Celebration, we are so excited to bring the community together to celebrate Juneteenth's 1st year as an official federal holiday.
Juneteenth is a celebration of the day, 2.5 years after the Emancipation Proclamation was signed, when federal troops arrived in Galveston, Texas with the news that enslaved people were now free. It became a federal holiday on June 17th, 2021. Our events celebrate the history of this monumental day!
----------
Executive Committee, African American Cultural Events - Boulder is a community organization that partners with NAACP Boulder County Branch, the Longmont Multicultural Action Committee, Boulder Human Relation Commission, and many other organizations and businesses to put on events that celebrate Black and African-American history and culture. https://www.facebook.com/ECAACE21
Learn More About NAACP Boulder County and Become a Supporting Member: https://naacpbouldercounty.org/
Organized and Sponsored by: