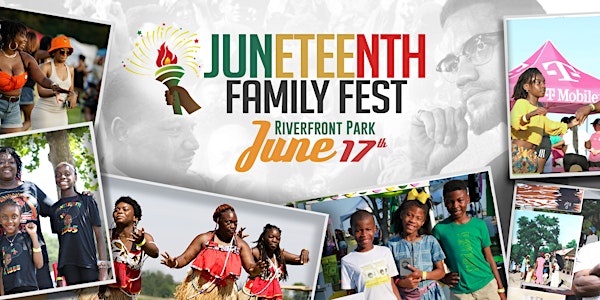 Juneteenth Family Fest Charleston 2023
On June 17th, 2023, The 3rd Annual Juneteenth Family Fest Charleston will be held at the Riverfront Park located in North Charleston, SC.
When and where
Location
Riverfront Park 1061 Everglades Avenue North Charleston, SC 29405
About this event
Celebrating Juneteenth in Charleston, South Carolina as a large-scale event is significant. According to the International African-American Museum, nearly half of enslaved Africans brought to America came through Charleston, and nearly 80 percent of African-Americans can potentially trace an ancestor who arrived in Charleston. Juneteenth Family Fest Charleston is free to the public with an anticipated 10,000 guests in attendance.
On Saturday, June 17, 2023, we will kick off our 3rd Annual Juneteenth Family Fest! This community-family-based event will take place at the Riverfront Park in North Charleston, SC and is open and free to the public. Doors will open at 2 pm, and festivities will begin at 3 pm. This day-long celebration will be power-packed with activities ranging from live performances, black art displays, games for children, and delicious cultural food! There will also be non-profit organizations, local community service vendors, as well as historical black colleges and universities on site. This joyous occasion will be topped off with a grand fireworks show finale that will be worth watching with your family and friends! We're asking the community to come out and celebrate where we've come from, as we look forward to where we are heading and what we desire to accomplish.
***FREE event and FREE parking. Bring the entire family!***
***Guests are encouraged to bring lawn chairs, blankets, and bug spray.***
CLICK ON THE VIDEO BELOW TO CHECK OUT JUNETEENTH FAMILY FEST HIGHLIGHTS!
Click on the link below for more information and to review Juneteenth Famliy Fest's gallery.
https://www.jffcharleston.com/