JUNETEENTH Celebration | Valley of the Sun
About this event
The 2021 Valley of the Sun Juneteenth Festival has the clearance to operate at Eastlake Park! Your official Phoenix celebration is back!
Sat., June 19, 2021 | 5pm-10pm | Eastlake Park, 1549 E Jefferson St, Phoenix, AZ
[Free Event]
While Juneteenth draws thousands of attendees each year, the health and safety of our attendees, volunteers and community partners is our highest priority. The heart of our decision is centered on you, our Festival attendees, and ensuring we can collectively remain strong and connected in the years ahead. The free event features fun for the entire family. The event features local known musical performers mixed with community groups and schools. Other highlights include live entertainment, free health screenings, educational workshops, youth essay contest, children's activities, ethnic arts and crafts, vendors, games and the finest authentic soul food.
Free Health Screenings: J&J COVID Vaccine, HIV and Hepatitis C testing
As a reminder, the health and safety of our community is top priority. Due to the recent COVID-19 pandemic, some Juneteenth events will be held virtual. During each event and activity we are taking time to remember loved ones who have been impacted.
NOTE: Attendees who are not vaccinated will be required to wear masks. Stay Safe and Mask Up at the Celebration!
THANK YOU TO OUR SPONSORS: AARP Arizona, APS, Arizona Commission of African American Affairs, COX, Fry's Food Stores, First Things First, Health Choice Pathway|BCBS, Terros Health, WeAuction Art, Wells Fargo, SRP, City of Phoenix Parks & Recreation, U.S. Border Patrol
Juneteenth Celebration Info: 623-282-1555 or info@phxjuneteenth.com
Vendor registration deadline: June 10, 2021 [vendor form]
To learn more about JUNETEENTH visit phxjuneteenth.com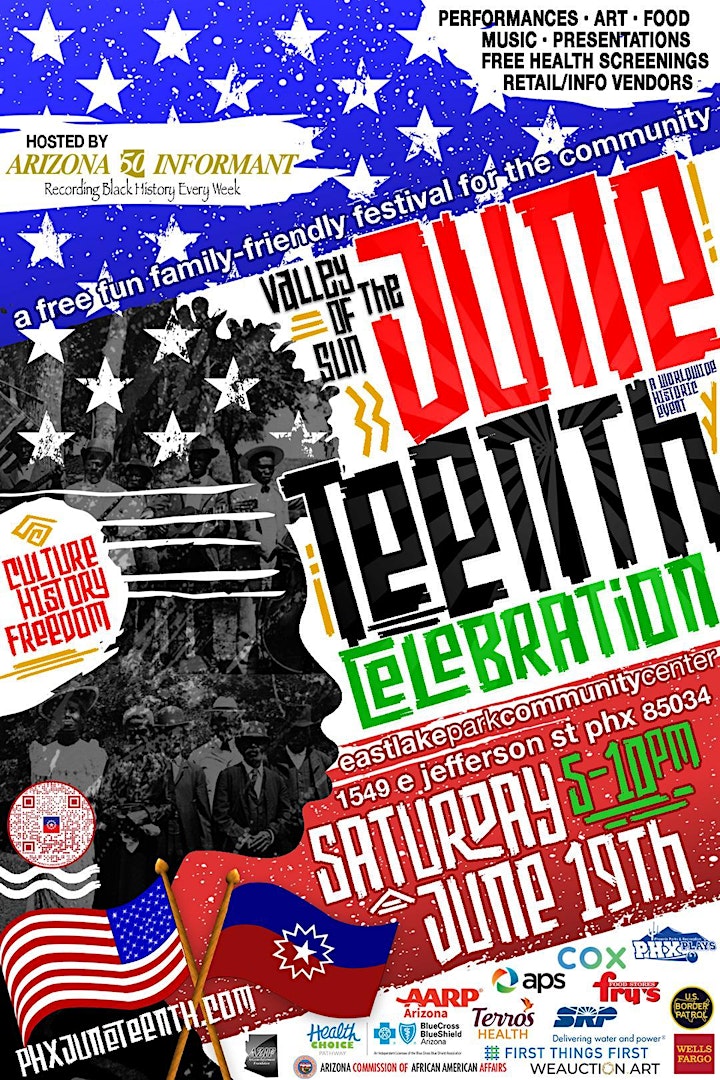 Organizer of JUNETEENTH Celebration | Valley of the Sun
The Arizona Informant Foundation (AZIF) is a non-profit 501(c)(3) organization created to provide educational opportunities for African-Americans in Arizona. The Foundation is committed to "building a healthier Arizona" through community engagement and outreach programs that inspire individuals to have an "each one teach one" mentality. The Foundation's goal is to increase the representation and participation of underrepresented African Americans within the journalism industry by providing scholarships and educational opportunities.

The Foundation is located in Phoenix, Arizona and engages a cultural audience through collaborative events throughout Arizona. Our core audience includes individuals who have values pertaining to youth, community, health, education and cultural heritage. While the African-American community is a key demographic for us, we recognize our role to bridge and foster appreciation among cultures.