Annual Juneteenth Celebration on Hilton Head Island - Art + Food + Music by the HamilTones!
About this event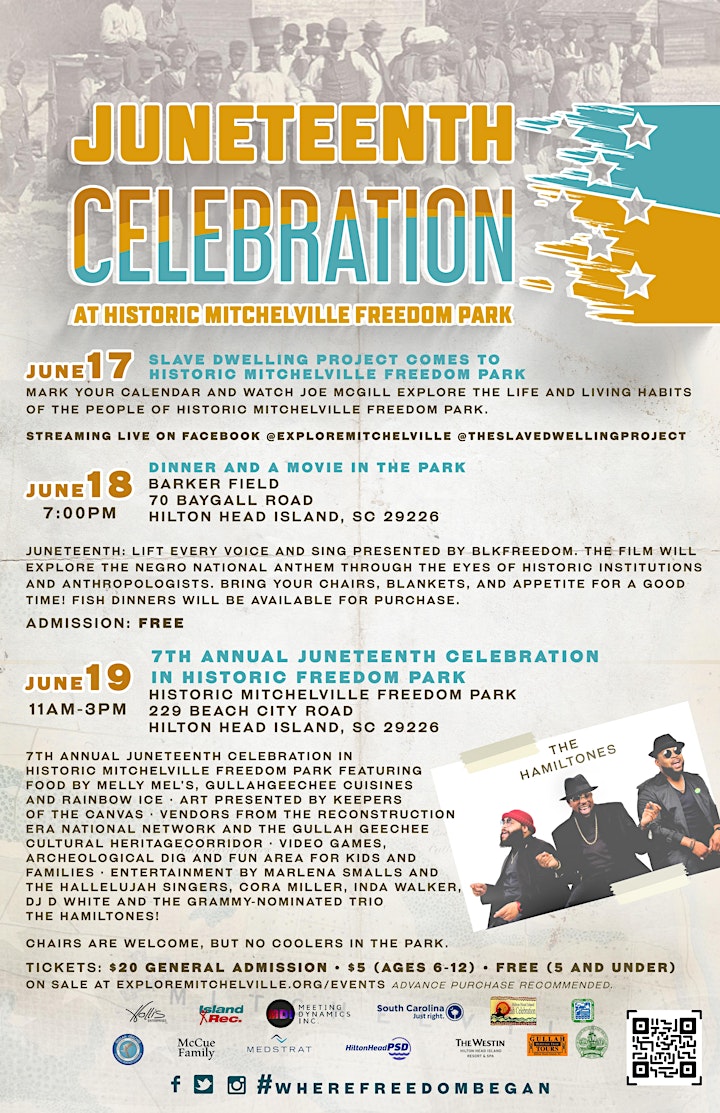 TICKETS AVAILABLE AT THE GATE!
June 17 | Slave Dwelling Project Comes to Historic Mitchelville Freedom Park
Watch Joe McGill explore the life and living habits of the people of Historic Mitchelville Freedom Park. Streams live on Facebook @exploremitchelville and @slavedwellingproject
June 18 | Dinner and a Movie in the Park
Juneteenth: Lift Every Voice and Sing presented by BLKFreedom. The film will explore the national anthem through the eyes of historic institutions and anthropologists. Bring your chairs, blankets, and appetite for a good time! Fish dinners will be available for purchase.
June 19 | 7th Annual Juneteenth Celebration in Historic Freedom Park
7th Annual Juneteenth Celebration in Historic Mitchelville Freedom Park featuring food by Melly Mel's, Gullah Geechee Cuisines and Rainbow Ice · art presented by Keepers of the Canvas · vendors from the Reconstruction Era National Network and the Gullah Geechee Cultural Heritage Corridor · video games and fun area for kids and families · entertainment by Marlena Smalls and the Hallelujah Singers, Inda Walker, DJ D White and the Grammy-nominated trio The HamilTones!
Chairs are welcome, but no coolers in the park. Advance purchase recommended.
Organizer of Juneteenth Celebration on Hilton Head
The triumphant and touching Civil War-era story of the rise of the first self-governed settlement for freedmen in the United States took place on Hilton Head Island. In 1862 during the chaos of the Civil War, thousands of enslaved people in the coastal Carolinas, Georgia, and Florida escaped to the Union fortification seeking freedom.  They built a town named Mitchelville. 
The achievements of the residents of Mitchelville were recorded for the nation to see.  While the battles raged across America, the war for freedom was won at Mithelville. 
Today the direct decedents of those who settled on Mitchelville, still live and continue the traditions of their ancestors.
For more information or to schedule a tour of Mitchelville visit exploremitchelville.org.