Juneteenth: Celebrate Shop and Support many voices of Chicago History
Juneteenth: Celebrate Culture, Shop & Support many voices of History in Chicago.
About this event
Juneteenth: Celebrate Culture, Shop & Support many voices of History 
Join Us for this community day. as you fall in love with Bronzeville and the entrepreneurs of the Absolutely Anything Essential Gift Shop.
This Juneteenth celebration will kick off at 10 am with the renaming of a section of 35th and King Drive in honor or the late Phillip Jackson of the Black Star Project.
The day of events will encourage community residents to stop by and enjoy our cultural Juneteenth highlights with dramatic readings and stories facilitated by local guest historians. Try delightful meals prepared by Yassa's Senegalese restaurant, shop with local small business owners at our farmer's and artisan market located in the exterior garden area, as well as participate in themed arts and crafts for the entire family. 
Local historians, including retired Fire Chief Dekalb Walcott Jr., authors Eugene Dillanado and Andrea Thompson as well as others from the Chicago land area will come to together to share stories, poems and writings utilizing the newly opened Bronzeville FAM Entertainment Theater Company for this two-fold event to safely celebrate its significance of keeping the memory of emancipation for African Americans and the price of freedom for all Americans through American history in the forefront of our minds.
Paint & craft themed inspired keepsakes with the assistance of local artists, listen to music and entertainment while sipping on herbal teas as well as shop for locally grown plants, herbs and other handmade products at our farmer's and artisan market from 12 pm to 5 pm. Solo supporters, children and families will leave the gift shop with essential care bags and feeling the freshness of supporting local small businesses along the legendary strip of small businesses located at 35th & King Drive., while discovering the amazing diversity of artistic culture in the city of Chicago and ways to connect with it every day in their own community.
Absolutely Anything Essential
3521 S. King Drive, Chicago, IL 60653
Saturday 6.19.2112 pm to 5 pm (Street renaming at 10 am)
(Outside garden area) (Inside theater area) (Inside gift shop)
*Mark your calendar. *Mask required *Positive vibes only. * Free rear lot parking
See Less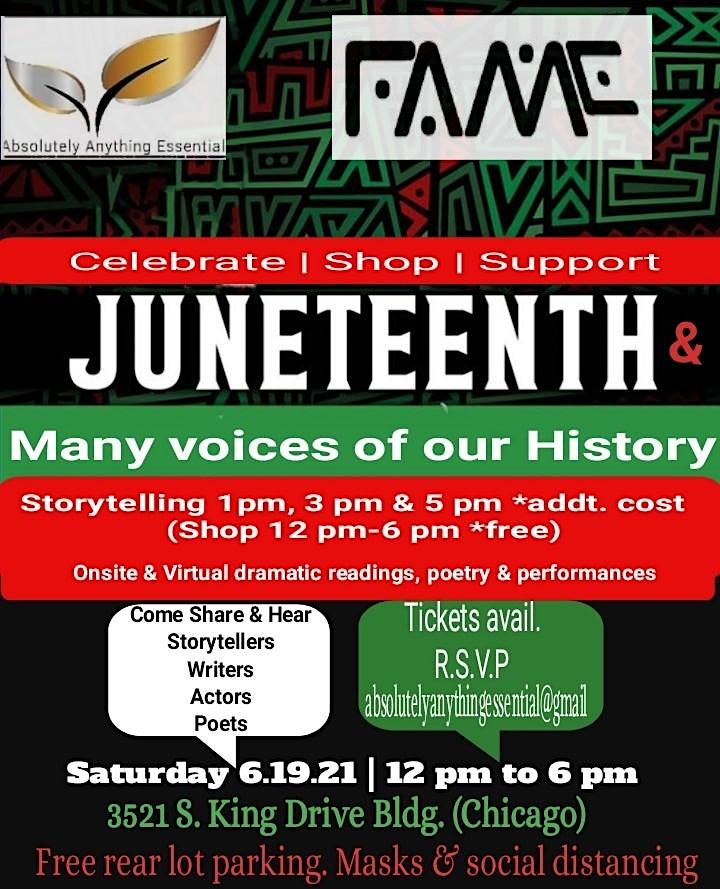 Organizer of Juneteenth: Celebrate Shop and Support many voices of Chicago History
Click here to subscribe to our text messages.
Absolutely Anything Essential, operates as a City of Chicago certified Minority/Woman-owned business incubator and specialty 3 level retail space located in the heart of Chicago's Douglas community. 
We offer retail and work space platforms for artists, designers, authors, business owners, entrepreneurs and artisans to sell their products and services without expensive overhead.
We offer private label bath and body products for those in the hospitality industry.
Book us for your next corporate team building event or group experience.
Book a Class with us
1. Entrepreneurship class
2. Start your own skin care line course
2. Body Scrub and Lotion Making
3. Soap Making
4. And more.....