We seek to tell the Juneteenth story from the unique lens of the Black culture. We will celebrate and extend Black history to the world.
About this event
Our collective civic well-being is a core component of building and sustaining healthy families and healthy communities.
This year, for the first time, Juneteenth is being celebrated as an official state holiday in Massachusetts. Juneteenth is the occasion where former slaves in 1865 celebrated freedom and democracy. It is a holiday that is so central to African-American identity and is worthy of being celebrated by all. This is why Governor Charlie Baker made this holiday official in Massachusetts last year. We, across the Commonwealth, celebrate it on Saturday, June 19.
This year will mark 156 years since the original Juneteenth. And while it has been more than a century since enslaved people were freed, Black Americans are still not given the same freedoms awarded to citizens of other races. But that doesn't mean Juneteenth shouldn't be celebrated. What it does mean is that while we commemorate the Black community and all they have achieved and overcome, it's also important to remember more work is to be done. And if you need a little help getting motivated to do the work, who better to look to than the great Black pioneers of history.
Order of Events:
Saturday June 19th (10Am setup 12pm Copley Plaza Program starts)
• Opening with Choir at Noon
• Opening Prayer
• Juneteenth
• Intro to Power Politician
• Reading of Fredrick Douglas
• Racial Reckoning & Representation
~12:45-1pm Brief Intermission
~1pm Moment of Silence for Racial Reckoning & Reconciliation– George Floyd, etc
• Juneteenth Poem
• Soloist Song
• Jazz Band
• Closure
Saturday June 19th (2pm setup 3pm Carson Beach Program starts)
• 3pm Opening Song & Prayer
• Raise Flag
• 3:15pm Juneteenth – F. Douglas Poem
• 3:30pm Poetry – Juneteenth Poet
~3:45-4pm Brief Intermission
~4pm Song with Band
• 4:15pm Poetry
• 4:30pm African Drummers
• 4:45pm Graffiti Artist
• 5pm African Dancers
• 5:15pm Poetry
• 5:30pm Steele Band
• 5:45pm Soloist
• Beach-time BBQ/Food Vendors/Music - Peaceful Celebration!! Dancing.
Be ready for traditional dance moves - (electric slide )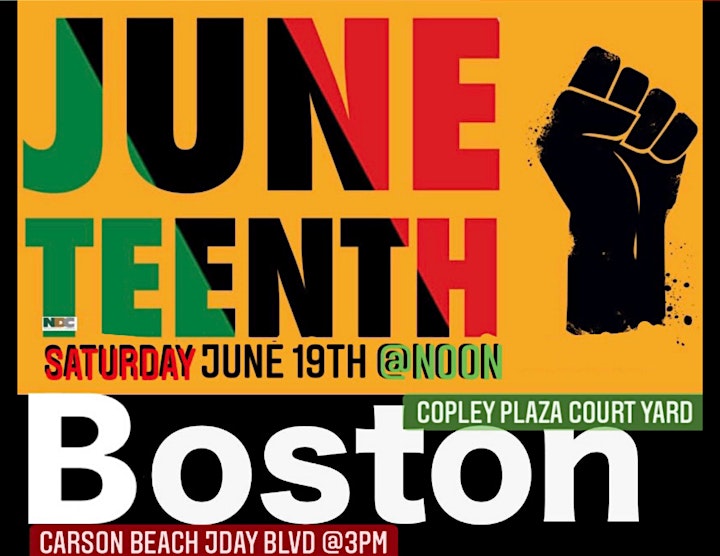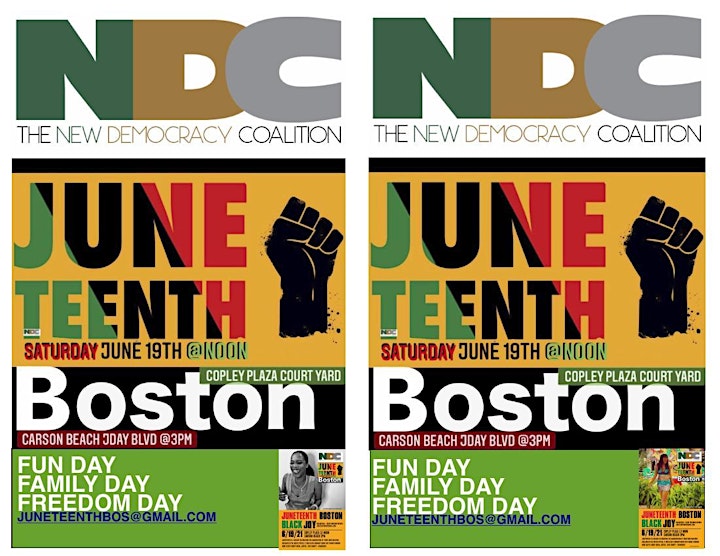 Please feel free to share the event to your social media outlets. This is a family fun event.
Organizer of Juneteenth Boston - Copley @noon; Carson Beach @3pm