In this 90 minute class, you will hand paint the design pictured on a wine glass guided by your instructor step by step.
About this event
In this 90 minute class, you will hand paint the lovebirds and cherry blossoms design pictured on a wine glass guided by your art instructor step by step (no experience necessary).
Your $45 ticket includes:
~ $10 toward a glass or bottle of wine
~ Everything you need to paint: wine glass, paints, brushes, stencils, etc.
~ Step-by-step instructions and stencils
~ A fun, memorable evening of laughter, friends, and wine!
* Doors will open at 6pm.
No walk-ins please. All participants must register. Snacks are welcome. Sail to Trail glasses and bottles can be purchased throughout the night. (No outside alcohol.) Participants must be 21+.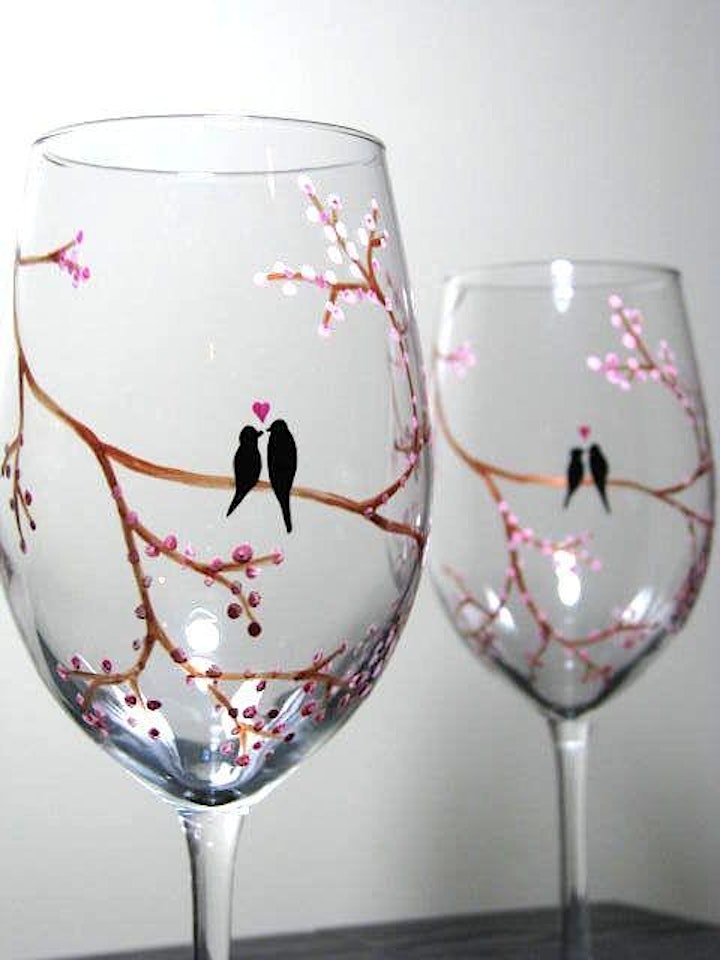 Organizer of June Wine Glass Paint and Sip
Sail to Trail WineWorks
is thepremier urban winery headquartered in New England on a mission to redefine the stereotypical "wine-o". No intimidating sommelier speak. No questioning what constitutes good or bad wine. No need for Alexa to chime in on your next purchase. We recognize that NOBODY has time for that.
Thanks to our industrial roots and vineyard vibes, we're bringing edge and inclusion to the wine industry by slashing the snobbery and doing the complicated work FOR you to ensure we're curating and bottling the very best varietals from across the globe.
We believe that a great grape is a great grape. Whether it's raised in Blue Ball Delaware, Funk Nevada or Buttzville New Jersey, we don't discriminate. That being said, most grapes don't end up in our bottles – hey, not everyone gets a trophy. But, when we do uncover the over-achievers, we bring them to the table to enjoy at your leisure.
You may be wondering, what sets us apart from the rest? Every batch of wine that we curate is
limited edition
, with each bottle individually marked by a unique "cuvee number". That means it's uncommon for our members to try the same wine twice (note to self: order your favorites in bulk!). Long story short: You're getting exclusive blends with almost every order.
Cheers to top notch wine without the B.S—delivered straight to your doorstep. Just
click, ship, sip
!