This event will be hosted on Zoom. Participants must attend both sessions to complete the course.
About this event
This course begins with session one at 5:30 p.m. on Wednesday, June 16, 2021, and ends at the conclusion of session two Saturday, June 19, 2021.
SESSION ONE | Wednesday, June 16, 2021, 5:30 - 8:30 p.m.
Welcome & Introduction to SSHC
Fair Housing Basics
Are You Ready to Buy a Home?
Managing Your Money
Understanding Credit
SESSION TWO | Saturday, June 19, 2021, 9:00 a.m. - 12:00 p.m.
Obtaining a Mortgage Loan
Your Homebuying Team Panel
Protecting Your Investments
THINGS TO KNOW:
- Participants MUST complete both online sessions and receive one-on-one housing counseling to receive a certificate of completion.
- Our event will take place on Zoom. Those that sign up on Eventbrite will be emailed a link to the Zoom meeting on Tuesday, June 15, 2021 (24 hours prior to session one). Be sure to check your spam/junk mailboxes for SSHC emails!
-To keep our classes interactive, we have opted for a meeting setting rather than a webinar. Participants will be muted and their videos disabled; the opportunity to speak will be available during activities and question & answer portions of the course.
Disclaimer: SSHC is a nonprofit, HUD-approved, comprehensive housing counseling agency. We serve all clients regardless of income, race, color, religion/creed, sex, national origin, age, family status, disability, or sexual orientation/gender identity. We administer our programs in conformity with local, state, and federal anti-discrimination laws. As a housing counseling program participant, you are not obligated to use the products and services of SSHC or our industry or financial partners. Upon request, SSHC can provide a list of industry and financial partners.
GET CONNECTED WITH SSHC:
WWW.SOUTHSUBURBANHOUSINGCENTER.ORG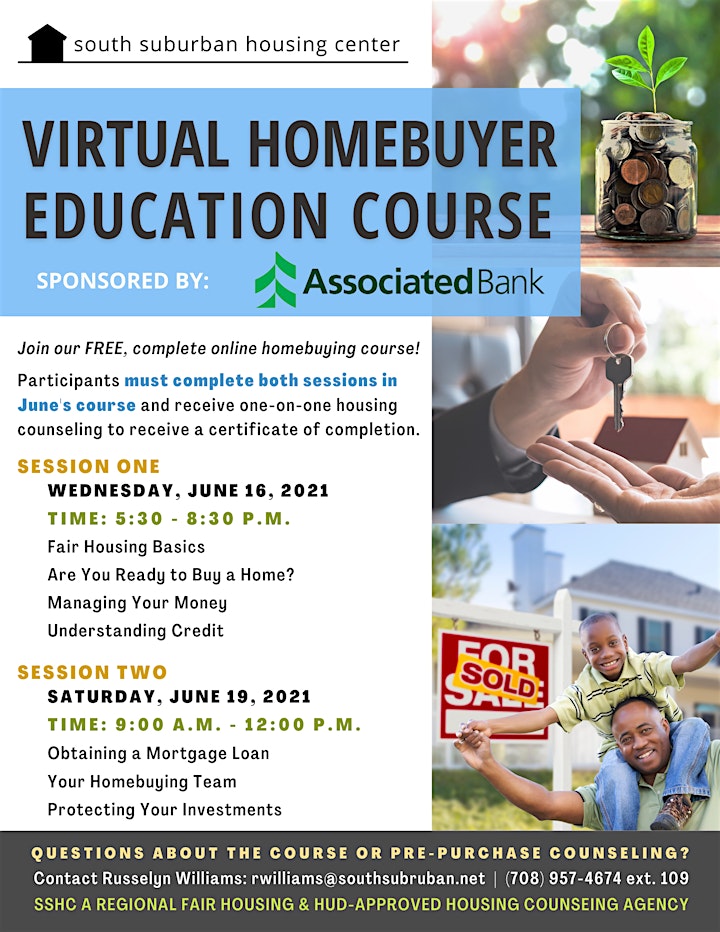 Organizer of June Virtual Homebuyer Education Course
South Suburban Housing Center (SSHC) is the private, non-profit agency, providing HUD approved fair housing and housing counseling services to the south metropolitan region. SSHC promotes and fosters long term diversity throughout the communities in its service area by working to eliminate all forms of discrimination and exploitation in the housing market.