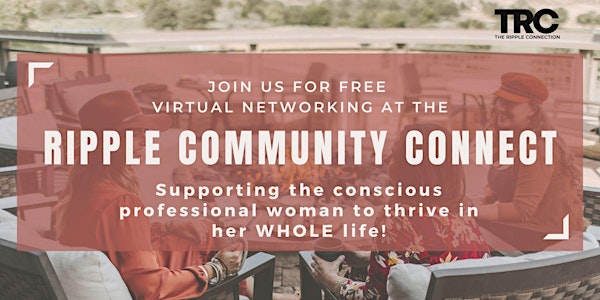 June Ripple Community Connect
How to thrive in your whole life, not just at work. We are supporting a more holistic approach to success!
Date and time
Wednesday, June 7 · 11am - 12pm PDT
About this event
We are not your average community of highly successful conscious career women; yes, we dare to shatter glass ceilings, break new ground, and break free from expectations. However, what truly makes us unique is that we are committed to thriving in our WHOLE LIVES (not just our professions) and infusing everything with heart, wholeness, and intention.
Once a month, we gather virtually to connect and discuss topics that relate to feeling more aligned in our lives and businesses so we can continue to kick ass but do it in a sustainable, fulfilling way! This networking group comes with the energy of all of you and is safe to be seen here!
This free June networking event will help you to focus on thriving in your WHOLE LIFE not just at work.
You'll discuss what roadblocks you come across prioritizing yourself and making choices that align with you and your values vs other people's expectations of you!
Who's leading the call:
Melissa is a business alignment coach, community creator, and founder of The Ripple Connection. She's committed to helping women come alive on purpose and in purpose by aligning their work with their souls and bringing conscious career women together in a community that deeply nourishes their business and personal dreams. As her friends like to say, "She's an activation catalyst who ignites your life force into taking action."
Melissa knows what it's like to be crushing it on the outside and on the inside, feeling anxious and knowing she's made for more. This is why she left her award-winning 15-year career in medical sales to become the top 1% in a direct sales company and coach thousands of women over the last 7 years. She is deeply passionate about creating an aligned life and business by her design, and her signature process and community guide and supports other powerhouse women to do the same!