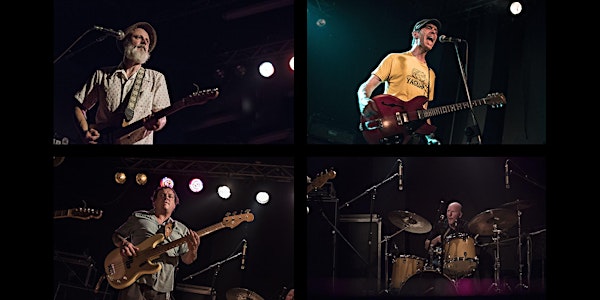 June of 44 and the Van Pelt
Location
The State House
310 State St
New Haven, CT 06510
About this event
June Of 44
It has been written far and wide that June of 44 is from Louisville, Kentucky and in fact founding member Jeff Mueller is indeed a native of Louisville, yet June of 44 as a band began existence in the fall of 1994 in New York City. October and November of that year saw the band record it's first record "Engine Takes to the Water" at James Murphy's Downtown Brooklyn location of his Plantain Studios as well as performing their first series of concerts. Throughout the nineties Mueller with Doug Scharin, Fred Erskine, and Sean Meadows would continue to make records for Chicago's Quarterstick Records and play concerts in Taiwan, Guatemala, Europe, Australia, and North America.
In 2018, June of 44 started playing select concerts again, and is currently working on new music.
The Van Pelt
The Van Pelt, led by songwriter Chris Leo (The Lapse), with drummer Neil O'Brien (Butterflies of Love), and a rotating cast, including bassist Toko Yasuda (Blonde Redhead/Enon), released their debut full-length, Stealing From Our Favorite Thieves, in 1996, followed by Sultans Of Sentiment, the following year, on the Gern Blandsten (Ted Leo, Liars, Rye Coalition, Weston, Chisel, Canyon, etc.) label, before parking the van in the garage, and calling it a day, moving on to other projects. But a funny thing has happened over the past two decades, with those two albums finding new ears with a new generation.
Post-Punk? Indie Rock? Post-Hardcore? The Van Pelt walked between all these worlds. Spoken/sung vocals, anthemic pop hooks, fiery guitars and a tightly wound rhythm section made them stand outs of the DIY basement scene they emerged from. The 1990's indie heroes have had a lasting power far greater than so many of the other once bigger bands of that era. The sort of interest that has neither waxed nor waned over the decades since they disbanded, yet just mysteriously continues on despite their discography being out of print since the end of the last millennium.
So what is it that sets them apart? Too soft to have ran with the AmRep or Touch & Go crowds, not hip enough to have made sense on Matador or Merge, earnest yet not histrionic enough to make it onto the "best emo bands" lists, not weird enough to be on bills with Arto Lindsay and Thurston Moore - in a sense, their outsider status comes not from the wings, but from the dead center eye of the storm. The '90s were happening all around them, they were witnesses thereof, yet they emerged transcendent of it all.
The Van Pelt re-emerged in 2014, with the release of Imaginary Third, a collection of singles and unreleased Van Pelt tracks, which were originally intended to have been the components of their third album, including the alt-famous "Speeding Train". They returned to the stage in the UK and Europe for select festival dates, including the failed ATP Jabberwocky Festival, the cancellation of which, led to two powerful London performances - first at the ACE Hotel with support from Ought, and additionally at the Shacklewell Arms, with Metz and Iceage.
The Van Pelt bandcamp