Event Information
Location
Gull Lake Park
47 W Granite Avenue
June Lake, CA 93529
A beautiful outdoor theater festival in the magical mountains of the June Lake Loop!
About this event
RSVP for a chance to win!
The June Lake Theater festival is almost here and we can't wait to experience it with you! Please RSVP below to ensure your spot and to be entered to win a festival gift package! Items may include: concession vouchers, exclusive swag and a meet and greet with the performers after the show!
2022 Program
We are thrilled to announce Songs for a New World, as the featured programming of this year's 2022 June Lake Theater Festival. This stunning musical by Jason Robert Brown, boasts an incredible score of songs that all revolve around "a moment of decision." In the words of the composer: "It's about one moment. It's about hitting the wall and having to make a choice, or take a stand, or turn around and go back."
The last few years have presented unprecedented challenges and asked many of us to make extremely difficult decisions. It is our hope that this musical will speak to the struggles so many have faced and inspire us all to move forward with hope in this "new world" we find ourselves in.
About the Festival
The June Lake Theater Festival is about three things: Art, Nature and Community. It was born out of a desire for our audiences and artists alike to experience and celebrate art in one of the most beautiful natural environments there is. It is our hope that each person involved will walk away with a greater love for the other, a desire to continue watching and creating meaningful art and a deeper commitment to respect and protect the earth we live on.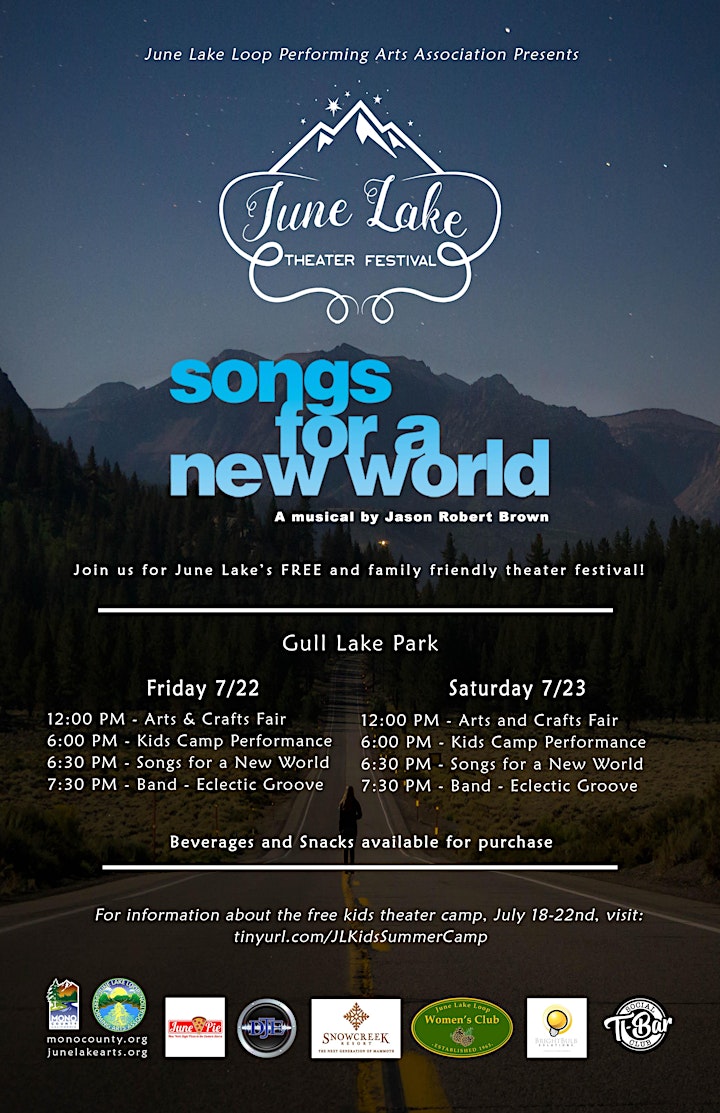 Date and time
Location
Gull Lake Park
47 W Granite Avenue
June Lake, CA 93529