Description


Food Styling 101
Join legendary food stylist Catrine Kelty for this 3-hour, hands-on workshop. Catrine will share basic food styling and composition techniques to improve your images for social media. She'll demonstrate ways to use food styling to tell a compelling story and together, you'll discuss finding your unique voice and creating a cohesive look for your personal or professional brand. And we'll have lunch together, as well!
If you're a small business owner promoting your food product through Instagram; an individual honing your personal brand; or just someone who wants to make your food photos more beautiful, you'll benefit from Catrine's skills, experience, and guidance.
From working with light; observing "how food behaves;" to selecting and composing props; you'll take away tips and techniques to develop or hone your own style. Catrine will help you find your style by posing questions like: Is your style neat and bright, or messy and moody? How do you work with a dark kitchen or dull countertops? How can props make food "pop?"
Participants will workshop their challenges in a hands-on styling session, observing food closely, then working with produce and props to create images with their own mobile phones. The general agenda follows, though it will be adjusted based on skill level and topics of interest:
10:00-11:00: Discussion and presentation on basic food styling

11:00-11:30: Question and answer session

11:30-12:00: A "working" lunch, observing our food

12:00-1:00: Hands-on styling session
Before the workshop, participants will receive a bibliography with suggested reading material plus websites and social media accounts to study. We'll also provide an opportunity to submit questions to Catrine before the workshop, so you all get a chance to ask specific questions.
About Catrine Kelty: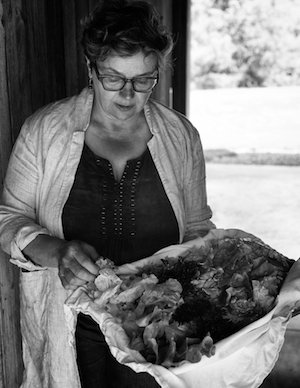 Catrine Kelty is a Boston –based food stylist. Born in France, she immigrated to Canada with her family at age two. Catrine was raised in the heart of Montréal with a French/European upbringing that revolved around the pleasures of the table: good food, good wine and great friends and family.
Catrine's father, a French-trained butcher, was a pivotal influence in her appreciation of food as craft. A childhood filled with lush gardens, farm-raised animals, beautiful table settings and food as a celebration of life inform her approach to life and to her work. This philosophy, along with her background in Fine Arts from Concordia University and her experience working in the restaurant industry when she moved to Boston in the mid-80s all find their expression in her work as a food stylist.
Catrine styles for magazines: Edible Boston, Yankee Magazine, Cook's Country, Down East Magazine and the James Beard-award-winning children's food magazine ChopChop as well as cookbooks. A regular stylist for Storey Publishing, Catrines' work is also featured in the books Istanbul and Beyond; Soframiz; Homegrown: the New New England Cooking; and Myers+Chang at Home. Upcoming work includes: Fomu Ice Cream Cookbook, The Kripalu Kitchen, Blue Zone Cookbook and Eventide Cookbook.
Catrine was named an Instagrammer to watch by VSCO and Shelby Publishing included her in their list of Women of Influence in the Food Industry for 2017. Learn more about Catrine at: www.ckfoodstylist.com
Follow her on instagram: @catrinekelty
We will do our best to accomodate dietary preferences for lunch--please email us with any questions.
Photo: Catrine Kelty