Description
Please join us for a night of fun outdoor festivities in celebration of our newly renovated barn and the solstice! - now ready to host even more of our youth programs!
With food, drinks and Instagram worthy photo opportunities with baby goats, this adults only party will have many ways to engage in the joy a summer night can bring.
Funds raised from the June Bug will go toward supporting Farrington's After School program.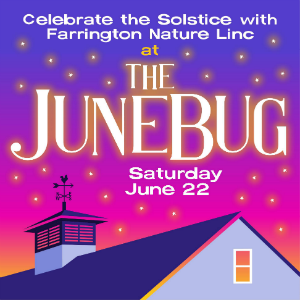 Farrington's mission is to enhance the well-being of children from low-income communities through a connection with the natural world. Our 75 acres of woodlands, fields, and ponds are dedicated to providing respite and inspiration for children who might not otherwise have this opportunity.
Farrington envisions a world in which every child has access to nature; every child learns that nature is a powerful source of health and happiness; and every child believes that stewardship of nature strengthens communities.