June 5: 23RD SEASON ANNUAL EVENT: THE RED BOOK OF C. G. JUNG

Sunday, June 5, 2011 from 2:30 PM to 7:30 PM (EDT)
Event Details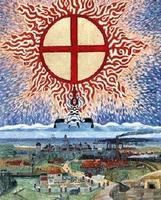 June 5
Sunday 3 – 7:30pm; Sign-in & Cash Bar 2:30pm
Riverside Hotel, Ft. Lauderdale
Film, Discussion, Dinner & Annual Meeting
Admission: $70 (add $8 for 3 CEUs); Student: $55
Late registration if space is available (after June 1st): $75; Student: $60
23RD SEASON ANNUAL EVENT:  
THE RED BOOK OF C. G. JUNG
Film featuring Murray Stein, Ph.D., Jungian Analyst
"The years, of which I have spoken to you, when I pursued the inner images, were the most important time of my life. Everything else is to be derived from this...My entire life consisted in elaborating what had burst forth from the unconscious and flooded me like an enigmatic stream and threatened to break me…the numinous beginning, which contained everything, was then."—C.G. Jung
Jung, Carl Gustav (2009). The Red Book. Libre Novus (Sonu Shamdasani, Ed.) (Mark Kyburz, John Peck, & Sonu Shamdasani, Transl.). New York, NY: Philemon Series & W.W. Norton & Co.,
https://Philemonfoundation.org/projects/redbook/
.
Carl G. Jung's
The Red Book,
or
Libre Novus
(New Book),
has now been published 48 years after his death. While working on it (1913-1930) Jung developed his theories of archetypes, the collective unconscious and the process of individuation.  This 96 year-old book is possibly the most influential hitherto unpublished work in the history of psychology. With messages of sacrifice, initiation, transformation, and individuation as acceptance and separation,
The Red Book
of C.G. Jung
is an account of one man's struggle for survival on the psychic level as well as a call for us to honor our own journey. In the film, noted Jungian analyst Dr. Murray Stein describes
The Red Book
as, "A highly stylized record of a mid-life man's encounter with his Soul."  He tells us what it is, why Jung created it, how he created it and what is in it.  In time it may belong to what James Hillman refers to as
Timeless Documents of the Soul.
More than two-thirds of the large red, leather-bound manuscript's pages feature Jung's brightly hued and strikingly graphic forms paired with his thoughts in his exquisitely illuminated calligraphy. The DVD is a Webcast production by the Asheville Jung Center and is being shown with their permission.
The screening will be followed by a panel discussion with local Jungian Analysts and then with the audience, all facilitated by Pamela Heider, Ph.D.  An elegant dinner will complete the event.
Learning Objectives
:
After this presentation, participants will be able to:
Identify some of Jung's major theories, how they were derived, and how to apply this knowledge to one's own life and, in the case of clinicians, to the lives of clients.

Describe the stages of individuation and how development of the Self helps one to take responsibility for one's own journey and to help one's clients assume responsibility for their own journeys.
Murray Stein, Ph.D., is an internationally acclaimed Jungian analyst, President of the International School of Analytical Psychology in Zurich, and former President of the International Association for Analytical Psychology. His most recent publication includes The Principle of Individuation, and he is best known for Jung's Map of the Soul. He lectures widely on subjects related to Analytical Psychology, and has presented many times for the Center for Jungian Studies of South Florida. Dr. Stein can be contacted at www.murraystein.com/.

Pamela Heider, Ph.D.,is a Jungian and Gestalt Psychotherapist, and Vice-President and Program Director of the Center.  She has a private practice in Boca Raton and Hollywood, FL
These are the choices for entree for the dinner. Be sure to indicate your choice(s):
______ Aegean Chicken w/LemonCaper & Sun-dried Tomato Basil Sauce
______ Filet of Salmon w/Orange Balsamic Glace
______ Portobello Wellington (Vegetarian Alternative
Please register either with a credit card by clicking here or by filling out this form and mailing it with your check made to CJSSF to: Patrick Parham, CJSSF Treasurer P.O. Box 669 Hallandale, FL 33008

The Center for Jungian Studies of South Florida, Inc. is a not-for-profit 501(c)(3) corporation and donations are appreciated. If you have any questions, email us at info@jungcentersouthflorida.org or call our Message Phone: 954-525-4682 and someone will return your call.
Please see our website www.jungcentersouthflorida.org for more details.

Directions to The Riverside Hotel at 620 E. Las Olas Blvd, Ft. Lauderdale, FL 33001:
From I-95, take Broward Blvd (Exit 27) East past Federal Highway to SE 8th Avenue, turn right (South) and go one block past Las Olas Blvd, turn right on SE 4th Street to valet park. Riverside phone: 954-467-0671.
When & Where

The Riverside Hotel
620 East Las Olas Blvd.
Fort Lauderdale, FL 33301


Sunday, June 5, 2011 from 2:30 PM to 7:30 PM (EDT)
Add to my calendar
Organizer
Center for Jungian Studies of South Florida
The Center for Jungian Studies of South Florida, Inc. is a non-profit educational association that serves licensed mental health professionals and the greater community by fostering the study of the psychology of Carl G. Jung. The Center presents educational services including lectures, seminars, discussions and workshops to address the psychological, social and spiritual issues of our time while providing a forum for personal reflection and development. For more information: Call the Center's Message Phone:954-525-4682 http://www.jungcentersouthflorida.org
June 5: 23RD SEASON ANNUAL EVENT: THE RED BOOK OF C. G. JUNG