June 30, 2015 GA Mentor Protege Connection- Prospective Proteges

Tuesday, June 30, 2015 from 11:00 AM to 12:00 PM (EDT)
Event Details

Hello, 
Georgia Mentor Protege connection invites you to join this WebEx meeting. During this webinar you will learn what the program aims to do in helping grow small businesses in Georgia. 
Expect to learn:
Small Business Benefits

Corporate Mentor Benefits

Program Goals

Eligibility Requirements

Who Can Nominate Your Business

What You Need to Apply 

Our Philosophy 

Applicant Selection Process

2016 Proposed Calendar

Corporations Engaged

How this program will help you scale your business!
Application period ends July 10th. For more information visit www.georgiampc.org
Review details below for the webex link, meeting number and password to listen and view the presentation slated for June 30th.
June 30th 2015 GA Mentor Protege Connection- Prospective Proteges 
Tuesday, June 30, 2015 
11:00 am | Eastern Daylight Time (New York, GMT-04:00) | 1 hr
Join WebEx meeting
Copy and paste the URL below. Place it into your broswer to access the webinar:
https://gmsdc.webex.com/gmsdc/j.php?MTID=mbe2781b2f8c5a4bae72977611ba4fb07 
Meeting number: 649 095 401 
Meeting password: mpc2015
Join by phone
1-650-479-3208 Call-in toll number (US/Canada)
Access code: 649 095 401
Add this meeting to your calendar.
Can't join the meeting? Contact support.
IMPORTANT NOTICE: Please note that this WebEx service allows audio and other information sent during the session to be recorded, which may be discoverable in a legal matter. By joining this session, you automatically consent to such recordings. If you do not consent to being recorded, discuss your concerns with the host or do not join the session.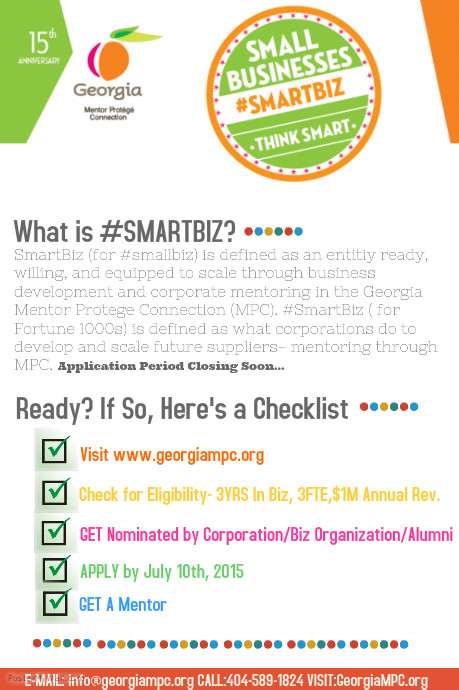 Organizer
Georgia Mentor Protege Connection