June 3: 24th Seasonal Annual Event JUNG AND ACTIVE IMAGINATION

Sunday, June 3, 2012 from 2:30 PM to 7:30 PM (EDT)
Event Details
The Annual Event is sold out regarding dinner. If you would be interested in attending for the Film and Discussion ONLY, the cost is $40 and you MUST call 954-525-4682 for one of the few reservations for those spaces. Thanks for your interest in the Center.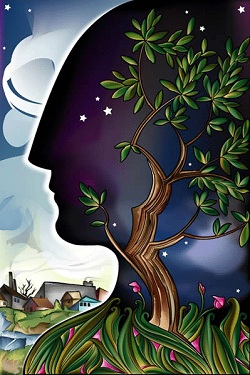 Sunday, June 3, 2012
Sunday 3:00 – 7:30 pm, (Sign in 2:30 pm)
Film, Discussion and Annual Dinner
The Riverside Hotel, Ft. Lauderdale
24th  SEASON ANNUAL EVENT:  
JUNG AND ACTIVE IMAGINATION
Film featuring James Hillman, Ph.D., Jungian Analyst
Facilitator: Pamela Heider, Ph.D., CJSSF Vice-President & Program Chair
The emergence of C.G. Jung's Red Book from years of storage in a Swiss vault has re-kindled interest in Active Imagination. This method of self-exploration involves actively engaging one's own imagination in dialogue with archetypal and shadow forces, through writing, art, or the spoken word.
In this DVD, James Hillman, noted author, psychologist, and the first Director of Studies at the Jung Institute in Zurich, introduces the method of Active Imagination and delves deeply into the therapeutic value it offers to re-engage us with the Gods and Goddesses of our psyche who are dangerously ignored in an increasingly noisy and demanding world. Hillman considers the history and theory of Active Imagination in Jung's work, its relationship to making art, and offers examples for scrutiny and discussion. He discusses our fear of inviting in the Gods and Goddesses as they are so often presumed, and sometimes experienced, as demons. He explores our apprehensions at opening wounds, and addresses the difference between the voices of inner figures and auditory hallucinations.
However, the major re-examination of Jung's original ideas and inspiration does not stop there. Hillman goes on to examine the role of imagination in contemporary culture, and whether imagination itself might need re-imagining. Hillman's seminar was taped December 9, 2009, in front of a sold-out audience at the Pacifica Graduate Institute in Santa Barbara, CA. James Hillman passed away last year at the age of 85. The Center is privileged to present this event in honor of James Hillman.
A discussion follows the film with local Jungian Analysts and the audience,
facilitated by Pamela Heider, Ph.D.  An elegant dinner will complete this celebration.
Learning Objectives: Following the completion of this program, participants will be able to:
Deepen their conceptual and historical understanding of Jung's method of Active Imagination;

Describe the role of imagination in manifesting archetypal forces, our ambivalence about confronting it in contemporary culture, and the necessity of honoring these archetypal energies; and

Demonstrate greater knowledge of the therapeutic value of Active Imagination, together with its practical application in our lives and the lives of clients.
James Hillman, Ph.D.,was a Jungian Analyst, an American psychologist, the first Director of Studies at the Jung Institute in Zurich, and the developer of Archetypal Psychology. He was the former editor of Spring Publications, devoted to advancing Archetypal Psychology, mythology, philosophy, and art. He had numerous publications including his Pulitzer Prize-nominated Re-visioning Psychology. He co-founded the Dallas Institute for Humanities and Culture, and his book, The Soul's Code: In Search of Character and Calling, was on The New York Times Best Seller List in 1978. . He continued to write and present internationally and was considered a sage in Jungian circles.
Pamela Heider, Ph.D.  Jungian-oriented and Gestalt Psychotherapist, received her Doctorate in Clinical Psychology from Pacifica Graduate Institute. She has a private practice in Boca Raton and Hollywood and serves as Vice-President and Program Chair of CJSSF.
Film, Discussion & Dinner: $75; (Add $9 for 3 CEUs); Student $60
Film, Cash Bar & Discussion 3:00 – 5:45 pm; Dinner & Annual Meeting 6:00 - 7:30pm
Please register above with a credit card before Wednesday, May 30th so we can let the Riverside know how many will be attending.  If space is available, a door fee will be added for those not previously registered.
Or mail this form (save PayPal fees) with your check made payable to CJSSF to
Patrick Parham, P.O. Box 669, Hallandale, FL 33008
For more information, visit our website: JungCenterSouthFlorida.org
Or call our Message phone at 954-525-4682 and someone will return your call.
Email: info@JungCenterSouthFlorida.org
Directions to The Riverside Hotel, 602 E. Las Olas Blvd., Ft. Lauderdale, FL 33301
Take I-95 to Broward Blvd Exit, go East past Federal Highway for a half block to SE 8th Ave., turn Right and go one block past Las Olas Blvd., turn Right on SE 4th Street to back entrance of The Riverside where valet parking is $8 per day.  We will be on the 8th floor of the Tower.
When & Where

Riverside Hotel
620 East Las Olas Boulevard
Fort Lauderdale, FL 33301


Sunday, June 3, 2012 from 2:30 PM to 7:30 PM (EDT)
Add to my calendar
Organizer
Center for Jungian Studies of South Florida
The Center for Jungian Studies of South Florida, Inc. is a non-profit educational association that serves licensed mental health professionals and the greater community by fostering the study of the psychology of Carl G. Jung. The Center presents educational services including lectures, seminars, discussions and workshops to address the psychological, social and spiritual issues of our time while providing a forum for personal reflection and development. For more information: Call the Center's Message Phone:954-525-4682 http://www.jungcentersouthflorida.org
June 3: 24th Seasonal Annual Event JUNG AND ACTIVE IMAGINATION