About this Event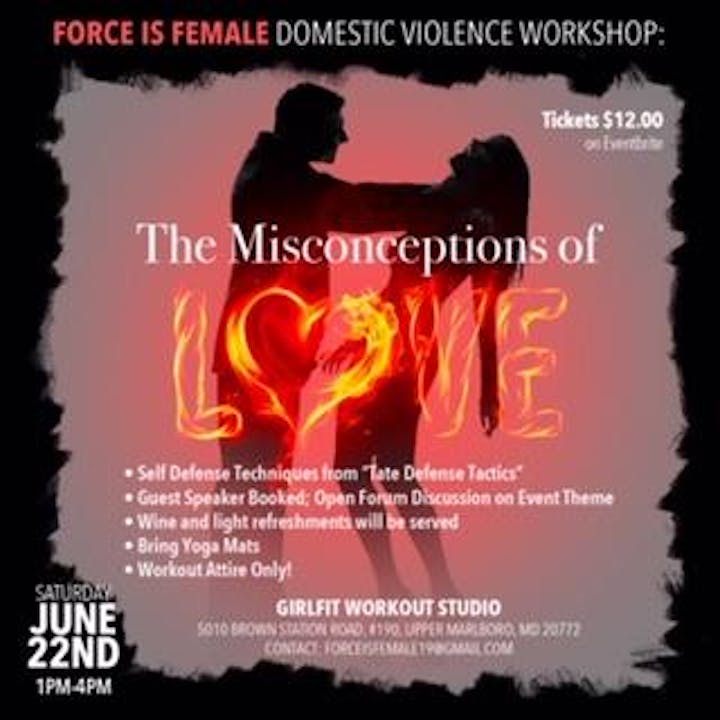 The 1st Domestic Violence Workshop was a huge success and so we are back by popular demand. This event will sell out fast and there are only so many slots available for the class. Get your tickets early!
WHAT IS THE EVENT?
This workshop is all about coming together as WOMEN to stand as one FORCE against domestic violence. The irony in the word FORCE is that it is what an abuser uses to gain control of the situation, but we are taking that power back and using our FORCES for GOOD!
We are offering an hour long self-defense class, speaker, open forum discussion and what would any event be without refreshments and wine?!?
SELF DEFENSE CLASS
In the first hour, we will have an onsite instructor who will show the ladies some basic self-defense techniques.
WORKSHOP DISCUSSION
In this workshop we will first discuss the Misconceptions of LOVE and take a deep dive into what defines love for each of us and why? Secondly, we will talk about how intimacy can give us a false sense of what love really is, when it is with the wrong person. Lastly, we will evaluate what it means to have a healthy relationship.
Our speaker is booked and has so graciously accepted our invitation to talk about her own personal experience with domestic violence and how she overcame it. This is an empowering story you don't want to miss!
RESOURCES
If you are a victim, we will direct you to additional support groups that can help you gain control of your current situation.
Let us not be silenced any longer; we can stand as one FORCE to combat domestic violence in our communities.
FRIENDLY REMINDERS
**This is a Women Only workshop (Men and kids under 18 will not be permitted.)
**Wear comfortable workout clothes and tennis shoes.
**Bring a yoga mat (But if you don't have one, the facility provides mats!)
**Early arrival is preferred(We only have the facility for a limited amount of time; registration begins at 1:00 pm sharp and the session will start promptly at 1:15 pm)
**For studio location and details, go to www.girlfitworkoutstudio.com or dial 240-510-3622; studio is located in the back of the complex; upper level.
**Reasonable Accommodations: Elevator is located on the right side of the building for easy access into the studio.
**For event details, contact Tara at forceisfemale19@gmail.com or text/dial 240-245-7290