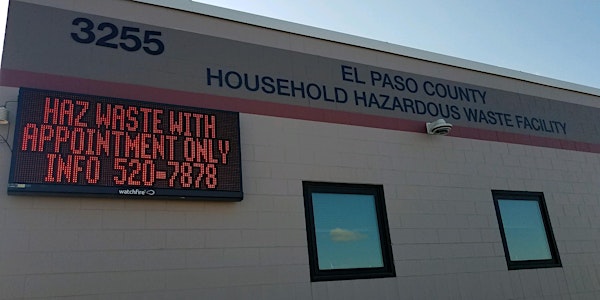 June 2023 El Paso County Household Hazardous Waste Appointments
EPC Household Hazardous Waste Appointments - June 2023
By El Paso County Community Service Department - Environmental Division
Location
El Paso County Household Hazardous Waste Facility 3255 Akers Drive Colorado Springs, CO 80922
About this event
29 days 16 hours

Mobile eTicket
NOTE: If you are looking to dispose of large TVs, tires, or mattresses, you will need to call 719-520-7878 for the Clean Sweep events or visit https://communityservices.elpasoco.com/clean-sweep-events/
*******************************
El Paso County Community Services Department Environmental Division Household Hazardous Waste Facility requires an appointment for household hazardous waste drop-off (paints, household chemicals, some electronics, etc.) Proof of El Paso or Teller County residency is required at drop-off (photo ID, lease, etc.) The recycling service (tin, cardboard, etc.) is separate from hazardous waste and requires a separate appointment. Visit the El Paso County Recycling Page for further information.
Please carefully read the list below of what we do/do not accept, as well as quantity limitations. El Paso County reserves the right to refuse items. To ensure safety of staff and protect the personal property of customers staff will not enter your vehicle. All individuals bringing household hazardous waste will be required to remove each item from their vehicle and place them onto a cart provided by staff. Please ensure that someone in the vehicle is able to accomplish this. If you have further questions, call 719-520-7878 or contact the EventBrite organizer.
Items must be cleaned and free of dirt, dust, leaves and debris prior to drop-off:
✔ EXAMPLES OF MATERIALS ACCEPTED:
Paint, Stains, Solvents, Etc. Latex, Oil-Based, Aerosol, and Hobby Paints; Lacquers, Solvents, Stains, Strippers, Thinners, Varnishes, etc. Limited to a total of 50 gallons by container size (i.e. Ten 5-gallon containers, fifty 1-gallon containers, etc.).
Lawn and Garden: Lawn & Houseplant Fertilizers, Herbicides, Insecticides, Pesticides, Rodent Poisons, Wood Preservatives, etc.
Household: Aerosols, Ammonia, Bleach, Cleaners (carpet, drain, oven, toilet), Cooking & Lamp oils, Degreasers, Deodorizers, Fire Extinguishers, Floor Products, Fluorescent Lights, Furniture Polish, Mercury thermometers, Pool/Spa Chemicals, Rust Removers, Silver Cleaners, Smoke Alarms, Spot Removers, etc.
Porcelain: Toilets, sinks, ceramic tiles, granite, and marble countertops, etc. Remove all non-porcelain parts from toilets. Items must be put in 4 ft. dumpster without staff assistance.
Automotive: Antifreeze, Batteries, Brake & Transmission Fluids, Cleaners (bug, tar, chrome, engine, vinyl), Flares, Fuels, Motor Oil (10-gallon limit per household per month, container must be left at the site), Wax, etc.
Electronics: TVs (20" or smaller CRTs, 40" or smaller flatscreens), Central Processing Units (CPUs), Computer Monitors, Keyboards, Mice, Printers, Fax Machines, Laptops, Notebooks, Ultra-Books, Net Books, Electronic Tablets, DVD Players, VCRs, Radios, Stereos (no speakers), Video Game Consoles and Video Display Devices with viewing screens greater than 4 inches. Cables/cords/wires will only be accepted if they are permanently attached to the device. Each type of device is limited to 5 per household per year.
Medical Sharps: Must be in a certified medical sharps container no larger than 2.2 quarts available at any pharmacy. Two per household per month accepted.
✗ EXAMPLES OF MATERIALS NOT ACCEPTED:
Appliances with Freon & Home Appliances
Asbestos
Business/Commercial Waste (includes schools, churches, nonprofits, federal government, etc.)
Compressed Gas Cylinders Containers larger than 5 gallon
Electronics: Any other item other than those listed above.
Furniture
Mattresses/Box springs (visit the Clean Sweep page)
*****************************************************
For all non El Paso/Teller County residents, please visit the Colorado Department of Health & Environment's list of Hazardous Waste Collection Programs to find the site nearest you. Businesses and other county residents may also utilize private services located in the online Recycling Directory (2023).
*****************************************************
TERMS & CONDITIONS
HOUSEHOLD HAZARDOUS WASTE LIABILITY RELEASE & CERTIFICATION STATEMENT: I hereby declare and affirm of my own personal knowledge that the items delivered to the El Paso County Household Hazardous Waste Collection Facility was, in fact, generated through household use and is not business or commercial subject to federal or state waste regulations. I understand that should I surrender any data containing device to the El Paso County Household Hazardous Waste Facility for recycling it is solely my responsibility to protect my personal information. I further agree to defend, indemnify, and hold El Paso County harmless from and against any and all liabilities, demands, claims, damages, suits, judgments and decrees, and court awards including costs, expenses and attorneys' fees, on account of injuries to or death of any person or persons or damage to any property or personal information arising out of or related to my willful misconduct or negligent acts, errors or omissions for the duration of my participation. I understand that the items will be accepted at the Household Hazardous Waste Collection Facility in reliance on the accuracy and truth of my foregoing declaration / affirmation.