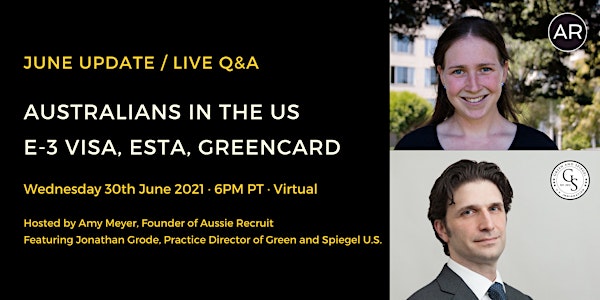 June 2021, U.S. Immigration for Australians (including E-3 Visa)
Monthly update and live Q&A for Australians in the US on E-3 Visas, ESTAs or Greencards
Refund Policy
Contact the organizer to request a refund.
Eventbrite's fee is nonrefundable.
About this event
Amy Meyer from Aussie Recruit and Jonathan Grode from Green and Spiegel U.S. are back for their monthly update for Australians.
This 45 minute event will include:
Latest visa/immigration updates (including the E-3 visa and E3D/EAD)
Where and how to get an E-3 visa processed now
Live Q&A
This event will be recorded and shared with everyone who registers.
Submit your question when signing up (question submission closes Friday June 25)
⭐ Here's what our past attendees are saying ⭐
Amazing source of information and a must for all Aussies in the US. Thanks to Amy and Jonathan for giving their time so freely. - Trevor
So very grateful for the information sessions Aussie recruit run! It's great getting up to date with what embassies are taking appointments for visa renewals. - Nyree
These monthly sessions have been so informative and have really helped me stay up to date and understand my visa options - Sophia 
Amy and Jonathan's session was fabulous. I had talked to 3 attorneys and this was more informative, and provided us with an option that the others did not. Thank you so much, and I really hope you can keep these going - Priya 
Very helpful and insightful. Both speakers were incredibly knowledgeable and answered a vast range of questions in the short amount of time. Thank you to both Amy and Jonathan for hosting these sessions for some pretty stressed out Aussies during the pandemic! - Brittany
These sessions consistently keep me up to date with the immigration rules of the US which are notoriously dynamic. It also feels like a little community of aussies that all help each other out in a common goal! - Jaimee
A fantastic resource for Australian's living in the US - invaluable in these current times! - Rebecca
These updates provide really up to date insights on the E3 visa laws. - Karen
Really informative session for the large group of attendees, sincerely, thank you both Amy and Jonathan. - Guy
Thank you for providing comfort in such an uncertain challenging time. I joined my first webinar tonight and feel like I get some many answers to the knowns. - Elri
Such amazing, fabulous, informative webinars. I've joined the last four webinars and confidently walk away with great understanding. Jonathan explains and talks in simple English. Thank you Amy. Thank you Jonathan. - Rina
Aussie Recruit is a must for any Australian seeking to work in the USA or Canada. I was very grateful to be connected to Amy who only works with companies that are E3 friendly. The monthly webinars with US and Canadian immigration updates/advice are absolutely amazing and invaluable during these turbulent times. - Chris
High quality and useful information exploring working options with accurate updates of the changing status quo; genuine and authentic specialists, and service with a smile. These webinars have been an incredibly generous and helpful service to the Australian community and much appreciated. - Cecilia
Best resource for Aussies looking to live and work in North America. - Andrew
The webinar conducted by Amy and Jonathan is extremely useful and helps Aussies cover all our basis in terms of our ability to work in the USA. - Prima
Amy and Jonathan have been absolutely amazing in providing clarity during a time of huge uncertainty. They keep things extremely understandable and take the time to understand your issues. Thank you so much! - Nigel
By registering for this event, you consent to receive email communication from Aussie Recruit about events and updates that may interest you.
​Aussie Recruit is not a legal practice and is not giving legal advice. Participants and viewers should not act on advice without seeking their own advice.

Aussie Recruit connects Australians across all roles and levels, with new career opportunities at E-3 Visa friendly companies in the San Francisco Bay Area and other US cities. We also help companies in or expanding to Australia, to hire talented returning expats.
Let us know if you want to hear about new job opportunities in the US or Australia.
Interested in hiring talented Australians living in the US, or returning expats to Australia? Contact us to learn more: info@aussierecruitsf.com
We also provide 1-1 career coaching. Contact us to learn more: career@aussierecruitsf.com
About Amy Meyer
Amy is from Sydney and has lived in San Francisco for 8 years. She is the founder of Aussie Recruit and the Australians In San Francisco Community. After working in recruiting/HR at San Francisco based tech companies, Amy is motivated to address the challenges faced by Australians looking for jobs, and connect startups and companies with this incredible group of untalented people.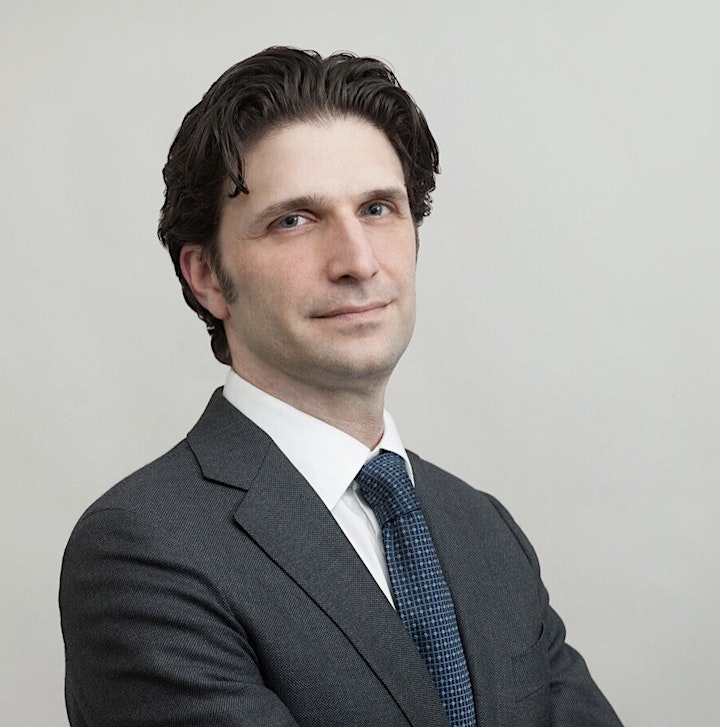 About Jonathan Grode
Jonathan is the practice director of immigration law firm Green and Spiegel. Jonathan helps many Australians with their visas and/or greencards. He has worked continuously in the U.S immigration since 1999 and has amassed considerable experience obtaining nonimmigrant and immigrant visas for new company start-ups, professional workers, artists and entertainers, athletes, physicians, and scientific researchers.
About Green and Spiegel
Green and Spiegel is one of the world's oldest immigration law practices with over 50 years of experience assisting a diverse global clientele. The company is headquartered in Toronto, Canada with U.S. offices in Philadelphia, PA, Providence, RI, and Vail, CO.