Description
Maps and directions are available on our website: AlabamaBJJ.com.
New medals: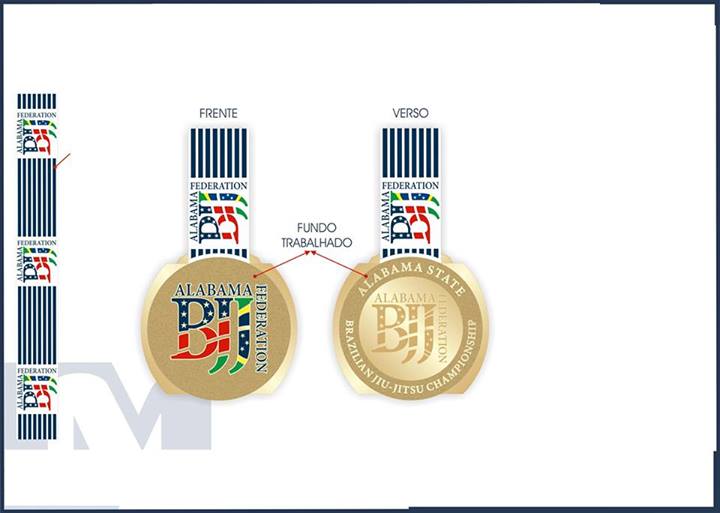 The Alabama Brazilian Jiu-Jitsu Federation is hosting the June 2019 Alabama State Championships (Gi and No-Gi) at Samford University on Saturday, June 1st.
Competitor registration starts at $40.00 online. Additional divisions are $10 each. You can register online until 11:55 PM May 31st. Please include age, weight, belt and team information for use with divisions.

Register for up to 4 divisions for $40 until 05/01/2019.
Competitor registration deadline is 11:55 PM 05/31/2019. No registrations will be taken at the door, only spectators.
If there is no competitor within your division, you may choose to compete up one weight division, down one age division, or compete open division. A competitor must compete within his or her belt.

Competitors will need to compete to get team points. A default winner with no competitor will get a medal but no points.

All weigh-in at 11:00 AM.
SCHEDULE:
10AM: Gi and No Gi, Kids
11AM: Gi and No Gi, Women, All Belts
12PM: Gi and No Gi, Men's Black, Brown, Purple and Blue Belt Divisions
2PM: Gi and No Gi, Men's White Belt Division
NOTE: The Gi divisions will compete first, followed by the No Gi.
Spectators: $5 entry fee at the door.
---
WEIGHT CLASSES: ADULT MEN
160 lbs. and under ( with gi on)
161-180 lbs.
181 to 200 lbs.
201 to 220 lbs.
221 lbs and up
WEIGHT CLASSES: ADULT WOMEN
145 lbs. and under ( with gi on)
146+ lbs.
NO WEIGHT CLASSES FOR KIDS
AGE DIVISIONS: ADULTS
Adult: 18-29
Master: 30-39
Executive: 40 and up
AGE DIVISIONS: KIDS
17-16, 13-15, 12-10, 9-7, 6-4
NOTE: You can only compete at a single belt rank. For example, you cannot compete as a white belt in Gi and then as a blue belt in No-Gi. A jiu-jitsu student will have only a single belt rank at a time, as awarded by his professor.

Any athlete who cannot make weight will be disqualified without registration fee refund! Any competitor who needs to change weight division must do so by 05/31/2019 Brackets will not be altered on tournament day! Please respect your fellow competitors and plan your diet/training in advance to stay within your designated weight class.