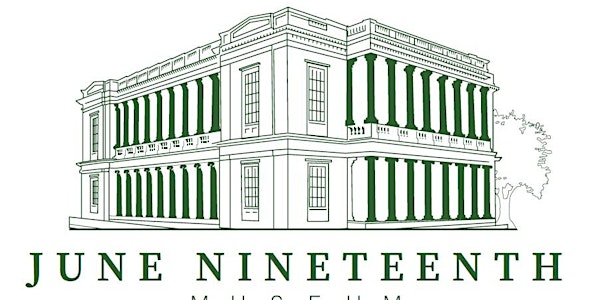 June 19 Museum "19th of the Month" Experience
June 19 Museum monthly content drops
About this event
The "19th of the Month" Experience
On the 19th of each month, The Custom House Juneteenth Museum will have overarching theme content drops, virtual events, and gamified activations available on the LightPlay App!
Register and download the LightPlay App to participate and join the conversation!
Once you become a user on LightPlay, be sure to search for and follow @june19museum to view all the content deployed at locations. Participate by commenting on the drops or dropping content of your own and tagging the museum profile!
About LightPlay: LightPlay is a Geo Messenger App that allows users to drop location-based messages anywhere they want! Connect with people around the world in an entirely different way.
Message types include text, images, audio recordings, videos, weblinks, user-generated augmented reality, and libraries of augmented reality.
How to deploy geo-messages on LightPlay
Choose your message type and location: Pin your message where you want it, and drop it on the map!
Choose user access and discoverability: You decide if your message is for the public, or specifically for the users you select.
Choose your message icon: Each message has an icon that shows where it is on the map. Choose between a generic icon, an icon with your profile thumbnail, or an icon that is a thumbnail of the content type.
Set your time limit: Select a time frame for your message, anywhere from one minute to thirty days!
Set a geofence to limit access by location: A geofence is like a digital fence around your message that a user must be within to open your message. You can optionally enable a geofence on or off. If enabled, set the geofence perimeter size anywhere from 10ft to 100ft!
Edit your message: You can change and update your message settings anytime.
How you can use LightPlay
Let people know what's happening and where in real-time!
Teleport your presence! Place a 2D AR character of yourself anywhere you want to be.
Have fun with family and friends!
Leave recommendations for people to discover and visit!
Geo drop your favorite tracks at locations to set the vibe!
Promote your business and sell products at locations!
Manage staff and ambassadors with location-based check-ins!
Find new friends, connections, and opportunities!
Create new and engaging experiences for people!
This month's theme: The American Reality
Synopsis: The American Dream is a national ethos of the United States, the set of ideals in which freedom includes the opportunity for prosperity and success, as well as upward social mobility for the family and children, achieved through hard work in a society with few barriers. The American Reality is the experience of Americans (African Americans) and how they have navigated through the barriers to attain success, prosperity, and upward social mobility for the family and children.
This month's featured creator: Camille Kelly (TikTok influencer and UCLA student)
Afrofuturism: We are here now and are here to stay
Synopsis: Series of TikToks and Blog Posts also deployed on LightPlay Map interface by UCLA student/Influencer Camille Y'vonne Kelly
The absence of black people in science fiction media (literature, film, and music) is implied genocide. Black bodies, stories, and impact are apparent today and are here to stay. Our contributions have already been whitewashed and, at times, misrepresented. Afrofuturism/afro surrealism gives due respect and recognition to the current and future impact of African American innovation, technological advancements, and creativity.
Current Content Drop Locations:
Galveston Texas
Houston Texas
Chicago Illinois
Los Angeles California
Frequently Asked Question:
What are the location and time?
The location is anywhere you have a smartphone, internet connection, and the LightPlay app (https://lightplay.app). The drop will occur on that day at a time to be announced (we're still arguing about time zones 🤣).