Sales Have Ended
Registrations are closed
Please visit our SOAR page for alternative dates. Thanks for your interest. Office of Academic Advising University of La Verne
Sales Have Ended
Registrations are closed
Please visit our SOAR page for alternative dates. Thanks for your interest. Office of Academic Advising University of La Verne
Description
SOAR is a half-day event that will familiarize you with University of La Verne academic policies, and student rights and responsibilities, culminating in your academic advising and registration in fall semester courses.
Our committed faculty, academic advisors, staff, and current students will be in attendance to welcome you to our beautiful campus. The La Verne community will play an integral part in helping you to develop and achieve your academic and personal goals.
SOAR establishes the foundation for your social and academic success
at the University of La Verne.
All newly admitted students are expected to attend one of our SOAR days.
(Parents or guardians are welcome to attend).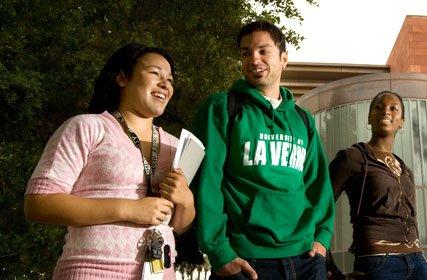 SESSION OVERVIEW FOR NEW STUDENTS
(Actual times & locations may change at day of event)

University of La Verne
New Freshmen Schedule –SOAR
Morning Session #1 Overview for New Students
7:30am-8:00am: Check-In for new Students and Parents (Campus Center; Continental breakfast).
8:00am-8:30am: Welcome LEOS! The La Verne Experience Begins. Welcome Message, La Verne Experience/Academic programs, Advising and Registration Processes. All Students and Parents (Morgan).
8:40am: Programming for Parents Only (various sessions; schedule will be distributed at SOAR).

8:40am-10:10am: "A Chartered Course for Success," Academic Advising and Registration (Students and Academic Advisors Only). Students will meet with academic advisors and complete their FLEX Learning Community schedule. Students will complete their Fall registration today. Various locations.
10:10am-10:50am: "LEOS At First Glance!" (New Students Only w/ Fall Orientation Staff). An opportunity to get on the fast track and meet some of your fellow classmates and some of the Orientation Week Leaders (OWLs).
10:50am: Programming for Parents Only ends. Parents should reconnect with registered students and proceed to second SOAR session, "Financing Your College Education."
---
Financing Your College Education
(All Students & Parents)
11:00am-11:30am: "Financial Aid Welcome/Introduction" (Campus Center).
11:30am-12:30pm: "Financial Aid – Multiple Breakout Sessions" (Various locations and topics).
12:30pm-1:15pm: Lunch (Sneaky Park). Nominal fee.
1:15pm: Program Ends. (Optional) Residential Tour, Meet at the Leopard in Sneaky Park.
---
8:00 a.m.-6:00 p.m.: Woody Hall Open for:
-Obtaining your student ID
-Speaking or setting up appointments with Financial Aid and/or Student Accounts.
-File authorizations to release information to 3rd parties per the Family Educational Rights and Privacy Act (FERPA), as amended.
You do NOT need to print the ticket to attend the event once you
have RSVP'd and received the confirmation from Eventbrite.