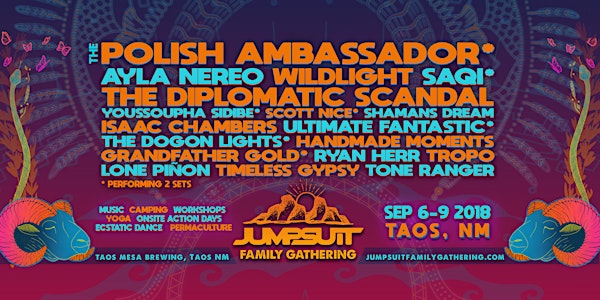 Jumpsuit Family Gathering 2018
When and where
Location
Taos Mesa Brewing Amphitheater 20 ABC Mesa Rd. Taos, NM 87529
Description
Come gather with us once again in one of the worlds most beautiful festival settings. Join our intimate group of all our favorite fans, friends, family and Jumpsuit artists! Our 2nd Annual Jumpsuit Family Gathering to be held once again within the majestic confines of the Taos Mesa Brewing Amphitheater in beautiful Taos, NM! Another full weekend packed with workshops, yoga, song, dance, ceremony and celebration amidst the backdrop of the Sangre De Cristo mountains of northern New Mexico!
The Gathering will take place Thursday September 6th through Sunday September 9th 2018!
Featuring The Polish Ambassador (2 nights!), Wildlight Live, Ayla Nereo, and much of our beloved Jumpsuit family of music makers!

Jumpsuit Records strives for community, to bring people together to celebrate in song and nature. Those of you who were there to experience our first year in Taos know just how much magic we all generated together throughout the weekend! With many of our workshops led by our musicians, we all got to know each other so well and learned so much together. This is truly a grass-roots gathering at its core... it was a common sight to see one of our crew playing their heart out on stage one minute, chopping firewood for the bonfire another minute and then connecting with one another in the crowd the next.
Jumpsuit Family Gathering leans towards the progressive and unconventional, putting the focus on uplifting art and partying with a purpose. We know that our extended family covets an intimate festival experience, one that fosters connection, encourages participation, offers education and the promise of invigorating life experiences.
Taos Mesa Brewing Amphitheater sits just outside of downtown Taos, New Mexico, and features 360 degree stunning views of the high desert and Sangre de Cristo mountains, complete with an onsite restaurant featuring organic food, a craft brewery, and an amazing outdoor amphitheater build in the Earthship style native to New Mexico.
To preserve intimacy and create a vibrant pop-up community, less than 1000 festival tickets that include camping will be offered.
Taos is surrounded by stunning natural beauty in every direction. The views from the venue and the onsite campground are some of the finest in the universe. To the west, a few minutes from the venue, you will find the iconic Rio Grande River Gorge where you can hike, swim, and bask in local hot springs. To the east lies the town of Taos as well as the historic Taos Pueblo, which is the oldest continuously inhabited Indigenous community in the US. Downtown Taos features a beautiful Plaza where you will find NM cuisine as well as a Farmer's Market and local art & crafts.
Human camping passes must be purchased in addition to the Portal Hopper (full festival ticket).. in addition each vehicle entering the campground will require a Vehicle Pass (either a Car Campground Pass or an RV Campground Pass). Car Campground Passes allow your car to enter the campground and park at your campsite so that you can set up your ultimate camp village with all of your friends! This year, all passes INCLUDE Thursday arrival!
Do you want to participate, vend, or offer your art/skillz? Choose the correct form and submit today!
VENDOR applicants click HERE.
STREET TEAM click HERE
VOLUNTEER applicants click HERE
YOGA/WORKSHOP applicants click HERE
FAQs
What time does the gate open? The gate will open at 2pm on Thursday Sep 6th.
Are there ID or minimum age requirements to enter the event? This is an all ages event. Humans 10 years old and under are free!
What are my transportation/parking options for getting to and from the event? Please carpool! This is an intimate venue. Every CAR on-site for the weekend will require a Car Campground Pass ($55). We have limited on-site parking so please purchase in advance to guarantee that you can park your car in the campground.
Can I camp next to my car? YES!! This year ALL Car Campground Passes include car camping!! No need to haul your stuff around. There are also a very limited amount of RV passes on sale. Trucks with camper shells and camper vans do not need an RV pass unless they are longer than 20 ft.
If I purchase a Car Camping Pass or RV Pass do I need to also purchase a Human Camping Pass? YES... each and every human (including ambastronauts) will need to purchase a Human Camping Pass in order to get your human body into the campground for the weekend. If you are staying in town for the weekend you will not need any camping passes, only festival tickets.
Is there ADA accessibility? Yes. Please email jumpsuitfamilygathering@gmail.com for more information.
Is there a VIP accommodation option? Yes!! Check out our Deluxe Jumpsuite Experiences
Does it get cold at night? Yes. Taos, NM is in the high desert.. meaning beautiful warm sunny days, and it will get chilly at night. Bring layers, warmies & onesies.
What's the drinking water situation? Free drinking water is available inside the venue and also in the campground. Bring your refillable jugs full to the event, and you can refill as needed and avoid buying any plastic water jugs.
Is there cell reception? Yes.
Bathroom facilities? Yes.
Are there showers available?
Hot showers will be available in the campgrounds for a fee.
What can I bring into the event?
Good vibes and lotsa smiles!
Tent, sleeping bag, shade structure, cooler, ice, snacks, food, drinking water, camp stove (gas only), camping chairs, tarps.
Bring clothing for both warm and cool weather, sun and rain.
Don't forget your onesie!
Sunscreen
Drinking Water! (Taos, NM is at an elevation of over 7,000 ft. it is very important to drink lots of water... More than you usually do! You may want to be prepared by bringing extra electrolyte drinks)
Things to share and gift with friends old and new
Trash/Recycle Bags (This is a pack it in - pack it out event. Please keep it clean and leave no trace) We plan to assist in onsite composting. We want to nurture a community that is aware of their impact on the environment. Try and be mindful when purchasing food and beverages for your trip. Try and avoid excessive packaging and non-compostable packaging. Buy your goods in bulk and use refillable water bottles and refillable water jugs. Avoid single-use cups, plates, and plastic ware. Buy local, buy organic!
What should I NOT bring?
No personal open fires or fire pits in the campground (we will have many designated communal fires)
No renegade sound systems or generators
No pets (for those on the road with pets, dogs can be boarded locally at 10,000 Wags)
Are camp stoves OK? Yes, small camp stoves are ok. But no open fires or charcoal grills allowed in the campground.
What's the food & drink situation? Taos Mesa Brewing features a full onsite restaurant with organic, vegetarian and vegan options, and an onsite craft brewery. Food vendors will also be serving early morning & late night. Coffee & teas, elixirs & kombucha, and various other delightful beverages will be available. Feel free to bring your own camp kitchen setup as well!
Are tickets refundable? Tickets are non-refundable. This is a rain or shine event.



How are you planning to get to the event?
Join other attendees from your area and ride together
Find a ride