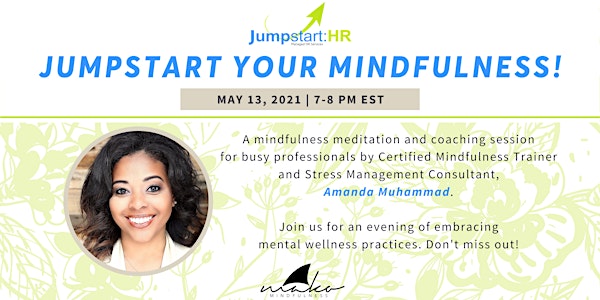 Jumpstart Your Mindfulness with Amanda Muhammad
A mindfulness session for professionals by Certified Mindfulness Trainer and Stress Management Consultant, Amanda Muhammad.
About this event
Do your Friday evenings look like locking yourself away, binge eating, and watching Law and Order SVU? Or do you find yourself not being able to concentrate on the task at hand? Here at Jumpstart:HR, our mission is to help organizational leaders build healthy workplace cultures and it starts with YOU. We understand YOUR life as a professional can get hectic and we are committed to helping you succeed holistically in the workplace. Join the Jumpstart:HR community as we engage in a mindfulness session to reset ourselves and embrace mental wellness practices from a Certified Mindfulness Coach. Mindfulness decreases stress, lowers anxiety, and aides in maintaining composure under difficult circumstances. Our hour long webinar will include a 30 minute mindfulness session led by certified Mindfulness Trainer, Amanda Muhammad, who will guide you and participate in a Q&A. The event will not be recorded for future purposes, so grab your free ticket and Jumpstart your mindfulness today! You don't want to miss this!
About the Facilitator
Amanda Muhammad is a Mindfulness-Based Stress Management Consultant. She is currently pursuing her Ph.D. in Business Psychology studying Psychological Safety, holds a Masters in Organizational Leadership, and a Bachelor's Degree in Management and Leadership. Amanda is a certified mindfulness trainer, compassion fatigue trainer and yoga instructor. After several years of experience in corporate America and education, she found love in teaching others and helping them maximize their potential.
Amanda now spends her days teaching accessible ways to take a preventative approach to stress management. Further, she teaches professionals how to introduce these techniques to their staff, students and clients as a foundation for social-emotional learning, restorative practices, and building resilience. She facilitates a variety of trainings and serves as a consultant to schools and organizations both across the country and internationally. In addition to in-person training, she runs a web-based education platform, Mako Mindfulness, created to guide you through her signature framework of evidence-based practices that change the way we process and respond to stressful situations.