Sales Have Ended
Registrations are closed
Hop on the waitlist for our next event!
Each of us has limitless potential to be creative. Learn powerful ways to gain enduring confidence and experience more joy & success!
About this event
Workshop For Women:
What if you had unique tool that evolved with you for the rest of your life that helped you feel more Confident, experience more Joy, improve your Relationships & made you more Innovative at work..? That tool exists for all of us and it is - Creativity!
In addition to being something that helps you deeply connect with yourself, being creative is a way to reduce anxiety and it innately has other healing abilities. Throughout our lives, and especially in times of uncertainty, those things are more important than ever!
You should attend if you:
Feel a loss of a sense of identity or connection to who you are
Are experiencing anxiety at all the current uncertainty
Been defining yourself by your job or your relationship or by being a mother and have lost touch with who you are beyond that
Would like to have more growth mindset in every day life and at work
Tried other ways of finding yourself but are not feeling satisfied or fulfilled
Feel blocked creatively or once were creative, but aren't sure how to tap into it anymore
There's another reason you're disconnected from yourself
You will walk away with:
Experiencing new confidence in your capacity to be creative
Feeling more inspired
The ability to see new possibilities at home, in relationships and at work
Creative exercises you can start to use right away!
A new passion for what you can achieve
A sense of purpose and light during these ongoing uncertain times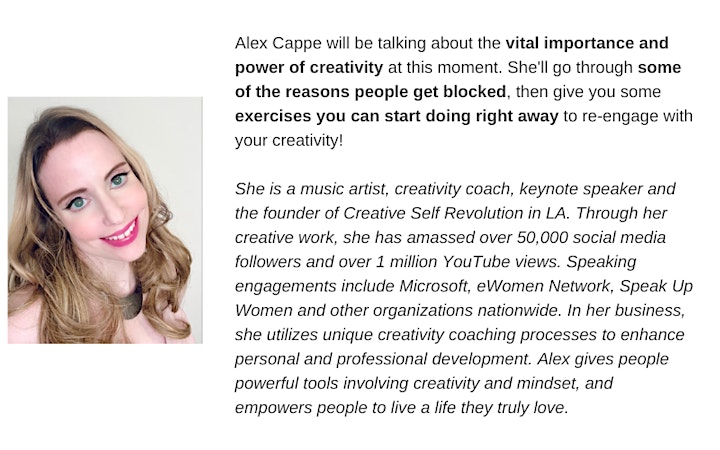 Creativity is one of the most important human abilities which has all kinds of life-altering and world-changing possibilities. It has the ability to enhance ALL parts of your life! Connecting or re-connecting to yourself is extremely valuable because you deserve a life you love!
Would love to have you join us! *Limited spots available.
We will hold time for Q&A to get your questions answered.

More info about Creative Self Revolution on our website.