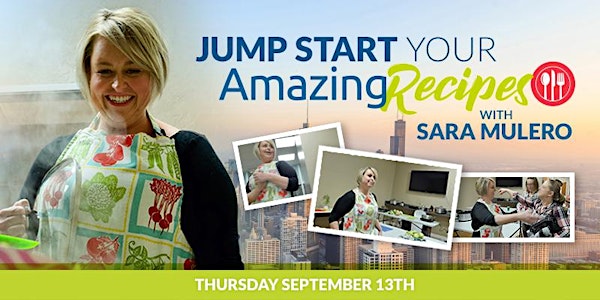 Jumpstart Your Amazing Recipes with Sara Mulero - An Ideal Protein Event
When and where
Location
The Hyatt Lodge at McDonald's Campus 2815 Jorie Boulevard Oak Brook, IL 60523
Description
LEARN HOW TO PREPARE

HEALTHIER MEALS WITH SARA MULERO

---
Ideal Protein's Sara Mulero is taking her 'kitchen tips & tricks' to Chicago! Join Sara as she shares tales of her personal Amazing Transformation weight-loss journey along with fun ways to jumpstart your everyday recipes.
You won't want to miss this chance to hear how Ideal Protein influenced smarter lifestyle choices in the kitchen, as well as her approach to living a healthier lifestyle.
---
Show Agenda and Times:
6:00 pm - 7:00 pm - Lifestyle and Healthy Eating Expo
6:30 pm - Jumpstart Your Amazing Recipes Registration Opens
6:45 pm - Jumpstart Your Amazing Doors Open
7:00 pm - 8:30 pm - Jumpstart Your Amazing Recipes with Sara Mulero
---
You will not want to miss this amazing event! Be sure to purchase tickets for you and your friends as soon as possible!
This event is open to anyone and everyone. It's a great way to share health and wellness with those you love most!
TICKET OPTIONS:
--- GENERAL ADMISSION - $15 (SAVE $5 before Aug. 15th)
--- VIP ADMISSION - $55* (SAVE $5 before Aug. 15th)
(see VIP ticket description for details)

SIGN UP TODAY - TICKETS ARE LIMITED!


---
JUMP START YOUR "AMAZING TRANSFORMATION" EVENTS
Join us for an entire NIGHT of LIFESTYLE, HEALTH, AND WELLNESS!
Thursday, Sept. 13th (7:00 pm) - THE CHEF VERATI SHOW
---
Video/Photograph Disclaimer: By registering I understand that I may appear in photos/videos taken by Laboratories C.O.P. Inc., its subsidiaries and affiliates (collectively, "Ideal Protein"), and that Ideal Protein may use such photos/videos for a variety of purposes, including but not limited to promotional material in print or electronically, social media, and Ideal Protein operated websites. By attending the event, I agree to the use of my photos/videos which contain my images, testimonials, and likeness without any compensation. I also agree that I shall have no claim against Ideal Protein or against anyone accessing these photos/videos and that those remain the property of Ideal Protein.