Sales Have Ended
Registrations are closed
Sorry, registration for this event has ended. If you are really set on attending, please contact sales@trstimson.com for available options.
Sales Have Ended
Registrations are closed
Sorry, registration for this event has ended. If you are really set on attending, please contact sales@trstimson.com for available options.
Description
HOTEL ROOMS:

Unfortunately we are sold out of hotel rooms at this time. Please select No when prompted during registration. Here are some suggestions for nearby hotels:
The Highland Dallas: (214) 520-7969
or
La Quinta Inn/Uptown: (214) 821-4220
Scalable Operations is the Key to Growth and Profit in Live Events
Have you considered scanning the entire show in and QC'ing at the same time? I asked.
"We don't have the time, space, or the money to do that," says the Ops Manager.
The words ring in my head. Am I being asked to solve a problem that has been declared unsolvable? This company won't make a profit if we cannot figure out how to do more work with the same resources.
I observe the warehouse and see the same kinds of things I see in other companies like this: Floor space not used properly, expensive labor doing entry-level work, assets languishing in repair, and functioning gear sitting idle for want of a $19 adapter.
Why? Who made these choices?
The manager shrugs, "How else can we get the work done? We have to prioritize."
Operations Managers everywhere are doing the best they know how with the tools they've been given.
The jobs get taken care of, problems are solved, and emergencies handled. But these managers know their operation is teetering on the brink.
You hear it in their voices, "One more show and we risk making huge mistakes."
Every problem they solve means they neglect a task that might prevent the next crisis.
The manager returns to work.
"Don't scan that stuff in. Just unload the truck and find the camera chains for the convention center order. We'll get to the rest of it later."
"Steve, can you stop what you are doing and run this cable over to Mario at the Hilton?"
"Someone tell Tina that we don't have any more gear! Doesn't she know how busy we are?"
For some of you, this is a familiar tale. 80% of the companies I encounter suffer from a significant case of self-limiting behaviors that threaten revenue growth and eat away at profits.
Operations is a career not a stopover.
Let's assume for a moment that there are ideal ways to run an Operation depending on company size. How would you learn about that? What skills do you need to develop to manage such a process? What do you need to unlearn?
When is all that going to happen?
We talk about training all the time in this business. On the job training only goes so far. If your manager has had no formal training, is he or she really the best person to train you?
What if you learned together?
Imagine discovering best practices, debunking out of date thinking, and getting instant validation from peers that you are on the right path? As a Team?
Excuses Start at the Top
Behind every self-limiting operational practice is a questionable management policy - or worse - no policy at all. Companies that cannot grow profitably are simply doing what they were designed to do, which too often means they chase away new business because they are too busy servicing jobs that were sold on price.
We call this The Death Spiral.
After thirty-five years in the rental production world, I have seen hundreds of business models - good and bad. There is only one formula that consistently supports growth and profit:
Understand Your Customer, Leverage Your Costs, and Sell Beyond Capacity.
What does this mean for Live Event Operations? We need our own growth formula: One that expects to be busy, that optimizes valuable personnel and assets, and that spends money so wisely that it makes money doing it.
Scalable Ops gets in front of demand by passionately creating capacity for more throughput.
Is good enough still good enough for you?
Me neither. That's why I created Jumpstart Workshops. Keep reading to learn more.
- Tom



WHAT IS IT?
Jumpstart Operations - Scalable Profit with Less Stress is a two-day workshop presented by Tom Stimson MBA CTS, President of Stimson Group LLC. This is one of the four Jumpstart business workshops offered in 2019 along with Strategy, Marketing, and Management. You can learn about other events here.
Tom and his colleagues will take you on a journey of operational best practices, scalable processes, highly responsive teams, and performance consistency all of which will increase your sales capacity and improve your gross profit.
Grow your business and make more money at the same time!
Tom Stimson is the foremost authority on the business of Audiovisual Services, Live Events, and Production Rentals. As a Business Advisor, Tom has worked with over three hundred organizations on five continents to better understand how their industry works and what that means for their businesses.
"Operations is my passion. I love the logical use of process, space, time, the right people, and hard work to deliver exceptional quality in live events." - Tom Stimson
Jumpstart events are team-learning experiences.
We all need to unlearn what's not working and replace with practical solutions. To help with this, Tom handpicks guest presenters to challenge our inwardly focused business views.
You will return home with a to-do list of actionable ideas.


OUR SUPPORTING SPONSORS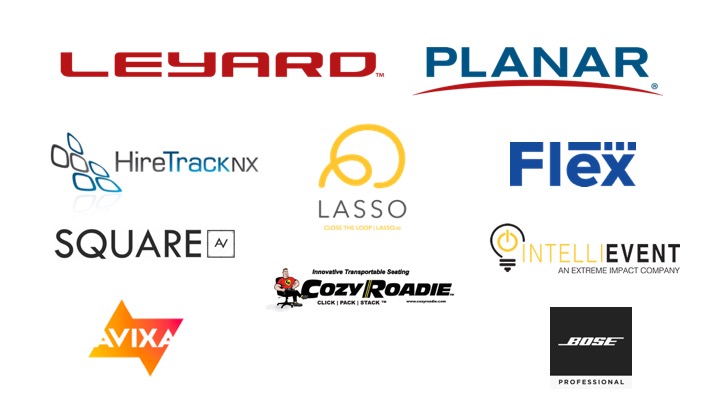 WHO SHOULD ATTEND?
Once a project or rental order is in play, who touches it? Project management? Scheduling? Travel? Sub-rentals? Logistics? Technicians? Show Prep? Inventory?
If you are a one-person company, then come by yourself. Otherwise, send the people that affect your bottom line: Operations Management, Warehouse Supervisors, Technical Managers, Department Heads - they all need to work together to implement the changes that wil make your business more scalable.
Jumpstart is the shortest path to better processes, informed leaders, and profitable results.
These are the three top reasons for learning as a team:
Tom's content is full of tested ideas and best practices. No one has more practical knowledge about all the different ways to setup a successful Operation. Learn from the master, discuss as a team, and ask questions.

Then there are the team table exercises: Develop your skills at managing complex ideas and apply them to your unique situation.Fun and enlightening.

The opportunity to network with your peers is worth the price of attending. Jumpstart attendees are colleagues that share the same challenges as you. How do they handle things?
These moments of discovery will change the way you look at your business forever.



WHAT WILL YOU LEARN?
Wow, where do we start?
Tom Stimson is the Live Event Industry's business Thought Leader, but more importantly to you - he loves Operations. He knows that the right operational processes and management structure will support unlimited growth at optimal ROI.
Every stage of business from Beta startup to mature 3.0 Enterprises must continually improve processes in order to maintain growth and profitability.
Here are some of this year's modules:
Optimizing Process Flow

Operational Staffing

Tech Scheduling

Warehouse Space Optimization

Delivering Gross Profit - Job Cost Analysis

Career Paths for Operations Professionals

Customers: Fact and Fiction


WHAT'S INCLUDED?
Jumpstart Operations is an Executive Class event for working Managers and their teams. We want to foster learning, networking, and discovery. We take care of everything including your hotel reservation. You just register and show up.
Opening night networking reception with food and open bar

Two days of classroom with plenty of time for Q&A

An evening of Festive Dining (and some drinking...) with new friends from the same industry

Two hot, bacon-infused breakfasts

Two real (not-flat-meat) lunches from a chef's kitchen (not banquet food!)

The best snack bar you have ever seen

Favorable Room Rates ($149!) at an Executive Class hotel (pay at check-in)

Fancy-Schmancy Workbook for notes and doodling

All-day refreshments with really strong coffee

On-site support of our Conference Team


WHAT'S IT COST?
Operations people plan ahead to save money. Ready carefully.
Click on the Register button to see the current pricing.
Early Bird rates are $1,898.00 per person until July 16th, but our sponsors are offering discount vouchers to folks on their mailing lists.
Conference rate is $ 2,398.00 per person until August 6th, so it pays to plan ahead. You can use a discount coupon here as well, but it won't go as far as it does on the Early Bird rate.
Space is limited! We had 90 attendees last year and even though we are in a new hotel, we can only squeeze in a few more folks.
Registration closes when the room is full or Tuesday, August 6th - whichever comes first.



THE SPEAKERS
Tom Stimson, President of Stimson Group LLC helps owners and management teams rediscover the fun and profit that comes from making better decisions about smarter goals. He is an expert on project-based selling and a thought leader for innovative business processes. Since 2006, Tom has successfully advised over three hundred organizations on business strategy, process, marketing, and sales.
Holly Way is the Founder of EVERYDAY CREATIVE. With decades of experience creating, reviving, and growing brands, Holly works with business owners who want to thrive. She's reliable for getting right to the heart of any matter, revealing what's authentic and designing wildly effective communication that elevates and expands what's possible. Because, winning.
Your Moderator is Wallace Johnson of WLJ Consulting which advises live event audiovisual companies on how to "Be Better Now." Wallace focuses on the core elements of a company: People, Processes, and Technology, which helps them build confidence and trust in what they do, who does it and how they do it. Wallace sits on AVIXA's Board of Directors, is Secretary-Treasure of AVIXA's Foundation Board and is an adviser to several education organizations with courses related to the subject of audiovisual production.


THE SCHEDULE
MONDAY August 12
5:30 p.m. – 7:00 p.m. Welcome Reception & Sponsor Showcase
TUESDAY August 13
7:30 a.m. Networking Breakfast & Sponsor Showcase
8:30 a.m. Keynote: "Mastering the Building Blocks of Operations" - Tom Stimson
10:00 a.m. Networking Break
10:30 a.m. "Build Your Bench - Get the People Right First" - Tom Stimson
12:00 p.m. Networking Lunch & Sponsor Showcase
1:00 p.m. Panel Discussion: RFID Case Studies - True Stories from the Trenches
2:30 p.m. Networking Break & Sponsor Showcase
3:00 p.m. "Planning and Forecasting - Make a Plan So You Can Change It" - Tom Stimson
4:30 p.m. Leisure Time
6:00 p.m. Cocktails
7:00 p.m. Group Dinner
WEDNESDAY August 14
7:30 a.m. Networking Breakfast & Sponsor Showcase
8:30 a.m. Keynote: "Follow the Money: It Will Design Your Operation for You" - Tom Stimson
10:00 a.m. Networking Break
10:30 a.m. "Operationalize Your Brand" - Holly Way
12:00 p.m. Networking Lunch & Sponsor Showcase
1:00 p.m. "Evolve Your Operations As You Grow: What Should You Be Doing Now?" - Tom Stimson
2:30 p.m. Super Q&A and Closing
3:00 p.m. Pack it Up and Head Home! (You don't even have to help tear down.)
THE VENUE
Jumpstart Marketing Workshop takes place at The Magnolia Dallas Park Cities Hotel, a luxury urban resort in the heart of Dallas. The Magnolia is close to restaurants, shops, and Dallas' wonderful train system.
Dallas Love Field airport is less than 15 minutes away and DFW Airport is only a 35-minute cab ride (or you can take the train).
Upon completing your registration(s), our staff will book your hotel room(s) at the insane rate of $149.00. You will need to provide a credit card upon check-in to cover room charges, applicable taxes, and any incidentals. Room confirmations will be sent to you one week prior to the event, but feel free to contact Event Director Gretchen Zito if you have any questions or special requests.





JUMPSTART TESTIMONIALS
Attendees:
"I attended all 4 Jumpstart seminars in 2018 with a team member who manages the area with our company. The subject matter for each Jumpstart was right on target for any company that is growing or plans to grow. I strongly recommend Jumpstart to any company in the AV Production field. You can never stop learning if you want to grow your business." - Joe Loftus, General Manager, TRAVIS Inc.


"As a 20 year veteran of the AV industry marketing has not always been at the forefront of my mind. But after taking in the full seminar (branding, sales, marketing, content), I now understand how important it is to grow as a professional and as part of a company. I greatly look forward to implementing many of the techniques discussed and growing my skill sets." - Matt Peski, Director of AV Integration, Masque Sound


"I remember during the Hot Seat session someone asking how to get their owner to buy into these facets and ideas. My response to that was, 'Convince the owner to get on a plane, fly to Dallas, and attend a workshop. They will not regret it. Worked for me!' " - Jake Drown, Manager, CSD Group


"Every session was spot-on, addressing subjects critical to effective and compelling sales and marketing. I look forward to reading all your articles and I hope to attend future events. Thank you and your staff for all that you do." - Romondo Davis, Senior Project Manager, REEL IMPACT


Sponsors:
"I have been in sales over 30 years and have heard some of these ideas before – but it is so important to reconnect with the message and be reminded that applying these methods do work!" - Lauren Brach, Enterprise Sales Manager, Intellievent


"Tom and his Guest Speakers revealed new, different approaches; helped us sort out time-wasting activities; and we learned about common misconceptions when evaluating the effectiveness of our marketing efforts. We came home with new tools and action items to gather low hanging fruit and a cohesive plan to generate long-term sales." - Barbara James & Michael Saperton, Owners, Cozie Roadie



FAQ'S
Q: Is there some sort of discount or promotional code I can get? I want to save whatever cost I can.
A: Seriously, we don't want ANYONE to pay retail! Our key sponsors are on board with that as well. Most of them offer Jumpstart discount coupons to their mailing list. If you haven't received a promotional coupon, then visit this page and request one.
Q: I have attended this topic before. How will it be different?
A: EVERY Jumpstart workshop is new. Tom Stimson's foundational teaching is always present, but you expect Tom to stay ahead of the curve and help you peer around the corner. Jumpstart does that and more.
Our guest speakers are hand-picked by Tom to provide insight and perspective by presenters that also understand your unique type of business.
Once you have attended a Jumpstart workshop, you will understand that the content is only one-third of your experience. You will spend more time focused directly on your company over two days than most of your colleagues spend in a year. Plus you will meet peers and learn from them as well.
Q: I have a voucher. How do I apply that to this event?
A: If you purchased vouchers during the pre-sale event (to past attendees only), click on the REGISTER link on the top right. Next, click on "ENTER PROMOTIONAL CODE". At the prompt enter one code only and click "APPLY CODE". Now, scroll down the revised list of registration choices and select "Voucher Holder Registration". Complete the registration process by entering in the attendee's details. Repeat this process for each voucher code/attendee.
Q: Hey, how do I get in on that voucher deal?
A: Sorry! Voucher sales ended months ago. If you missed that sale, be sure you take advantage of Early Bird pricing and look out for discount coupons provided by our sponsors.
Q: Who should attend? Is this just for Owners or Executives?
A: This event is designed to help your Managers, Supervisors, and Department heads better understand the business side of Operations. 100% of your profit comes from Operations. Top brass needs to be there so you can learn together and make decisions that you can act upon immediately. What matters most is that you should not plan on attending alone. Learn together and you will go farther!
Q: What if I want to bring a lot of people? Can I get a price break?
A: If you have more than five folks that need to attend, then contact us for a group rate. Current Tom Stimson advisory clients receive complimentary access and sometimes you will see as many as eight people from one team.
Q: I haven't decided who can attend, can I still make my purchase?
A: Yes. During registration, you will be asked for attendee names. Simply enter your name (or a placeholder name) and complete the registration. Each individual receives a confirmation email, which contains a link to "View and Manage" your order online. This allows you to change the attendee information.
Or, we will be happy to do that for you. Contact Conference Director Gretchen Zito for assistance.
Q: Will my competitor be there?
A: We certainly hope so. The fact that you are too isn't going to keep them away. Jumpstart workshops are highly collaborative events. Get outside your bubble and get to know the people that are influencing your business. 75% of attendees report doing business with someone they met at a Jumpstart event.
Q: Can I get a refund if my plans change?
A: Yes, if you register from this page and pay by credit card, we can issue a refund up to eight days before the event.
Q: What's the dress code?
A: Jumpstart Operations is super-casual. Shorts and golf shirts are fine with us. Some companies prefer their employees to don corporate casual, but we won't tell.
Q: What's the deal with bacon?
A: MMMM BACON!