Description
We've all had that moment in our careers where our knowledge and experience comes face-to-face with a problem that doesn't fit with what we know.
We study the issue. Maybe stare at it for a while. Waiting.
But for what? Without knowledge or direct experience in solving the problem, we're just waiting to see which emotion takes over and makes a decision for us.
For example...
Your Operations manager says he needs more staff, another truck, and fewer orders in order to maintain quality and avoid mistakes.

You carefully update pricing and then fail to win a big project because "you are 50% higher than the competition."

Yet another staff technician leaves the company to work as a freelancer and immediately accepts gigs from your biggest rival.
Frustration, fear, and anger drive a lot of business decisions.
Some of us try to overcome the negative emotions by renaming problems as "opportunities." This might buy us some time to consider our options, but we continue to work from a limited knowledge base.
What happens next is usually a "policy" designed to prevent the problem.
Because Operations is so busy, Sales is directed to turn away orders smaller than $2,500 (or some other arbitrary amount).

To protect pricing, mandate a 'no discounts' policy; or worse, create an overhead calculation that every job has to pay for before it can turn a profit.

Force all employees to sign non-compete agreements so they cannot find work if they leave you.
These decisions don't make you a better company. They don't even solve the problem. Most corrective policies only mask the issue.
Pretty soon, you have corrective policies on your corrective policies. How bad can it get?
I once advised a company whose owner tried to make the business work the way he thought about things. There were so many rules and procedures that employees only spent about half of their day doing productive work. The breaking point came when the owner put a sign in the restroom dictating the correct way to use the toilet.
Thank goodness that's not where you are right now. But you do have questions about how to handle things. You wonder how other people do this. You want to know if there is a Best Practice you should apply.
This is why I created the Jumpstart Management Workshop. We want to help owners and managers of Live Event and Production Rental companies to think more like business people.
Make better choices.
Build your Brand. Protect your Values. Grow your Business.
And make some money while you're at it, why dontcha?
WHAT IS IT?

Jumpstart Management - Intentional Success® is a two-day workshop presented by Tom Stimson MBA CTS, President of Stimson Group LLC. This workshop is one of the four Jumpstart business workshops offered in 2019 along with Strategy, Operations, and Marketing. You can learn about other events and the 2020 schedule here.
Tom and his colleagues will take you on a journey of Management best practices that will help you become a better manager so your team can be more effective. While we want to grow and make more money, we also want to be a great place to work, respected and appreciated by both our customers and employees.
VISION - LEADERSHIP - VALUES - PEOPLE - MONEY
These are more than ideals. Owners, Executives, Managers, and Team Leaders all need to apply these principles in the right order to everything they do.
At Jumpstart Management - Intentional Success®, we will focus on the best practices, tools, and techniques to apply these concrete principles to your ever-changing business.
Leaders need focus, purpose, and tools to be effective, consistently.
Tom Stimson is the foremost authority on the business of Audiovisual Services, Live Events, and Production Rentals. As a Business Advisor, Tom has worked with over 300 organizations on 5 continents to better understand how their industry works and what that means for their businesses.
"Behind every struggling organization is a leader that doesn't fully grasp their role or have the skills or knowledge to execute effectively. Every organization struggles at something." - Tom Stimson
We all need to unlearn what's not working and replace it with practical solutions. To help with this, Tom handpicks guest presenters to challenge our inwardly focused business views.
You will return home with a to-do list of actionable ideas.
OUR SUPPORTING SPONSORS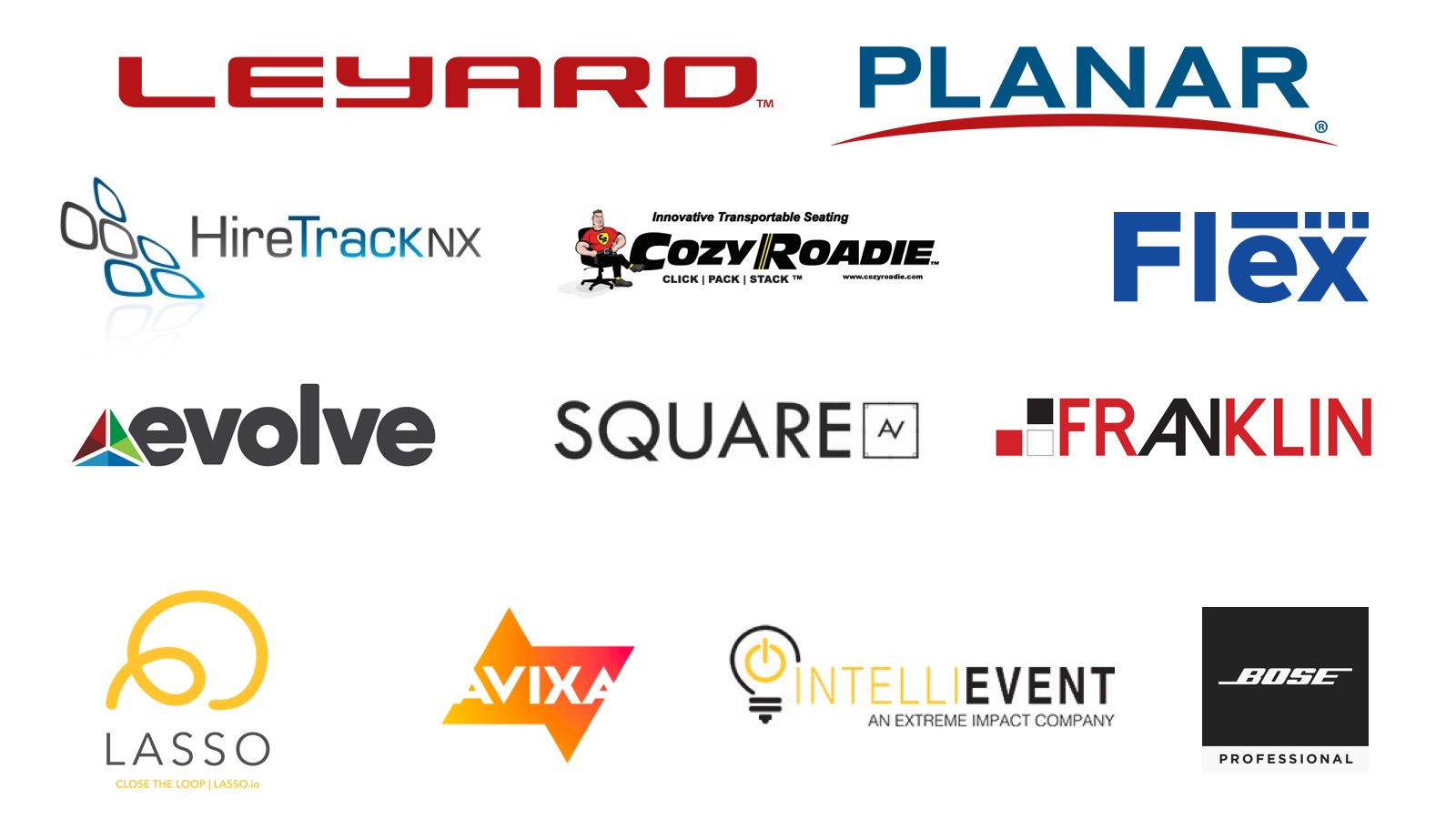 WHAT'S NEW?
We don't recycle content. We create. We expand. We go deeper.
For first-time attendees, you will receive high-value, high-impact information, complete exercises to apply that knowledge, and go home with a fresh look at old problems and the toolkit to solve them. (Many of you will have made fundamental changes to your business before you ever leave the workshop!)
Jumpstart veterans will recognize the recurring themes found in all Jumpstart workshops:
Returning attendees often bring managers that have not attended before and together they'll work through the exercises to gain a collective understanding of how their business works and what it can become.

We learn about scalability, which affects all aspects of your business. It's not enough to just expand - you have to scale.

Then there is the networking. New attendees make up half of every workshop. You meet people with similar challenges, exchange ideas, and discover ways to help one another.
Do you have questions about the business of your business? Tom Stimson has the answers and brings over 30 years of AV management experience to the stage. He practically wrote the book on Business Best Practices for AV companies.
Here are a few of the subjects he will cover in Jumpstart Management - Intentional Success®:
You can scour all the management books you can get your hands on, but none of them can answer these questions about your Live Event business:
Management's job is to remove obstacles. Who removes them for Management?

Where are we going? Where should we be going?

Are we efficient? Are we making enough money? Could we make more?

Where can I find good employees? How do I keep them? How many do I need?

Does budgeting need to be so hard? Should I buy more equipment? How do I make decisions?

Are these 'growing pains' or are we just a mess? How do other companies do this?


WHO SHOULD ATTEND?
This workshop is designed as a Team learning experience for Owners and Partners, the Finance Team, Senior Management, Human Resources, and the next generation of leaders in the Live Events space. We will work on the management of the complete business: Sales, Operations, and Finance.
Who will be helping you get to the next level? That's who needs to attend!
Tom Stimson has spent his career refining business best practices and has helped over 300 businesses improve growth and profitability. Thousands of Live Event professionals read his weekly newsletter, watch his webinars, and follow his advice. This is a rare opportunity to learn first hand, ask the hard questions, and test your ideas.
---
"I attended all 4 Jumpstart seminars in 2018 each with a team member who manages that aspect of our company. The seminars reinforced what I have been trying to implement the last 2 years. From creating a Strategic Plan, focusing on Marketing, to job costing and PO systems, it covered it all. I could see the "aha" lights going on as the information was shared.
I strongly recommend Jumpstart to any company in the AV Production field. It was so informative I purchased the 10-voucher program for this year. You can never stop learning if you want to grow your business."
– Joe Loftus, General Manager, TRAVIS Inc.
---



WHAT'S INCLUDED?
Jumpstart is an Executive Class event for working Managers and their teams. We want to foster learning, networking, and discovery. We take care of everything including your hotel reservation. You just register and show up.
Opening night networking reception with food and open bar

Two days of classroom with plenty of time for Q&A

An evening of Festive Dining (and some drinking...) with new friends from the same industry

Two hot, bacon-infused breakfasts

Two real (not-flat-meat) lunches from a chef's kitchen (not banquet food!)

The best snack bar you have ever seen

Favorable Room Rates ($149!) at an Executive Class hotel (pay at check-in)

Fancy-Schmancy Workbook for notes and doodling

All-day refreshments including a fantastic snack bar

On-site support of our Conference Team





WHAT WILL IT COST?
Or should we say, what's the investment?
What does one more profitable job mean to your business? How much is a good decision worth? What's the ROI on retaining a good manager? All good questions.
At Jumpstart we ask harder questions than that.
Which jobs hurt your profit and stifle growth?

Which decisions undermine your Vision?

What's the cost of keeping an underperforming employee?
The price of not attending is zero.
Where will you be in five years? Are you doing enough to make sure that happens?
Early Bird Rates for a Limited Time Only!
Until October 18th, registration is $2,300 per person.
Starting October 19th, prices go up to $2,800 per person.
Registration ends November 5th, or when we sell out!
Read the FAQs to learn about Sponsor-supported discounts that are available to everyone.


THE SPEAKERS
Tom Stimson, President of Stimson Group LLC helps owners and management teams rediscover the fun and profit that comes from making better decisions about smarter goals. He is an expert on project-based selling and a thought leader for innovative business processes. Since 2006, Tom has successfully advised over three hundred organizations on business strategy, process, marketing, and sales.
Jeffrey Day - Founder of North of 10 LLC
Jeff had a huge impact at Jumpstart Strategy in 2019. He'll be back with his unique blend of insight, humor, and thinking tools. Jeff managed one of the largest and most diverse AV companies in North America. We are lucky to have his wisdom and experience at Jumpstart.
Craig Janssen - Founder of Acoustical consulting firm IDIBRI
Hearing from Craig will be a special treat. Craig is one of those brilliant futurists that can see around the corner of the AV Industry, but he is also a wildly successful business person. He will teach us some of his leadership development secrets for getting consistent high quality results.
Wallace Johnson - WLJ Consulting
Wallace is back as our moderator! In real life he advises live event audiovisual companies on the core elements of a company: People, Processes, and Technology, which helps them build confidence and trust in what they do, who does it and how they do it. Wallace sits on AVIXA's Board of Directors, is Secretary-Treasure of AVIXA's Foundation Board and is an adviser to several education organizations with courses related to the subject of audiovisual production.


THE SCHEDULE
MONDAY November 11
5:30 p.m. – 7:00 p.m. Welcome Reception & Sponsor Showcase
TUESDAY November 12
7:30 a.m. Networking Breakfast & Sponsor Showcase
8:30 a.m. Workshop
10:00 a.m. Networking Break
10:30 a.m. Jeffrey Day - Top Down Trust and Accountability – How to build trust, inspire participation, and hold yourself and others accountable!
12:00 p.m. Networking Lunch & Sponsor Showcase
1:00 p.m. Workshop
2:30 p.m. Networking Break & Sponsor Showcase
3:00 p.m. Workshop
4:30 p.m. Leisure Time
6:00 p.m. Cocktails
7:00 p.m. Group Dinner
WEDNESDAY November 13
7:30 a.m. Networking Breakfast & Sponsor Showcase
8:30 a.m. Workshop
10:00 a.m. Networking Break
10:30 a.m. Craig Janssen - 3 Leadership Strategies that Can Slipstream You to the Next Level - How to Avoid the Pitfall That Keeps Leaders Stuck
12:00 p.m. Networking Lunch & Sponsor Showcase
1:00 p.m. Workshop
2:30 p.m. Super Q&A and Closing
3:00 p.m. Pack it Up and Head Home! (You don't even have to help tear down.)
WHERE? *NEW VENUE*
Jumpstart Management Workshop will take place at DoubleTree by Hilton Hotel Dallas - Campbell Centre in the heart of the Central business district and across from the famous NorthPark Center.
Dallas Love Field airport is less than 15 minutes away and DFW Airport is only a 35-minute cab ride.
Upon completing your registration(s), our staff will book your hotel room(s) at the insane rate of $139.00. You will need to provide a credit card upon check-in to cover room charges, applicable taxes, and any incidentals. Room confirmations will be sent to you one week prior to the event, but feel free to contact Event Director Gretchen Zito if you have any questions or special requests.





JUMPSTART TESTIMONIALS
Attendees:
"I attended all 4 Jumpstart seminars in 2018 with a team member who manages the area with our company. The subject matter for each Jumpstart was right on target for any company that is growing or plans to grow. I strongly recommend Jumpstart to any company in the AV Production field. You can never stop learning if you want to grow your business." - Joe Loftus, General Manager, TRAVIS Inc.


"As a 20 year veteran of the AV industry marketing has not always been at the forefront of my mind. But after taking in the full seminar (branding, sales, marketing, content), I now understand how important it is to grow as a professional and as part of a company. I greatly look forward to implementing many of the techniques discussed and growing my skill sets." - Matt Peski, Director of AV Integration, Masque Sound


"I remember during the Hot Seat session someone asking how to get their owner to buy into these facets and ideas. My response to that was, 'Convince the owner to get on a plane, fly to Dallas, and attend a workshop. They will not regret it. Worked for me!' " - Jake Drown, Manager, CSD Group


"Every session was spot-on, addressing subjects critical to effective and compelling sales and marketing. I look forward to reading all your articles and I hope to attend future events. Thank you and your staff for all that you do." - Romondo Davis, Senior Project Manager, REEL IMPACT


Sponsors:
"I have been in sales over 30 years and have heard some of these ideas before – but it is so important to reconnect with the message and be reminded that applying these methods do work!" - Lauren Brach, Enterprise Sales Manager, Intellievent


"Tom and his Guest Speakers revealed new, different approaches; helped us sort out time-wasting activities; and we learned about common misconceptions when evaluating the effectiveness of our marketing efforts. We came home with new tools and action items to gather low hanging fruit and a cohesive plan to generate long-term sales." - Barbara James & Michael Saperton, Owners, Cozie Roadie



FAQ'S
Q: Is there some sort of discount or promotional code I can get? I want to save whatever cost I can.
A: Seriously, we don't want ANYONE to pay retail! Our key sponsors are on board with that as well. Most of them offer Jumpstart discount coupons to their mailing list. If you haven't received a promotional coupon, then visit this page and request one.
Q: I have attended this topic before. How will it be different?
A: EVERY Jumpstart workshop is new. Tom Stimson's foundational teaching is always present, but you expect Tom to stay ahead of the curve and help you peer around the corner. Jumpstart does that and more.
Our guest speakers are hand-picked by Tom to provide insight and perspective by presenters that also understand your unique type of business.
Once you have attended a Jumpstart workshop, you will understand that the content is only one-third of your experience. You will spend more time focused directly on your company over two days than most of your colleagues spend in a year. Plus you will meet peers and learn from them as well.
Q: Who should attend? Is this just for Owners or Executives?
A: This event is designed to help your Managers, Supervisors, and Department heads better understand what makes your business tick. Top brass needs to be there so you can learn together and make decisions that you can act upon immediately. What matters most is that you should not plan on attending alone. Learn together and you will go farther!
Q: What if I want to bring a lot of people? Can I get a price break?
A: If you have more than five folks that need to attend, then contact us for a group rate. Current Tom Stimson advisory clients receive complimentary access and sometimes you will see as many as eight people from one team.
Q: I haven't decided who can attend, can I still make my purchase?
A: Yes. During registration, you will be asked for attendee names. Simply enter your name (or a placeholder name) and complete the registration. Each individual receives a confirmation email, which contains a link to "View and Manage" your order online. This allows you to change the attendee information.
Or, we will be happy to do that for you. Contact Conference Director Gretchen Zito for assistance.
Q: Will my competitor be there?
A: We certainly hope so. The fact that you are too isn't going to keep them away. Jumpstart workshops are highly collaborative events. Get outside your bubble and get to know the people that are influencing your business. 75% of attendees report doing business with someone they met at a Jumpstart event.
Q: Can I get a refund if my plans change?
A: Yes, if you register from this page and pay by credit card, we can issue a refund up to seven days before the event.
Q: What's the dress code?
A: Jumpstart is super-casual. Some companies prefer their employees to don corporate casual, but we won't tell.
Q: What's the deal with bacon?
A: MMMM BACON!