Description


1ST and ONLY POP-UP EXPERIENCE STORES FOR ENTREPRENEURS!
Do you ever feel overwhelmed by all of the steps needed to grow your business?
Do you ever wonder what the most important things are to invest in next?
Do you feel like there is NEVER enough time or ways to market your business?
Do you wonder how you can grow your business more quickly by leveraging your time and money more

efficently

?
THEN JUMPSTART CONNECT (formally JUMPSTART STARTUP) WAS CREATED WITH YOU IN MIND!


START OR GROW YOUR BUSINESS FOR FREE.
ALL OF YOUR BUSINESS NEEDS, CURATED IN A STEP BY STEP PROCESS, UNDER ONE ROOF, WITH EXPERT GUIDANCE.
WHEN YOU ENTER THE STORE YOU WILL BE TAKEN ON A GUIDED JOURNEY SPECIFIC TO YOUR BUSINESS TO ACTIVATE THE SERVICES YOU NEED TO GET TO THE NEXT LEVEL.
PLEASE ALOT 60 TO 90 MINUTES TO GET THROUGH THE STORE FOR YOUR FULLEST BENEFIT. ONCE REGISTERED YOU ARE WELCOME TO COME ANY TIME ON THAT DATE.
OUR MISSION
TO ELIMINATE BARRIERS IN STARTING AND SCALING GLOBAL BUSINESSES THROUGH OUR DISRUPTIVE MODEL THAT SIMPLIFIES, CURATES AND EDUCATES ENTREPRENEURS AT EVERY STAGE OF THEIR GROWTH: OFFLINE AND ONLINE
JUMPSTART CONNECT IS THE FIRST EVER POP-UP STORE EXPERIENCE BRAND FOR ENTREPRENEURS, WHERE WE NOT ONLY CURATE ALL OF THE ENTREPRENEURS NEEDS FROM START THROUGH SCALE IN A STEP BY STEP PROCESS, UNDER ONE ROOF, BUT ALSO ACTIVATE AND ACCELERATE THE ENGAGEMENT PROCESS WITH EACH ONE OF OUR BRAND PARTNERS BY A UNIQUE IN-STORE MENTORSHIP SERVICE FOR EVERY PERSON THROUGH THE DOOR--FOR FREE, CONTINUING THE ACCELERATION AND ACTIVATION EXPERIENCE ONLINE.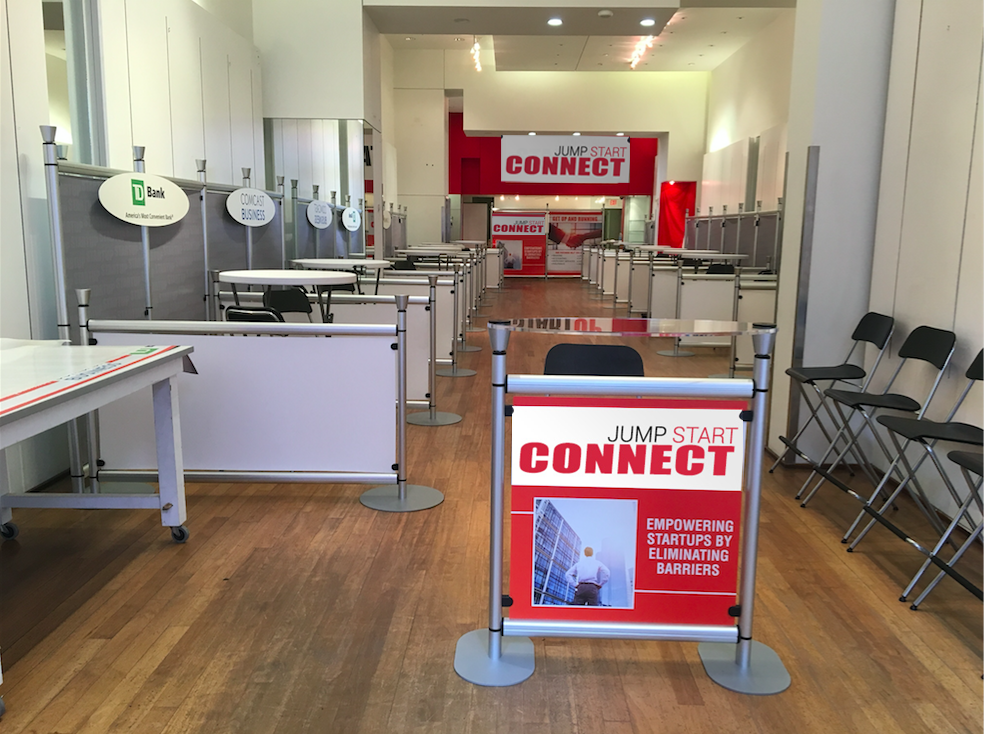 EXPERT GUIDANCE
AT EACH OF OUR POP-UP EXPERIENCES WE PROVIDE PERSONALIZED ACCESS TO ENTREPRENEURIAL EXPERTS FOR ALL OF OUR GUESTS TO CREATE A CONCIERGE EDUCATIONAL JOURNEY TAILORED TO THEIR INDIVIDUAL NEEDS TO MAXIMIZE THE EXPERIENCE FOR EACH CUSTOMER AND BRAND PARTNER
THANK YOU TO OUR PAST AND CURRENT SPONSORS
Comcast Business UPS
TD Bank Insperity
Sprint INC. Magazine
Bradley Communications My Top Bookkeeper
Citrin Cooperman Wes Hall
JBC & Associates Legal Shield
BeLiveTV MyNewPhilly
Groover Media National Publicity Summit
Stanwood Group Benjamin's Desk
Mad Hatter Agency My City Gives
Helm Branded Productions
Blackbook llc. MadHatter Agency
Brinker Simpson Greco Promotions
MSC Capstone Group
My New Philly Iam App Platform
Simplified Impact Alcom
30 Second Success Global Payments
CH Solutions