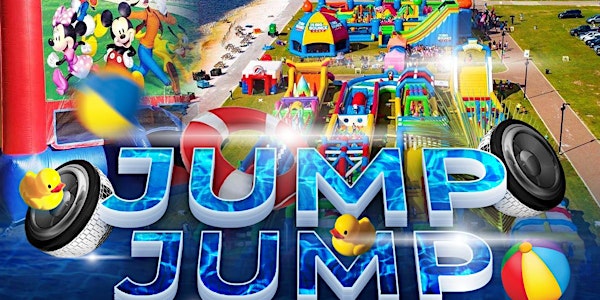 Jump Jump "The Ultimate Kids Festival"
Summer is for the kids Welcome to JUMP JUMP
Date and time
May 7 · 1pm - January 28, 2024 · 9pm CDT
About this event
Welcome to JUMP JUMP. This is where kids can be kids and even adults can be kids over 30 bounce houses for kids of all ages. Bounce all day long and enjoy a family fun event. Great vendors selling all types of food, snow cones/shaved ice, hot dogs, hamburgers candy, ice cream and a lot of bouncing welcome to jump jump.
You entry into Jump Jump For Kids is an All Day Access Pass. There is absolutely no time limit. Stay and play as long as you want. This is the best festival for parents. After your kids leave Jump Jump they probably will be so tired that they are going right to sleep. Bring the family and friends out and enjoy these wonderful games, food and activities.
Parents must watch and be responsible for their kids at all time. The event/organizers is not responsible for your kids.
Items you can bring in the venue
✅ Chairs,
✅Kids Toys
✅Umbrellas,
✅Towels,
✅Cameras,
✅Camcorder
✅Portable Tents
✅ Tables
Items you CAN NOT bring in the venue‼️
🚫No Coolers,
🚫No Food,
🚫No Drinks,
🚫No Guns🚔
🚫No Knives🚔
🚫No Drugs🚔
___________________________________________________________________________________________________________
VOLUNTEER & BOUNCE FOR FREE!
We would love to have you on board to be an awesome volunteer ? You Guys Rock!
Volunteers will work alongside crew members to assist with pumping up the crowd, staffing the inflatables and overseeing the safety of our participants.
In return for a 4 hour shift you will receive 3 'Access All Areas' passes to enjoy with family and friends. This includes full ALL DAY access to all of our bounce houses. And you will receive a to-go goodie bag! To sign up to be a volunteer please email Frankwhitepromo@gmail.com
___________________________________________________________________________________________________________
And absolutely no refunds. Security Provided by HPD
No SHOES ALLOWED inside of bounce houses. Parents must keep an eye on their kids' shoes. We do not provide storage or place to store shoes while you bounce
___________________________________________________________________________________________________________
Jump Jump For Kids is a rain or shine event and we won't let some light rain stop the fun. We recommend checking the local weather report in advance of your session and dressing appropriately.
The safety of our customers and staff comes first and in the case of thunderstorms, heavy rain, strong winds or other adverse weather conditions that would pose a risk, we reserve the right to postpone, reschedule, cancel or alter elements of the event or individual sessions. We keep a close eye on the weather ahead of our events and will communicate any changes as soon as we can to ticket holders via email.
____________________________________________________________________________________________________________
*****Jump Jump For The Kids owners, officers, affiliates, volunteers, participants, employees, and all other persons or entities acting in any capacity on their behalf, I hereby agree to of myself, release, my spouse, indemnify my children, my parents, my heirs, assigns, personal representative and estate as follows:
1. I acknowledge that my participation in Jump Jump taking place Saturday August 6, 2022 games or activities entails known and unanticipated risks that could result in physical or emotional injury, paralysis, death, or damage to myself, to property, or to third parties. I understand that such risks simply cannot be eliminated without jeopardizing the essential qualities of the activity.
The risks include, among other things: entail certain risks that simply cannot be eliminated without jeopardizing the essential qualities of the activity. Jump Jump For The Kids exposes its participants to the usual risk of cuts and bruises. Other more serious risks exist as well. Participants often fall off equipment, sprain or break wrists, ankles and legs, and can suffer more serious injuries as well. Traveling to and from bounce houses locations raises the possibility of any manner of transportation accidents. Participants often fall on each other resulting in broken bones and other serious injuries. Double bouncing, more than one person per bounce house can create a rebound effect causing serious injury. Flipping and running and bouncing off the walls is dangerous and can cause serious injury and must be done at the participants own risk. There is also a risk of colliding with or being landed on by jumpers of a different size. In any event, if you or your child is injured, you or your child may require medical assistance, at your own expense.
Furthermore, Jump Jump For The Kids. employees have difficult jobs to perform. They seek safety, but they are not infallible. They might be unaware of a participant's abilities. They may give incomplete warnings or instructions, and the equipment being used might malfunction
2. I expressly agree and promise to accept and assume all of the risks existing in this activity. My participation in this activity is purely voluntary, and I elect to participate in spite of the risks.
3. RELEASE OF LIABILITY: I hereby voluntarily release, forever discharge, and agree to indemnify and hold harmless Jump Jump For The Kids from any and all claims, demands, or causes of action, which are in any way connected with my participation in Jump Jump For The Kids. activities or my use of Jump Jump For The Kids equipment or including any such claims based upon damages caused or alleged to be caused in whole or in part by the negligent acts or omissions of Jumping World Inc..
4. Should Jump Jump For The Kids. or anyone acting on their behalf, be required to incur agreement, attorney's agree indemnify fees and hold them harmless for all such fees and costs.
5. I certify that I have adequate insurance to cover any injury or damage I may cause or suffer while participating, or else I agree to bear the costs of such injury or damage myself. I further certify that I am willing to assume the risk of any medical or physical condition I may have.
6. In the event that I file a lawsuit against Jump Jump For The Kids/Turn Up Masters LLC., I agree to do so solely in the state of Texas, and I further agree that the substantive law of Texas shall apply in that action without regard to the conflict of law rules of that state. I agree that if any portion of this agreement is found to be void or unenforceable, the remaining portions shall remain in full force and effect.
7. I agree that I am personally responsible for my safety and actions while using at Jump Jump For The Kids. I agree to comply with all policies and rules, including but not limited to all policies, guidelines, signage, and instructions. Because the Jump Jump For The Kids. is open for use by other individuals, I recognize that I am at higher risk of contracting COVID-19. With full awareness and appreciation of the risks involved, I, for myself and on behalf of my family, spouse, estate, heirs, executors, administrators, assigns, and personal representatives hereby forever release, waive, discharge, and covenant not to sue Jump Jump For The Kids., its board members, officers, agents, servants, independent contractors, affiliates, employees, successors, and assigns (collectively the "Released Parties" from any and all liability, claims, demands, actions, and causes of actions whatsoever, directly or indirectly arising out of or related to any loss, damage, or injury, including death, that may be sustained by me related to COVID-19 whether caused by the negligence of the Released Parties, any third-party using Jump Jump For The Kids., or otherwise, while participating in any activity while in, on, or around the Jump Jump For The Kids. and/or while using any Jumping World Inc.'s facilities, tools, equipment, or materials. I agree to indemnify, defend, and hold harmless the Released Parties from and against any and all costs, expenses, damages, claims, lawsuits, judgments, losses, and/or liabilities (including attorney fees) arising either directly or indirectly from or related to any and all claims made by or against any of the Released Parties due to bodily injury, death, loss of use, monetary loss, or any other injury from or related to my use of the facilities, tools, equipment, or materials, whether caused by the negligence of the Released Parties or otherwise specifically related to COVID-19.
By purchasing Jump Jump For The Kids entry tickets, I acknowledge that if anyone is hurt or property is damaged during my participation in this activity, I may be found by a court of law to have waived my right to maintain a lawsuit against Jump Jump For The Kids. on the basis of any claim from which I have released them herein. I have had sufficient opportunity to read this entire document. I have read and understood it, and I agree to be bound by its terms.
I further grant Jump Jump For The Kids., the right to photograph, videotape, and/or record me and/or my child/ward and to use my or my child's/wards' voice and appearance in connection with exhibitions, publicity, advertising and promotional materials without reservation or limitation. By purchasing entry tickets or given free tickets you accept the full term of this waiver
("Minor") being permitted by Jump Jump For The Kids. to participate in its activities and to use its equipment and facilities, I further agree to indemnify and hold harmless Jump Jump For The Kids. from any and all claims which are brought by, or on behalf of Minor, and which are in any way connected with such use or participation by Minor. I further certify that I am the parent or legal guardian of the minor on this agreement. I also acknowledge that it is solely my responsibility to watch my child/children and Jump Jump For The Kids will not watch anyone's child/children.
Full bar must be 21 and up with valid ID