Description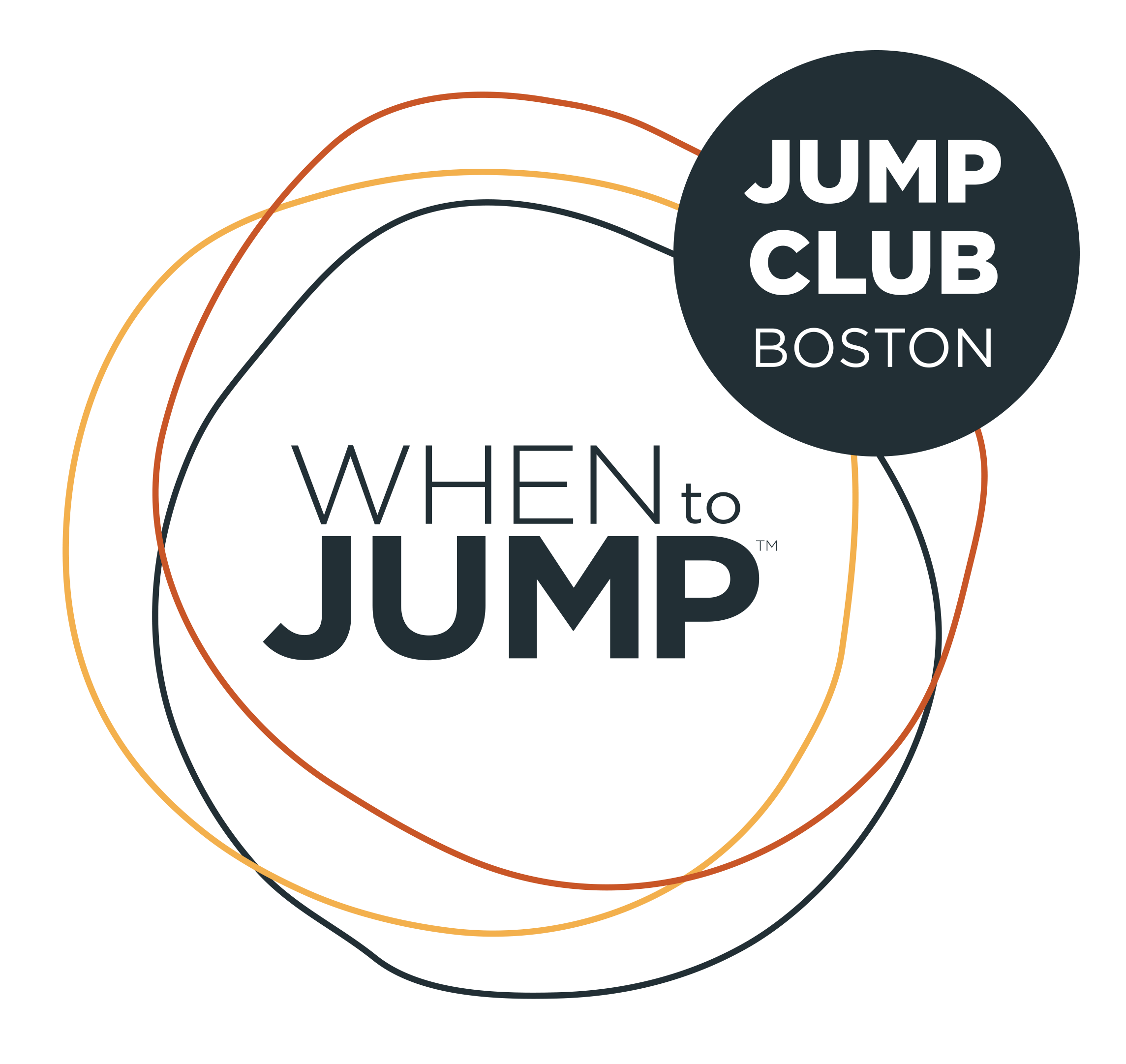 When to Jump is a curated community featuring the ideas and stories of people who have made the decision to leave something comfortable and chase a passion.
We started with one story shared across a cubicle. Today we're anchored at whentojump.com, @whentojump on Facebook and Instagram, and a book released globally. We've reached millions of impressions with daily participation from public figures, and young and working professionals worldwide.
We're thrilled to announce that we are heading to Boston for Jump Club this September 7 and 8! Jump Club Boston kicks off with a private dinner party and cocktail reception on Friday night (September 7) at Blue Dragon, and continues on Saturday (September 8) with a morning sweat program, lunchtime workshops, live keynotes and performers, and a pop up food and beverage experience from local Boston vendors.
Our sold out, inaugural experience featured keynotes like Sheryl Sandberg, world-class musicians, renowned culinary vendors and inspirational speakers and presenters, all relating to When to Jump's mission of chasing a passion. Check out our Jump Club page for more details, and quick recaps of Jump Club I: SF and Jump Club II: NYC.
For information on partnership opportunities, reach out to tyler@whentojump.com. More questions? Email info@whentojump.com.
FESTIVAL SCHEDULE
FRIDAY, SEPTEMBER 7
VIP Dinner & Welcome Reception // 6:00 PM
Private drinks and dinner hosted by celebrity chef Ming Tsai at his Blue Dragon restaurant. Blue Dragon is a hip, casual restaurant. There's no dress code for this event, and we'd love nothing more than for you to come just as you are.
(Passes: Weekend All Access, Friday Night VIP Dinner Only, Keynotes, Sponsors, Partners)
SATURDAY, SEPTEMBER 8
Morning Sweat Program // 9:00-10:00 AM
Get the workout sneaks on, unroll the yoga mats and click into a spin bike because we're teaming up with jumpers from around our community - from Texas to New York City to Boston's Back Bay - who have taken a risk to pursue a career in health and fitness. Sweat Programs include: indoor cycling, outdoor yoga, and strength training in the park hosted by WTJ members from around our community.
(Passes: Weekend All Access, Saturday Full Day)
Lunch & Learn // 12:00-2:00PM
Small group learning and breakout sessions led by Member Leaders hand-picked from the WTJ community, with lunch catered by Dig Inn.
(Passes: Weekend All Access, Saturday Full Day)
Main Event // 3:00-6:00 PM
The main event! Keynotes, pop-up food stalls and drink offerings, performances. Doors open at 2:00 PM.
(Passes: Weekend All Access, Saturday Full Day, General Admission)