July Swap

Wednesday, July 17, 2013 from 6:30 PM to 8:00 PM (EDT)
Event Details
The first ever Washington Township/South Jersey Food Swap will take place on Wednesday, July 17th from 6:30-8:30 p.m.
Schedule
6:30-check-in & set-up (Be on time people!)
7:00-explore, sample, meet & bid
7:40-review bids & SWAP
Every participant must register for their free ticket here. If you cannot attend after registering please come back here and cancel your order so someone on the waiting list can attend. 
WHAT IS A FOOD SWAP?
A recurring event where you swap items YOU made, grew, canned, cooked, foraged, baked or crafted.
Swappers make direct one-to-one trades with other swappers. For example I might trade you a loaf of my gluten-free bread for a 16 oz jar of your famous marinara sauce, or half a dozen of her eggs, or a bar of his chamomile goat's milk soap, or one of their rooted strawberry plants, etc. 
The possibilities are endless!
Delicious and fun way to diversify your own pantry and home while getting to know like-minded individuals in our community.
DO I HAVE TO LIVE IN WASHINGTON TOWNSHIP TO PARTICIPATE?
Absolutely not! All of our neighbors are welcome!
WHAT DOES A 1 TO 1 SWAP MEAN?
You are trading one package of yours for one package of someone else's. Please make sure your items are proportionate to what others are offering. It's not really fair to trade two cookies for a 16 oz jar of blue cheese dressing. Let's not be stingy. Let's have fun!
A "package" could be an 8 ounce jar of your famous orange marmalade, half a pound of peanut butter fudge, 1 pound of pizza dough, an 8 ounce jar of lavender bath salts, a 16 ounce bottle of basil-infused olive oil, a 16 ounce container of Jersey tomato salsa, potted organic rosemary from your garden, a 16 ounce tub of your own granola trail mix recipe, a 4 ounce tin of your super secret chili spice blend, A 16 ounce jar of pickles, a potted succulent, quart bag of your spicy chai mix, ... You get the idea. 
HOW SHOULD I PACKAGE MY ITEM(S)?
You certainly do not have to get fancy! 
Please do be aware that the packages will be handled by attendees. So, make sure the items will remain sanitary if handled; plastic tubs, glass jars, zip-loc bags, paper bags, aluminum tins,  ...

Eco-friendly and reusable packaging is always appreciated.
MAY I BRING MORE THAN ONE TYPE OF ITEM?
Yes! You may bring many packages of one item or a few packages of a variety of items. Please be certain all items are fresh!
DO I NEED TO LABEL MY ITEMS?
Yes! Please label each package with the name, ingredients and directions, if needed.
WHAT IF SOMEONE WANTS TO SWAP ME FOR AN ITEM I AM NOT INTERESTED IN?
No one should in any way feel obligated to swap with anyone else, and no one should get their panties in a bundle if someone else does not want to swap with them.  Everyone has different tastes, dietary concerns, allergies, etc. 
MAY I BRING SAMPLES OF MY ITEM(S)?
Yes! It is not mandatory to do so, but it may help "sell" your item to others if they try it and like it.
HOW MUCH IS THIS GOING TO COST ME?
No money is exchanged at the swap and there is no fee to attend. Your only expense is anything you purchase to create and package your item(s).
WHAT IS THE SWAPPER HONOR CODE?
This is a community event; however, participants must pre-register, which means this event is operated as a private club.
In addition, all swap participants adhere to an honor code of using the highest cleanliness standards in their own kitchens and gardens to prepare their swap items. 
Swap participants must agree to the following terms before registering:
• By participating in this event, you are acknowledging that the food items being shared are not necessarily prepared in commercial kitchens or spaces inspected by any government agency.
• By participating in this event, you are also acknowledging that you will use the highest standards of safety and cleanliness in food preparation.
• By participating in this event, you assume all liability; specifically, you agree to not hold liable food swap hosts, swap venue owners/providers, or other swap participants.
HOW DOES THIS THING WORK?
You will have 30 minutes to sign-in and set-up. (Be on time people!)
Then, you will have 30 minutes to look around, sample and explore the items other swappers have created. 
During this time you may "bid" on items you are interested in swapping. (Think "Silent Auction" without the pressure or the cash.)
For example; Kevin brings one pound bags of his mom's special family recipe fettuccine  noodles. Well, I love those bad boys. So, I write my "bid" on Kevin's swap sheet: "Stephanie will trade a 3 oz jar of her Key West body butter for Kevin's fettuccine noodles.
Next, everyone returns to their swap sheet(s) to see what others are interested in swapping. 
The order in which names appear has no bearing on the swap. YOU decide which items you want to swap for based on those who are also interested in swapping with you. (Remember: no hurt feelings!)
Finally, the chaos- I mean... Finally, the swapping begins. Go and find your "bidders" and swap those goodies. Or, just stand there and let them come to you-whatever makes you happy.
If you have items left over after "bidding" you may go around and chat with those you are interested in swapping with. Maybe someone missed your table or was afraid they had bid on too many items. This is a great way to try new things and encourage those whose items may not be as popular as others.
As things wind down, clean up your area and pack up your goodies. Enjoy!
See you next time!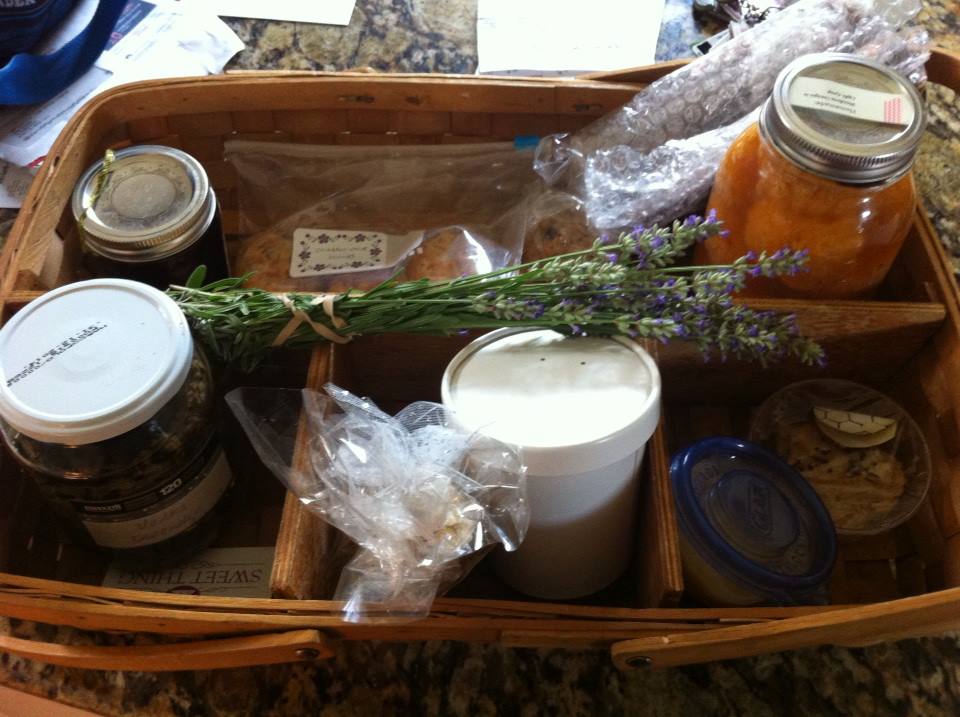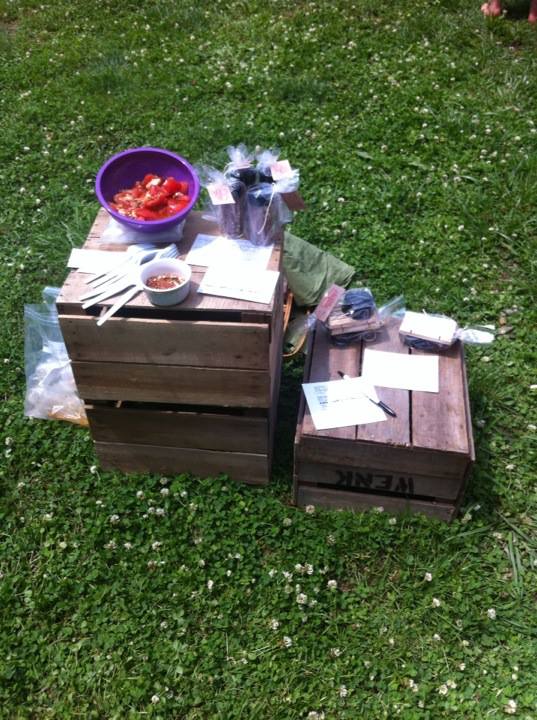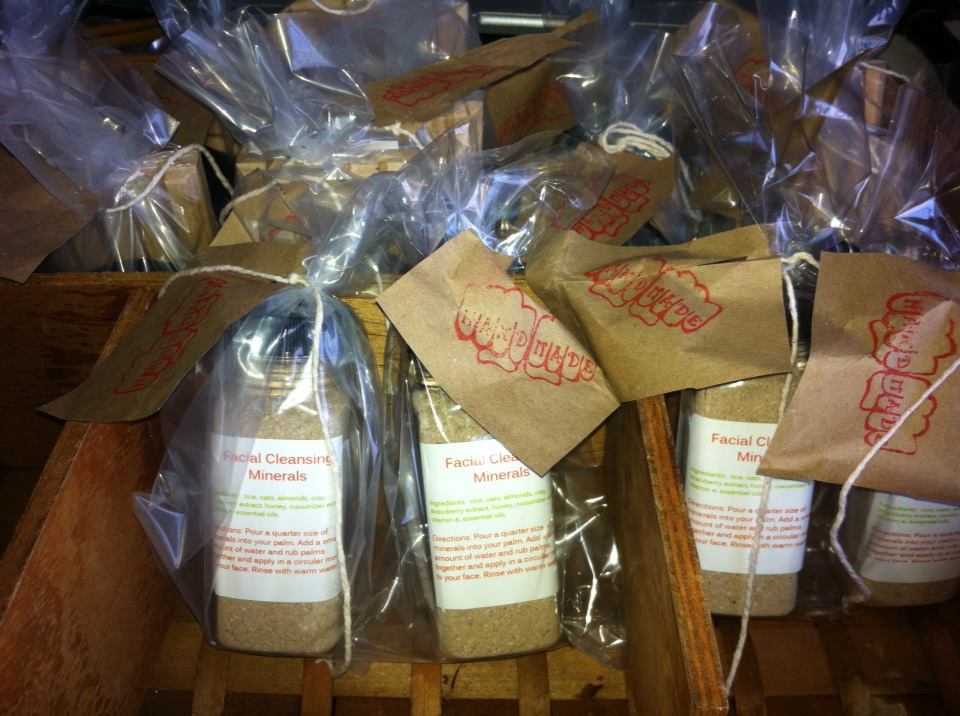 Attendee List
Sort by:

Date

|

First Name
When & Where

Residence in the Wellington Manor neighborhood of Washington Township, Sewell, NJ




Wednesday, July 17, 2013 from 6:30 PM to 8:00 PM (EDT)
Add to my calendar
Organizer
Washington Township Food Swap