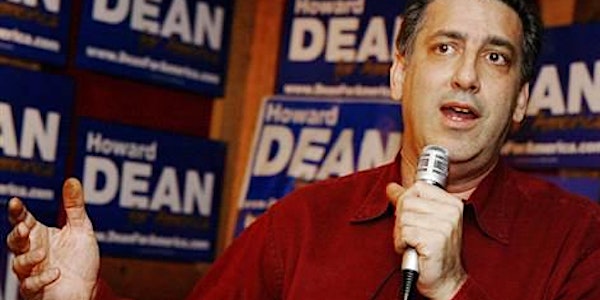 JULY PROGRESS MEETUP: "The Revolution Won't Be Televised" Edition with Joe Trippi
When and where
Location
UberOffices 1200 18th Street NW Suite 700 Washington, DC 20036
Description
+ Join our NEW Meetup event:
+ share #progressmeetup on twitter!
*** REGISTERED GUEST LIST BELOW ***
join us for a talk on 2016 Politics with an Internet-age Politics Pioneer
Joe Trippi
Founder & President, Trippi & Associates
Author, "The Revolution Will Not Be Televised"
Campaign Manager, Dean For America 2004
+
"Forward Progressive" Presentation
"The NEXT Revolution will be Super APP-sized!"
(N4P Founder Jim McBride on how tech can transform politics again 2016)

*** Food & Beer/Wine provided ***
Please join Network For Progress, a social and media-savvy grassroots community inspired by the "Yes We Can" Movement to engage Progressives, Democrats, Hope Mongers and Change Makers in political and civic participation, at July's Progress Meetup with Howard Dean's Presidential Campaign Manager & Online Politics Pioneer Joe Trippi.
There is not many people out there better to remind us that the "Revolution Will Not Be Televised!" as Joe will explain how both the Clinton AND Sanders campaigns have yet to maximize their potential by innovating new ways to engage current and potential supporters.
Joe will share with us some background about his career in politics, including what he learned from the 2004 Democratic Primary race and how we can still apply those lessons in 2016. Then he will take your questions.
After the program, Jim will share his insights and we invite you to share your own "Progress Highlights" as we welcome community announcements about relevant events, opportunities and actions. We will also offer a round of introductions and our NEW "Networking Potluck" bucket to find people with common interests!
Questions/Comments? Contact us at network4progress@gmail.com
FOLLOW US!
http://networkforprogress.weebly.com/follow-us.html
(includes Progress USA national posts, Career Progress, Comm Tech 4 Progress, Campaign 4 Progress, Advocate 4 Progress, Serve 4 Progress and more!)