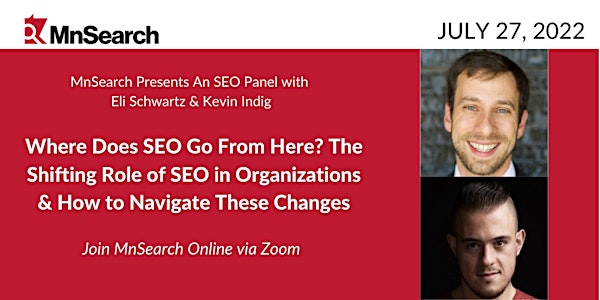 July MnSearch Event: Panel with Eli Schwartz & Kevin Indig
Join us on Wed., July 27th via Zoom for our virtual MnSearch event with Eli Schwartz & Kevin Indig on a power-packed SEO panel.
About this event
Where Does SEO Go From Here? The Shifting Role of SEO in Organizations & How to Navigate These Changes
In many organizations SEO has been (and may still be) its own island: not quite fitting into the Content team, or Engineering, or Growth, or Product. However, that's been changing, and fast.
Titles like "SEO Product Manager", "Organic Growth Manager" etc. are cropping up as companies recognize organic search as a core part of their growth & product strategy, and are adjusting their teams accordingly.
Eli Schwartz and Kevin Indig are pioneers of the shifting face of SEO: making Product-Led SEO a household term and championing SEO as a core part of Growth. In this panel, we'll get their thoughts on the current state of SEO in organizations, and how that's changing. Topics will include:
What is meant by Product-Led SEO? Why should businesses embrace this methodology?
How does SEO play into a Growth strategy? What teams might you expect to collaborate with, and how can you do so effectively?
How has the SEO career path been shifting? As Tom Critchlow stated in his SEO MBA, the "VP of SEO" role isn't so common, as it naturally bleeds into broader roles. What paths exist for senior level SEOs to expand their careers, and what skills should they be growing to get there?
***This Event Is Free for MnSearch Members and Non-Members Alike!***
Not a MnSearch member yet? Join before you register for this event for access to event recordings. Become a member here.