Description
This month's FREE technical session, we're going to have: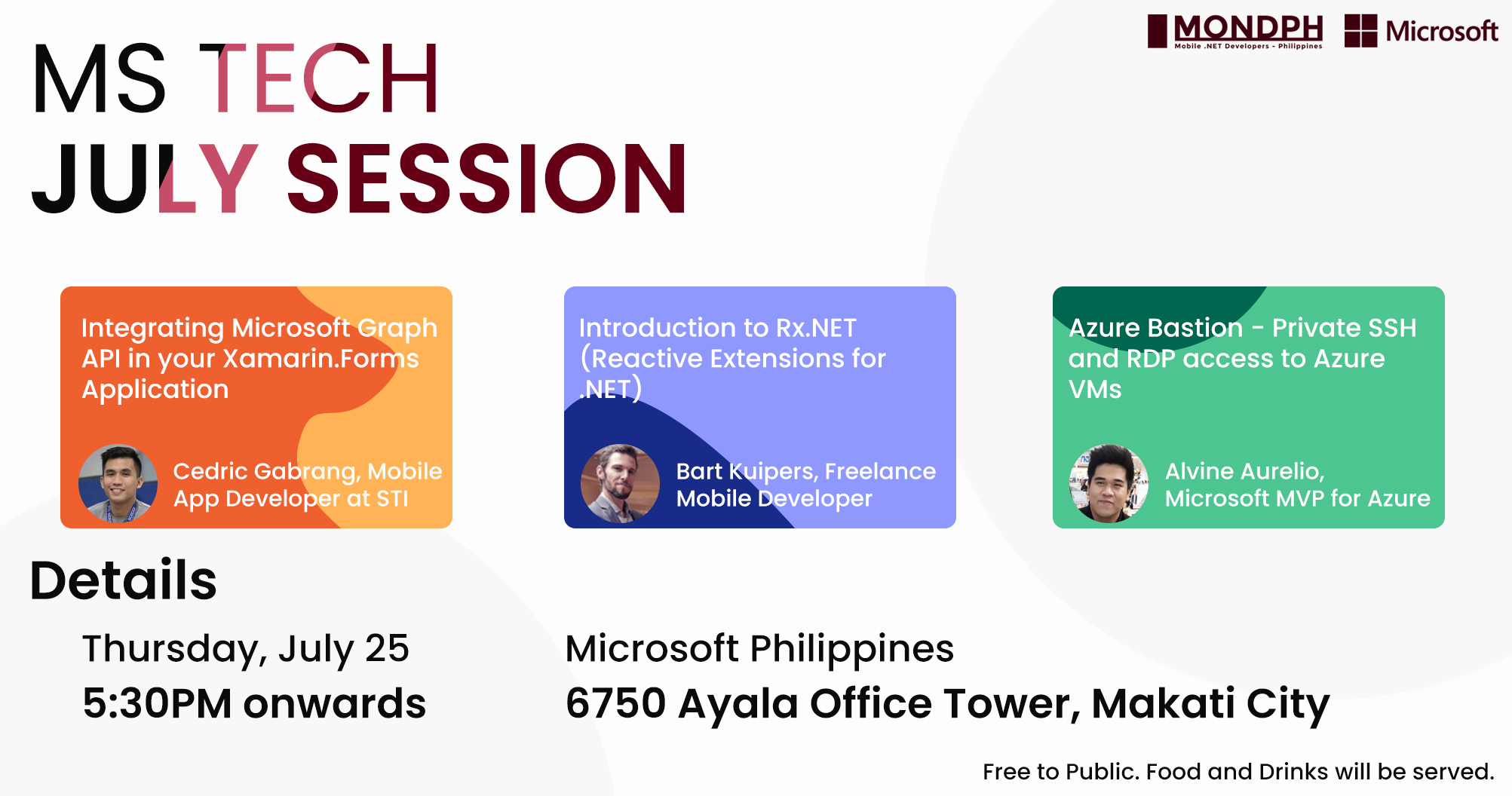 Cedric Gabrang, Mobile Developer at STI, will talk about Integrating Microsoft Graph API in your Xamarin.Forms Application
The Microsoft Graph provides a unified API endpoint for access to various services like mail, contacts, calendar, files, and more. To help make it as easy as possible to interact with the Microsoft Graph in your mobile apps, Microsoft released the Graph SDK, which wraps these APIs into an easy-to-use SDK. See how easy it is to integrate the Graph API to Xamarin.Forms Applications.
Bart Kuipers, Freelance Mobile Developer, will talk about Introduction to Rx.NET (Reactive Extensions for .NET)
Reactive Extensions have been around for many years, and is available to most development environments. In this topic, we are going to introduce what Rx.NET is and look at Rx in terms of .NET development in Xamarin Forms.
Alvine Aurelio, Microsoft MVP for Microsoft Azure, will talk about Azure Bastion - Private SSH and RDP access to Azure VMs
The Azure Bastion service is a new fully platform-managed PaaS service that you provision inside your virtual network. It provides secure and seamless RDP/SSH connectivity to your virtual machines directly in the Azure portal over SSL. When you connect via Azure Bastion, your virtual machines do not need a public IP address.
This FREE technical session will be held on Thursday, July 25, 2019, 5:30PM - 8:30PM in the Visayas and Mindanao rooms of Microsoft Philippines, 8th Floor, 6750 Makati Ave., Makati City, PHILIPPINES. This is not a workshop, so you are
NOT required to bring your laptop.
Hope you can join us and be a part of this another enriching event that will surely hone your Microsoft Tech knowledge!
FOOD AND DRINKS WILL BE SERVED! SEE YOU THERE!