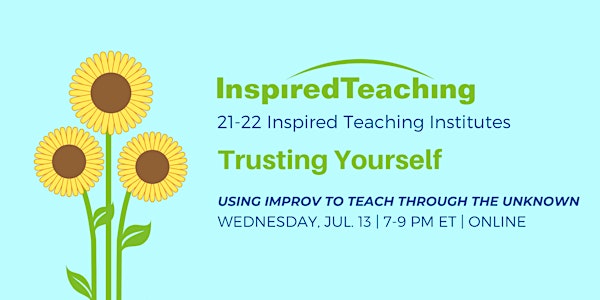 July Inspired Teaching Institute (ONLINE)
Learn self-care strategies that are good for you and your students and identify your strengths so you can build on them in the fall.
About this event
The end of a difficult school year calls for some serious rejuvenation. Some of the techniques you use to tend to your own social and emotional needs can also be helpful to your students. In this Institute we will explore:
Improvisation activities that will reconnect you with your joy
Breathing and mindfulness techniques to promote calm and focus
Using asset framing to examine the contributions you brought to the 2021-2022 school year and how those can feed your aspirations for the year ahead
Reflection tools to help you trust your teaching instincts
To get a sense of our approach to relationship building, check out these resources:
PLEASE NOTE: We teach the way people learn best - with our whole selves. This means all of our sessions, both in-person and online are fully interactive. You're not going to do a lot of sitting and listening! Our online sessions are "cameras on" and "mics unmuted" so participants can get to know and interact with one another. We are often physically moving around whatever space we happen to be in but we ask participants to move and interact in the ways that work best for their bodies. Time flies in this environment and we guarantee you'll leave these sessions feeling energized and ready to try something new. We can't wait to learn with you!
This is the registration site for our ONLINE July session.
Our in-person session takes place:
July 3| 10 AM to 12 PM ET
National Arboretum
You can find the in-person registration page here.