JULY Become a Certified Vision Board Coach LIVE Teleclass Via Phone No Computer Necessary 4 weeks 90 minutes each week-- miss a Live call -- listen via MP3 with Joyce Schwarz, Bestselling Author THE VISION BOARD book GET PROSPEROUS NOW

Tuesday, July 16, 2013 at 5:05 PM

-

Tuesday, August 6, 2013 at 5:00 PM (PDT)
Event Details
Sign up now to become a Certified Vision Board Coach -- next  4 week telecourse (via phone -- anywhere in the world --no computer necessary starts on July 16 @ 5pm PT/8pm ET and continues for four weeks  every Tuesday at 5 pm - 6:30 pm PT which is 8 pm to 9:30 pm ET 
Can't attend live or going to miss one or two classes because of vacation or travel or time diffence -- don't worry we can send you the class audio the next morning, For example miss Tueday night class you get the link to download the 90 minute audio the next morning (Weds). 
OR TAKE THE COURSE VIA HOME STUDY -- SEE THE OTHER LISTING ON EVENTBRITE OR CALL jOYCE SCHWARZ AT 310-822-3119 OR EMAIL HER AT JOYCESCHWARZ@GMAIL.COM AND INCLUDE YOUR NAME, WHAT YOU DO NOW AND YOUR PHONE NUMBER!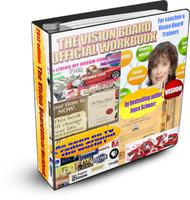 THE SPECIAL DEAL FOR  July  IS: $395.00 -- REGULAR RETAIL FEE IS $595.00 WE ARE THE ONLY GROUP THAT IS ACCREDITED TO OFFER THE CERTIFIED VISION BOARD COACH AROUND THE GLOBE.
 TAKE THIS COURSE AND AT THE END OF 4 WEEKS YOU WILL EARN YOUR CERTIFIED VISION BOARD COACH ACCREDITATION FROM www.visionboardinstitute.com 
BENEFITS: WHY take this course:
1) To master the ancient art of visioning to use in coaching, teaching Vision Board Classes and in realizing our own dreams come true.
2) To learn Joyce Schwarz SECRET 5-step GRABS formula to realize your own success pattern and eliminate block in your life and business.
3) To understand why vision boards are more than just cut and paste and find out the top 3 reasons most vision boards don't work! 
4) To experience Joyce Schwarz coaching and teaching style that has worked to help thousands of celebrities,VIPS and people like you to realize their true potential. Schwarz was named Amazing Woman LA in 2011. 
5) To see and know how to go beyond a Vision Board and methods to clarify and choose your power words and defining images for 2013 that will drive you forward! 
PLEASE: 
SCROLL DOWN TO SEE just some of the more than 100 endorsements we have for the Certified Vision Board Coach program! 
YES, you can make up to $500 and more per 1/2 day. One of our coaches Nicole Rhoades made $2500 in the first few weeks of 2012 alone! To get more info: email: joyceschwarz@gmail.com or call 310-822-3119 to talk with Joyce directly so she can give you a great deal and take your credit card via phone. scroll down for more info on the course syllabus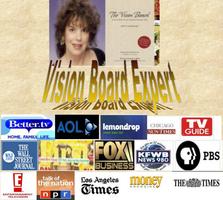 As you can see the Certified Vision Board Coach class has been featured on national and international media including FOX NEWS, PBS, TV GUIDE and more. Joyce Schwarz and THE VISION BOARD INSTITUTE, www.visionboardinstitute.com are the only people/group accredited to offer the CERTIFICATION OF CVBC (Certified Vision Board Coach). 
Become a Certified Vision Board Coach in 4 weeks via LIVE 90 minute teleworkshops with best-selling author Joyce Schwarz via phone.
No computer is necessary you can call in to a teleconference number (you get the number after you sign up) and then listen and participate in the call LIVE. You can even listen on your iPod, mobile phone or iPad
If you miss any of the four 90 minute calls they are all recorded and you get them to download and keep forever. If you live outside the USA you'll get the audios the next morning to listen to them that week. And you can participate via email in the class too. We'll even mention your name i.e. Mary from Scotland etc...
There is also a way to listen to the calls after via phone and I'll explain how you access the playback via phone after you sign up. 
WHAT THE FOUR WEEK CLASS COVERS
The four week course covers the following topics. Classes are kept small 4 -6 people max so you get lots of individual attention during the class. And Joyce remains open for quick phone calls from you in-between and for emails from you too. 
WEEK #1 DISCOVER THE POWER OF VISIONING for life and work
Visioning is a self-exploration process that can be done with individuals or in groups. You can do it for yourself and your business and life or practice these principles with your clients as a coach/student or in your workplace. 
Discover how VISTA, WORLDBANK and the United Nations use visioning to set goals, realize dreams and to help people embrace hope again after tragedy, job-loss or even death in the family. VIsioning is also used on a daily basis to create the best possible lives daily, weekly, monthly and beyond.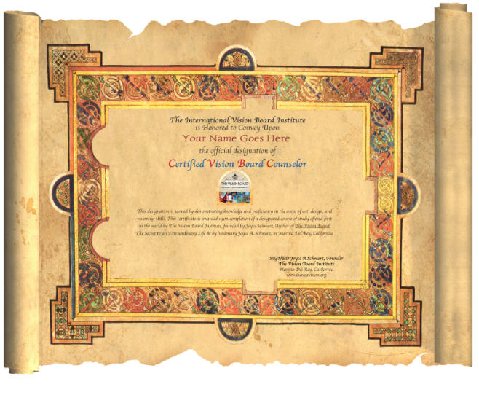 In Week #1 you will also learn these proprietary techniques Joyce Schwarz only with the CERTIFIED VISION BOARD COACHES: 
a) Passport to Possibility -- how to find out where you or your client is/are now so that you can create a vision path
b) Passport to Opportunity - how to help your clients and yourself get to where you want to go when you have a specific life or work objective ie TRAVEL TO PARIS for a Second Honeymoon
c) How to find your power words in 15 minutes or less
d) How to do the PICK THREE EXERCISE that lets you vision anywhere without any magazines, or any computer or any glue! 
DISCOVER THE GRABS FORMULA FOR SUCCESS -- Gratitude , Receive/release, Ask/Acknowledge/action, Be authentic, believe and share.
WEEK #2 WHY A VISION STATEMENT IS CRUCIAL for life , work and family. 
You've all heard about mission statements (which some from the top down in corporations or in other institutions) but we go beyond the old fashioned top down Mission statement to explore and tap into the power of a VISION STATEMENT. What can you vision for your future and how to create the vision path to that vision!
In this class you will also learn CVBC proprietary techniques for: 
a) How to begin to live your VISION TODAY -- yes, even before you do a complete vision board.
b) How to change your motto (or your client's) and change your life
c) How to find DEFINING IMAGES anywhere and everywhere and tap into those that are RIGHT for you! 
d) How to determine if your vision is coming from the inside out -- from your values!~ 
WEEK #3 CREATING THE VISION BOARD and activating your vision and empowering and updating the vision****
In this week you'll discover how to create a vision board using our specific CVBC methods. 
You'll also learn: 
a) How to take your power words and turn them into defining images
b) How to complement your defining images with inspirational quotes and other memorabilia -- ie ticket stubs, maps etc
c) HOW TO USE THE GRABS formula that is the 5 step secret formula that Joyce shares in her book and with her CVBCs to make sure that the vision board is as powerful as it can be! 
d) How to move away from magical thinking -- and magic wands into using both your left (analytical) and right (intuitive) brain power for your and your clients/students etc. 
e) Hand made versus digital boards -- why use what and when and where to find digital software for making vision boards
f) How to activate your vision board and how to help people who come to you when their VISION BOARD IS NOT working -- how to do a vision board analysis.
g) The 10 steps that you must do to create a powerful vision board (only revealed to CVBC grads)
CLASS #4 HOW TO PROMOTE and market your Certified Vision Board Coach Certificate
You will get a whole PDF on how to promote and market your CVBC certificate including more than 50 tips on how to: 
a) Teach a 3 hour class (I give you a whole suggested agenda)
b) What to charge for a 3 hour class
c) How to expand the class to a whole day class with little or no extra work
d) How to make $500 doing vision board consulting in 1/2 day when working with groups or organizatons
e) How to use your vision board skills to help raise funds for your local church, charity or nonprofit.
f) How to employ the vision board creation techniques and life and work visioning into your coaching practice if you are a coach or into your own life.
GRADUATION REQUIREMENTS are simple: 
1) You make a Business Vision Board (Joyce explains how) for your business about how you will use Vision BOards and/or visioning to do your business or LIFE better. If you do not have a business Joyce will work with you on how you can use this for your own life in creating income streams or in living a more powerful life
2) Fill out a simple FINAL FORM graduation form with 8 questions including questions about what you learned and how it changed your life! 
$1000 VALUE now 60 percent off 
You also get:
a)   free listing on thewww.visionboardinstitute.com website
b)   Option to upgrade to a larger listing with your picture and your bio ($99 extra permanent listing)
c)   60 page instruction manual
d)   How to teach a 3 hour class handout/outline
e)   50 tips on how to promote our CVBC certification
f)     FREE monthly infocalls for CVBC grads 1 hour on the last Weds of each month
g)   Free promotion on Facebook
h)   Free admission to our LINKED IN GROUP which offers discussions on best practices
i)      Free 5 minute phone calls with Joyce anytime you want during her office hours 11 am to 2 pm Monday to Friday – from anywhere in the world. 
j) Free 180 page workbook (normally $149.00) 
For more information or to register via phone, call 310-822-3119 and leave a message so Joyce can call you back personally or email her at joyceschwarz@gmail.com 
Thank  you.
When & Where

Marina Del Rey, California
via teleconference
14004 Palawan Way
Marina Del Rey , 90292


Tuesday, July 16, 2013 at 5:05 PM

-

Tuesday, August 6, 2013 at 5:00 PM (PDT)
Add to my calendar
Organizer
THE VISION BOARD INSTITUTE founded by Joyce Schwarz offers the following services:
*Creation of Giant Vision Boards for Charity Benefits & Corporate events (call for details and price list)
*Accreditation as a Certified Vision Board Coach joyceschwarz@gmail.com
*Vision Board creation classes and workshops for corporations, churches, nonprofits and community groups and private parties & events, joyceschwarz@gmail.com