CELEBRATE INDEPENDENCE DAY @ WATERMARK BEACH! ENJOY HOT OFF THE GRILL BBQ, VIP CABANAS, PALM TREES, COCKTAILS & ROSÉ w/WATERFRONT VIEWS!
About this event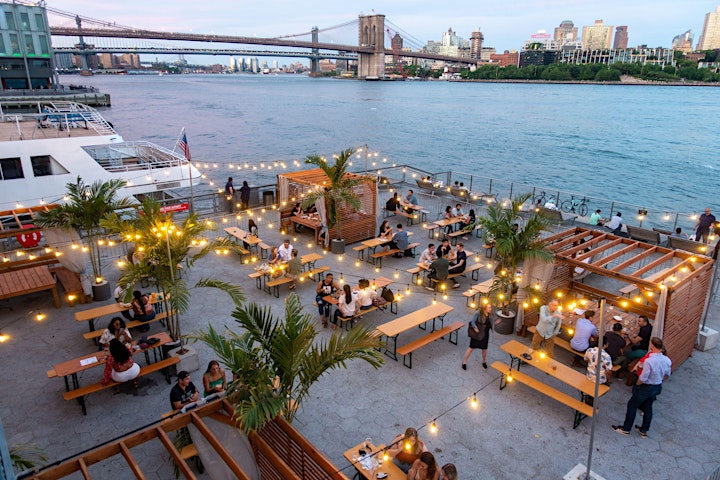 YOU ARE INVITED: SUNDAY JULY 4TH, CELEBRATE INDEPENDENCE DAY IN STYLE @ WATERMARK BEACH PIER 15 NYC - AN ALL DAY BEACH BASH - 11AM-11:30PM!
ENJOY HOT OFF THE GRILL BBQ, OYSTERS, LOBSTER SLIDERS, TROPICAL COCKTAILS, MINI BEER KEGS, FROSÉ, JUMBO COCKTAILS & LIVE DJ'S!
OPEN ALL DAY STARTING AT 11AM. WE ARE LOCATED AT PIER 15 NYC, JUST OFF THE SOUTH ST. SEAPORT ON THE WATER!
PLEASE NOTE: WE ARE NOT EXPECTING TO HAVE VIEWS OF THE MACYS FIREWORKS FROM OUR LOCATION. HOWEVER WE WILL HAVE SPECIAL DECOARTIONS, SWAG AND AMAZING WATER VIEWS!
RESERVE A TABLE, CABANA OR OUR BRAND NEW & EXCLUSIVE VIP CUSTOM BUILT "SS WATERMARK 30FT SAILBOAT"- EACH RESERVATION COMES WITH COCKTAILS INCLUDED, PRIORITY ADMISSION & JULY 4TH SWAG
WE ARE KID & DOG FRIENDLY!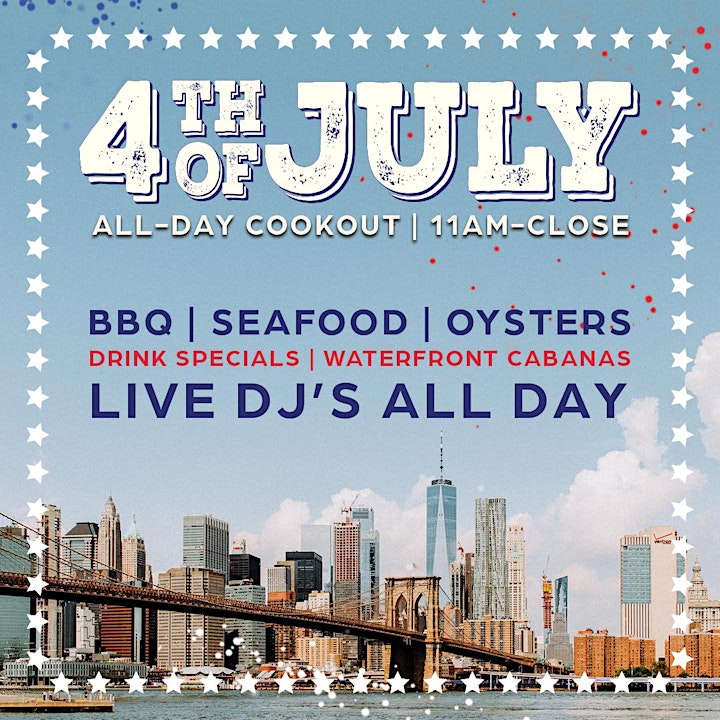 VIP TABLES CAN BE PRE-RESERVED WITH WELCOME COCKTAILS INCLUDED FOR ALL GUESTS!
-VIP TABLE RESERVATIONS INCLUDE:
COMPLIMENTARY WELCOME TROPICAL COCKTAIL FOR EACH GUEST
PRIVATE RESERVED VIP TABLE & PRIORITY ADMISSION
4TH OF JULY SWAG & FESTIVE DECORATIONS
SPECIAL JULY 4TH THEMED MENU OPTIONS (IN ADDITION TO REGULAR MENU)
-VIP WATERFRONT CABANA RESERVATION INCLUDE:
CHOICE OF: COMPLIMENTARY WELCOME TROPICAL COCKTAILS, MINI KEG, OR MAGNUM BOTTLE OF ROSÉ FOR THE TABLE!
PRIVATE RESERVED VIP WATERFRONT CABANA & VIP ADMISSION
EXTENDED TIME LIMIT IN YOUR VIP CABANA
4TH OF JULY SWAG & DECORATIONS
SPECIAL JULY 4TH THEMED MENU OPTIONS (IN ADDITION TO REGULAR MENU)
-SS. WATERMARK aboard our VIP "Custom Built 30 FT Sail Boat! Upto 18 GUESTS! Or book HALF THE BOAT with upto 8!
RESERVATIONS INCLUDES:
CHOICE OF: 1 BOTTLE OF MOET CHAMPAGNE OR HAMPTON WATER ROSÉ
EXCLUSIVE ACCESS TO THE CUSTOM BUILT BOAT AKA SS. WATERMARK. BOOK HALF OF THE BOAT OR THE ENTIRE BOAT ALL TO YOURSELF!
EXTENDED TIME LIMIT IN YOUR VIP BOAT TABLE
4TH OF JULY SWAG & DECORATIONS
SPECIAL JULY 4TH THEMED MENU OPTIONS (IN ADDITION TO REGULAR MENU)
DIRECT UNOBSTRUCTED WATER VIEWS
ONE OF A KIND EXPERIENCE
BOTH DAYTIME & NIGHTTIME TABLES AVAILABLE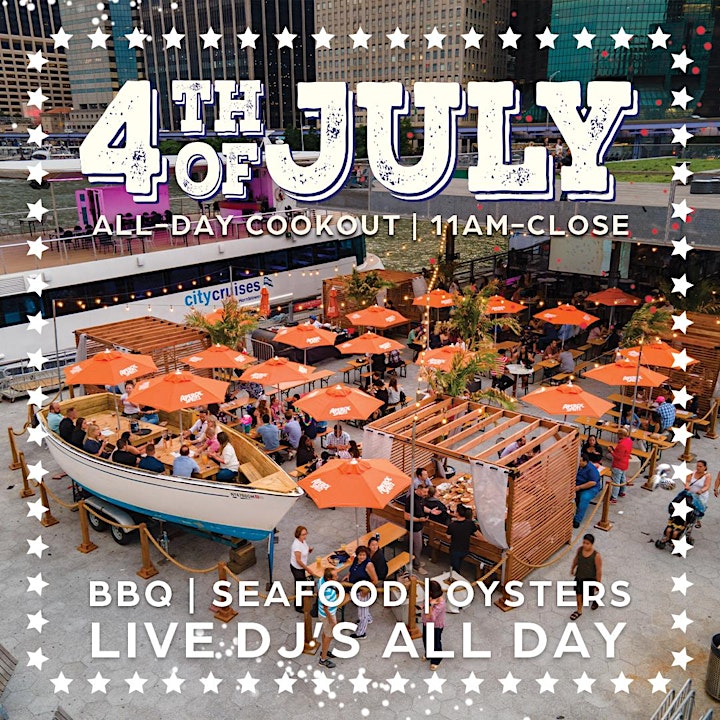 Enjoy An all day JULY 4TH, WATERFRONT DINING EXPERIENCE with the OPEN AIR Breeze across 10,000 sq feet @ PIER 15 while sampling Tropical Cocktails, Delicious food fare from Land & The Sea while gazing at the EAST River & Gorgeous "BMW Views" - (Brooklyn, Manhattan & Williamsburg Bridges).
RESERVE A TABLE, VIP WATERFRONT CABANA, OR OUR EXCLUSIVE "S.S. WATERMARK BOAT EXPERIENCE & DINE INSIDE OF A CUSTOM BUILT BOAT"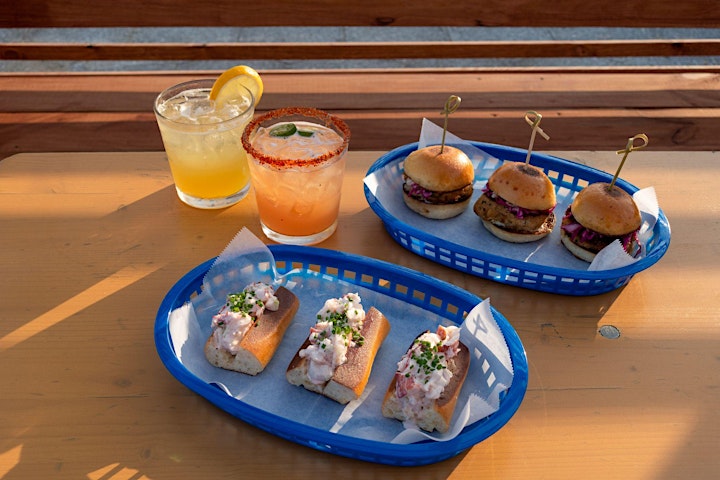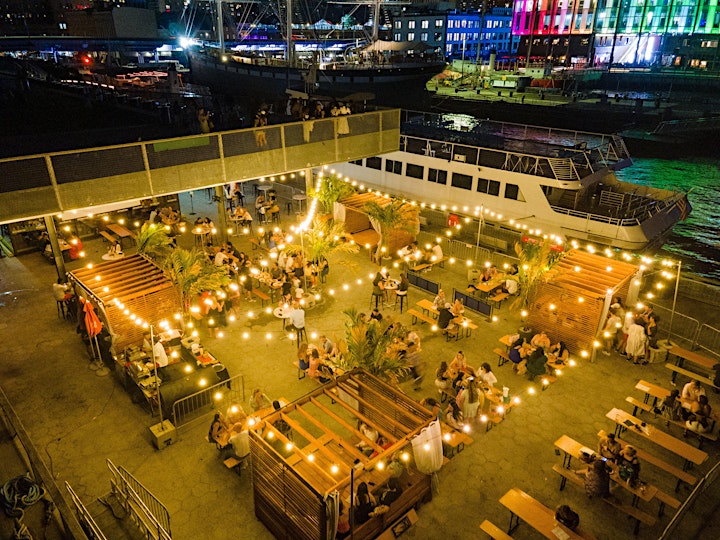 QUESTIONS? SEND A TEXT MESSAGE TO OUR *TEXT ONLY* HOTLINE: 917.862.1181 - PLEASE MENTION "WATERMARK JULY 4TH".

YOU ARE LOOKING AT JULY 4TH ONLY: FOR ALL OTHER DATES: PLEASE CLICK HERE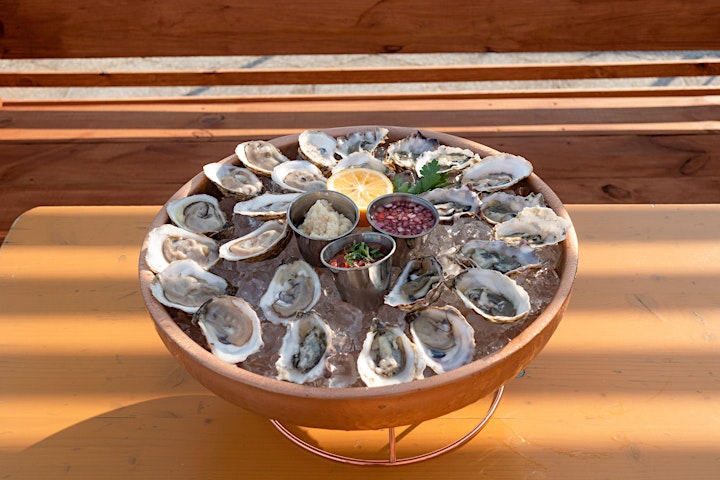 WINE & DINE ABOARD S.S. WATERMARK!
OUR CUSTOM BUILT BOAT ON THE PIER! (ONLY 1 AVAILABLE). ENJOY DIRECT WATER VIEWS HAVE YOUR OWN "KING / QUEEN OF THE WORLD" EXPERIENCE!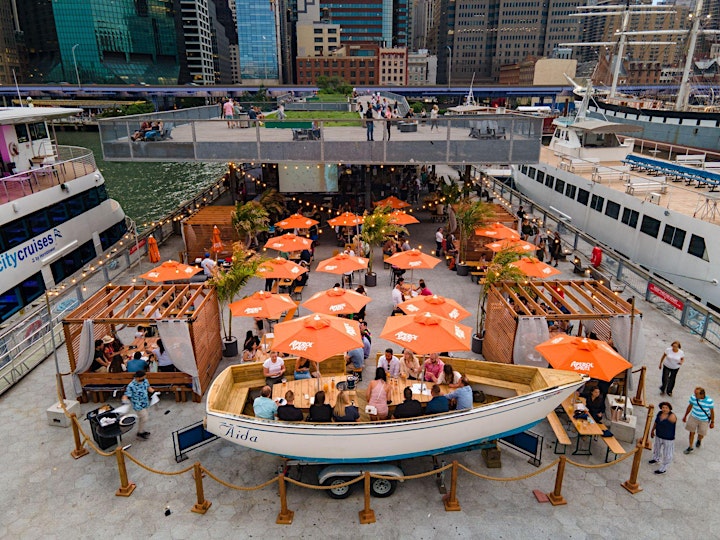 Watch the Boats Sail By, While you sip on Hampton Water ROSÉ! Pop Open a MAGNUM Bottle or try a "ROSÉ my WAY" Individual Bottle with Built in Guzzle Buddy Wine Glass! - A WATERMARK BEACH EXCLUSIVE!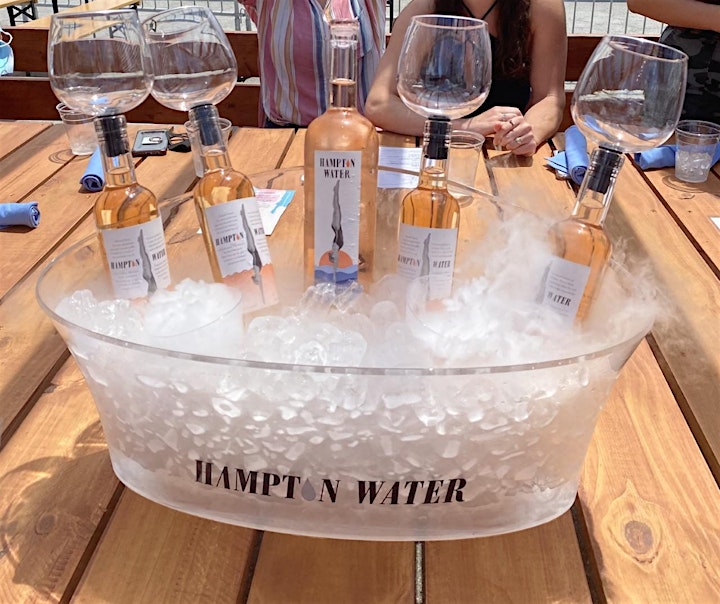 -SCROLL DOWN TO SEE OUR MENU'S & GROUP & BIRTHDAY PACKAGES.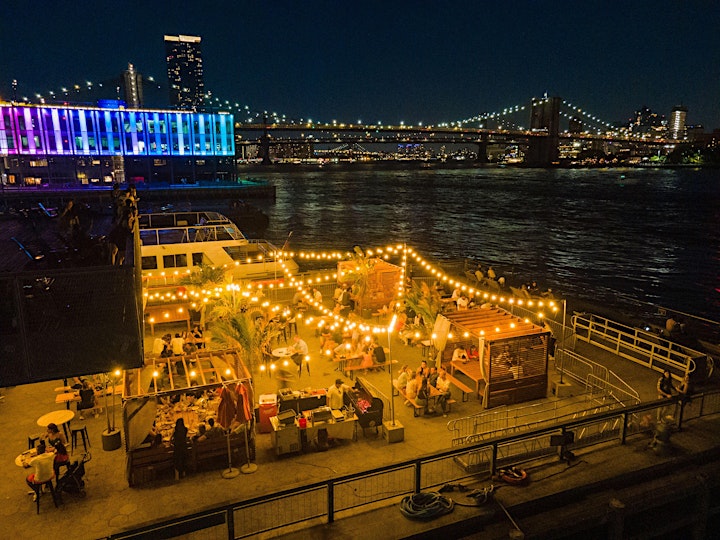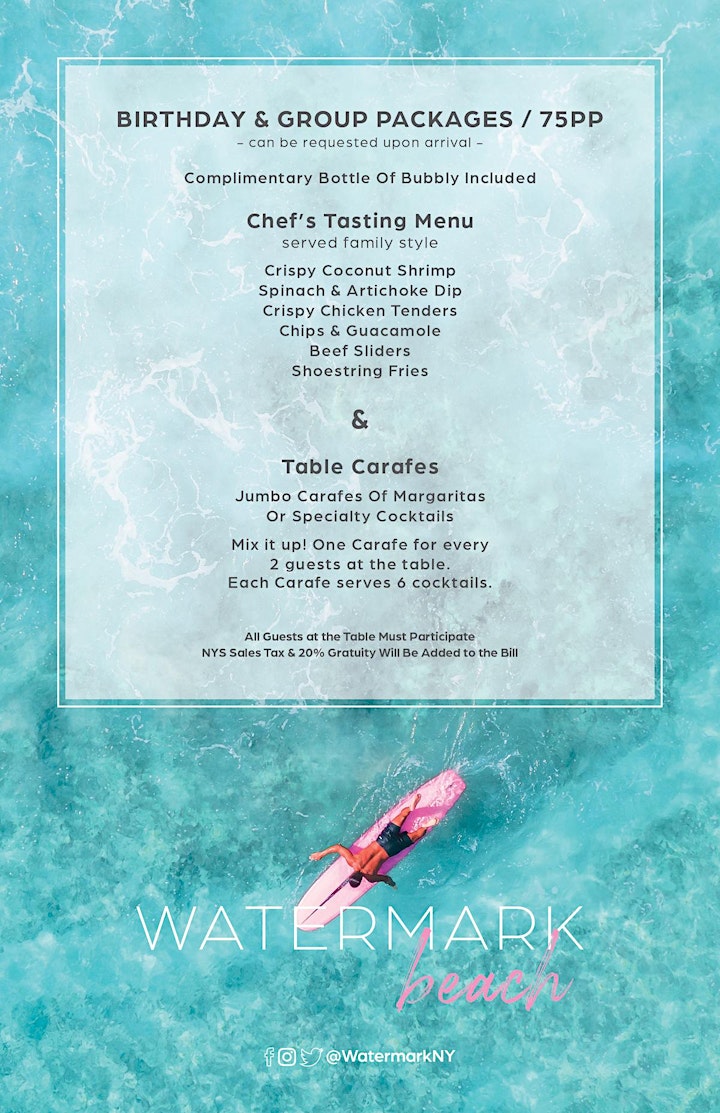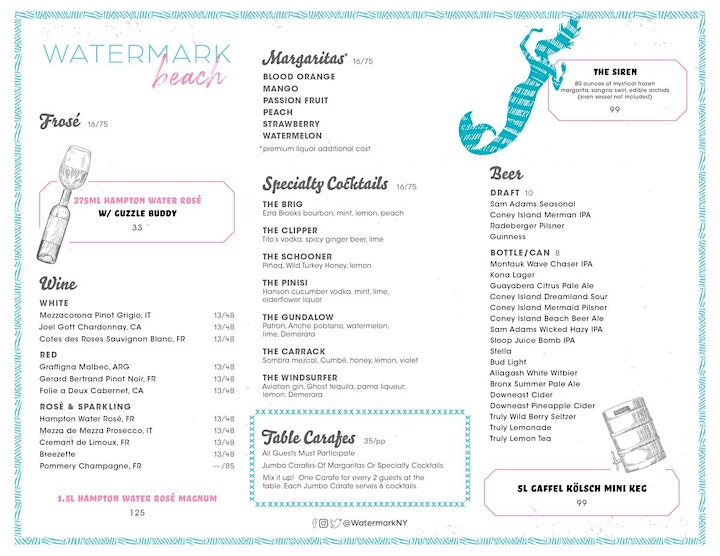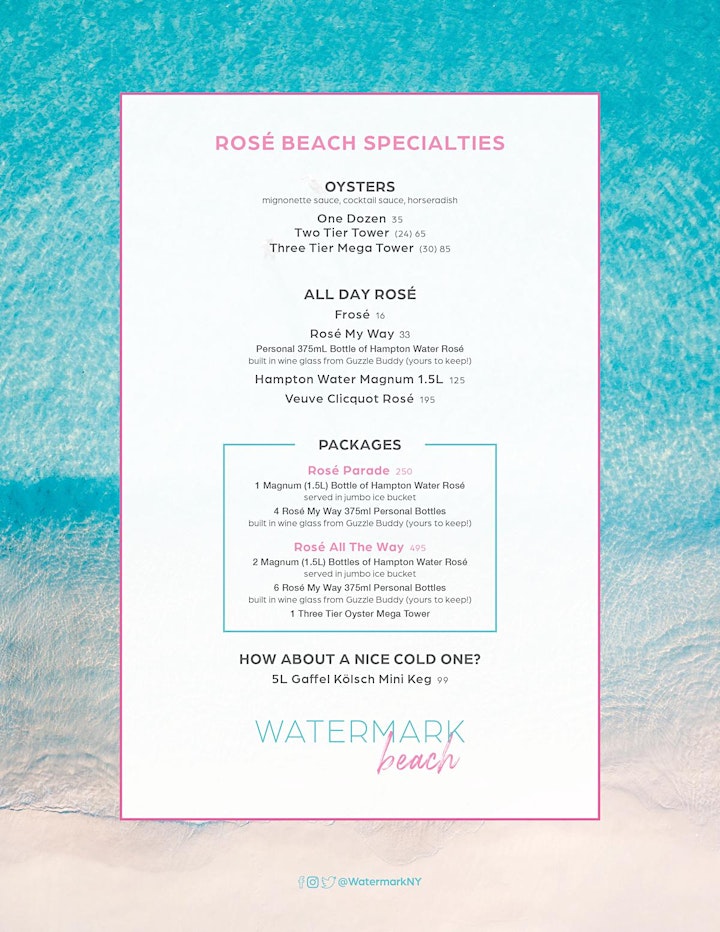 Organizer of JULY 4TH @ WATERMARK BEACH - ALL DAY BEACH BASH - ON THE WATER @ PIER 15!
A stunning 3,500 square foot venue perched at the end of the beautifully proportioned double level Pier 15, Watermark restaurant and bar offers an exceptional panorama of the Brooklyn and Williamsburg bridges and Brooklyn skyline. Floor to ceiling windows encased in steel house the sleek indoor bar. Guests won't miss a beat of entertainment while watching our outdoor HDTVs. Wooden tables and benches provide outdoor seating under the protective overhang of the second floor greenspace and beyond.
Take in the eye-catching views of the South Street Seaport and historic vessels docked nearby while indulging in libations from our full service bar and lite fare from the kitchen. Gatherings and celebrations can be accommodated outdoors according to NY State social distancing protocols.