JULY 4TH ROOFTOP FIREWORK EXTRAVAGANZA! DINNER & DRINKS @ TULSI!

Thursday, July 4, 2013 from 8:00 PM to 11:00 PM (PDT)
Event Details
ICP Entertainment and The Rhyme Impersonator Show would like to invite you and your friends out to attend our
JULY 4TH ROOFTOP FIREWORK EXTRAVAGANZA!
(Kickstarter Pre-Pledge Party)
AND VIEW THE FIREWORKS WITH US! ON OUR ROOFTOP!
Purchase your $40.00 ADVANCE TICKETS ONLY @ http://rhymeshow4thofjulyprepledgeparty.eventbrite.com/ and then RSVP here on our event page @ https://www.facebook.com/events/552566431448179/
A portion of your ticket purchase will be donated to "Open Arms For Children" www.oacinc.org
Nothing says summer like a Outdoor Screening! PLUS a Rooftop to view all the New York City the Firework Festivities, and your Summer 4th of July weekend just got even "HOTTER!'
VIEW THE ICONIC MACY'S JULY 4TH FIREWORKS ON OUR ROOF! The 2013 Macy's NYC Fireworks® show will feature more than 40,000 shells exploding at a rate of more than 1,500 per minute. 
JULY 4TH ROOFTOP HIGHLIGHTS!
LIVE RADIO INTERVIEWS ON THE ROOF!
From THE RHYME IMPERSONATOR RADIO SHOW!
http://www.blogtalkradio.com/therhymeimpersonatorradioshow
What does the 4th of July mean to you?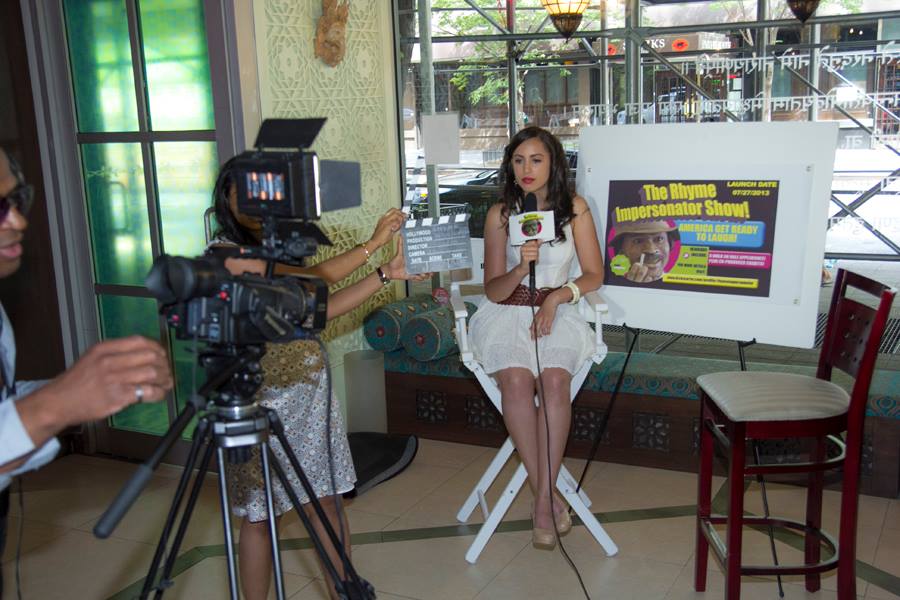 Get professional photo's by NYC Celebrity Fashion Photographer "Patrick Cashin" https://www.facebook.com/patrick.cashin.14 
Patrick is one of the Still Photographer's for The Rhyme Impersonator Show!
ROOFTOP LOCATION WILL BE ANNOUNCED ON "JULY" 3RD TO ALL RSVP'S WHO PURCHASED THEIR TICKETS IN ADVANCE VIA EVENTBRITE @ http://rhymeshow4thofjulyprepledgeparty.eventbrite.com
EXCLUSIVE AFTER PARTY SPOT TO BE ANNOUNCED SOON!
THE BACK STORY
After successfully completing our 3rd Comedy Sketch filming on 5/26/2013. The Rhyme Impersonator Show is now gearing up for our second "KICKSTARTER CAMPAIGN LAUNCH" on Saturday July 27, 2013, to help raise additional monies for our last and final "Celebrity" sketch filming to complete our hilarious Comedy Show Pilot in September of 2013.
So we are seeking "Pre-Pledgers/Backers" To view our wonderful "KICKSTARTER REWARDS" in advance on July 4th, and make a pledge of their choice in advance even before our official Saturday July 27, 2013 Official Online Launch @ http://www.kickstarter.com/profile/rhymeimpersonator
On behalf of ICP Entertainment, our sponsors and the entire cast and crew of the Rhyme Impersonator Show, WE THANK YOU IN ADVANCE FOR YOUR SUPPORT! Shukriyah.
Visit our website at: www.icpentertainment.com
Organizer
ICP ENTERTAINMENT
ICP Entertainment is a Multi-faceted production company in NYC providing both the corporate, commercial, and entertainment genres with hi-end Videography, Photography, Graphic Design, Event Coverage, Hosting and Pre & Post production services, along with ingenious Digital and Branded content to help grow and expand their business.
We also host annual events and take great pride in providing creative platforms and opportunities for emerging artists to step out of their comfort zone and nourish their inner talents.
For Rates please Email us at icpentnyc@gmail.com or Call/Text: (212) 470-0871
LIKE US on Facebook at: www.facebook.com/icpentertainment
FOLLOW US on Twitter and Instagram
www.twitter.com/icpentnyc
www.instagram.com/icpentertainment
Website: www.icpentertainment.org
JULY 4TH ROOFTOP FIREWORK EXTRAVAGANZA! DINNER & DRINKS @ TULSI!