July 4 Outdoor Getaway To #1 Destination in America: Acadia National Park!...
Event Information
July 4 Outdoor Getaway To #1 Destination in America: Acadia National Park! SOLD OUT
Acadia National Park, Bar Harbor, ME
Sales Have Ended
Ticket sales have ended
You may ask to be on the wait list in case there are any cancellations. We will contact you should openings occur.
Event Description
Next Up - Acadia National Park and Bar Harbor, Maine!
SOLD OUT!

#1 Outdoor Destination in America, and in the northeast is within your reach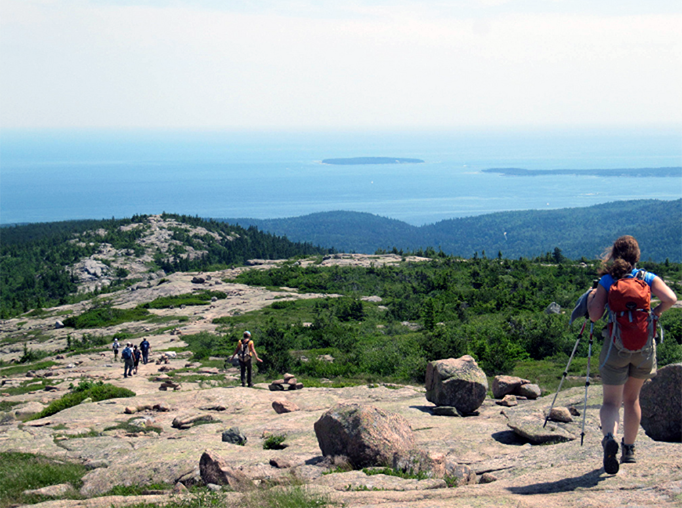 By popular demand and an unforgettable mini vacation we return to the breathtaking coastal wonderland of Acadia National Park while staying conveniently in Bar Harbor, Maine!
Are you ready for some inspirational and moving day hikes or even just casual sightseeing sojourns in the most scenic areas in the Northeast? This trip is great for both hikers and non-hikers.
A free shuttle stops right outside our lodging and takes you throughout the heart of the bustling nautical seaport epicenter of Bar Harbor where there are also other shuttles to get to other vista loaded locations you dreamed about visiting that you saw in jaw dropping post cards and travel magazines.
IMPORTANT: 

ONE (1) FEMALE SPACE REMAINING
Dates:  Friday, July 1 through Tuesday, July 5, 2016.

Five days and four nights taking advantage of the July 4th extended weekend!
When I say July 4th in Bar Harbor is a spectacle to behold, it isn't an understatement

Rideshares (if needed): Coordinated between car owner and passengers requiring rides
Mileage: 4-6 miles
Elevation Gain: Moderate
Hiker Level: All levels from some experience to the whole enchilada. If you can hike the mileage and in good cardio shape, you're good hike. No requirements for sightseeing, meandering, taking it easy and relaxing

Rocks: Some rock scrambling, and possible iron rungs, on one or two hikes
Lodging: Modern air conditioned motel with WiFi and coffee makers. Free shuttle buses stop every 30 min in front (this is not a camping trip, we enjoy hot orgasmic showers after hikes, and cozy beds)

Meals: Join the merry gang. Did someone say "Lobstah?" You're only responsible for what you eat and drink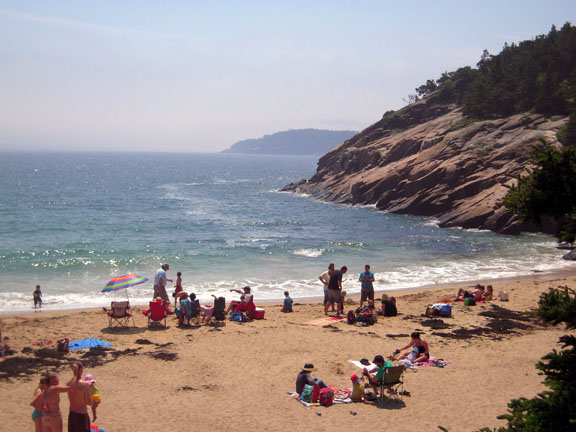 Share this trip with friends:  https://maine2016.eventbrite.com.

TENTATIVE HIKES (three hikes planned; subject to change):
1. Cadillac Mountain (http://video.nhptv.org/video/1639676485/):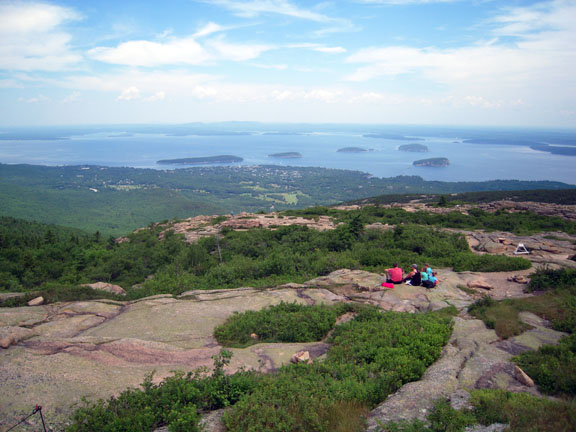 The splendor of this mountain has been shared in stories that have carried forth it's legend for decades. The scenery is one that is hard to beat. Cadillac Mountain is on Mount Desert Island in Acadia National Park. Cadillac Mountain, at 1,532 feet, is the highest point along the North Atlantic seaboard. Thousands flock here just to see the sun rising to the east over the Atlantic - it is amazing!
There are over twenty mountains on Mt. Desert Island. Cadillac was formed by ancient continental glaciers, one to two miles high in some areas, that sheared the tops of the mountains off and acted like giant scouring pads across the geographic terrain, leaving north-south gouges in the landscape. The mountain is composed largely of pink granite. This is why there is a strong reddish appearance at sunrise or sunset when the light temperature has shifted to the warmer colors. The two of these combine to create often stunning color contrasts with the cooler sky colors.
2. Acadia's Great Head Trail/Beehive (Alternate if Precipice closed) (http://video.nhptv.org/video/1638308270/). Great Head is the highest point along the island's shoreline. This hike begins on the far side of Sand Beach and starts with an ascent up some large granite stairs. We do it immediately after finishing The Beehive. The Beehive like Precipice is made up of iron rungs and rock scrambles on jaw dropping terrain.
Great Head Trail is rocky. As you walk out to the end of Great Head, you will have to climb over smooth rocks and walk through many grassy areas. This is a great trail to stray off the beaten path, as you may find many hidden treasures. As you get close to the tip, you'll find the trail rolls up and down small hills.
Watch for lots of tiny wildflowers all along the way! You are provided with many spectacular views of Schooner Head and Anemone Caves.
3. Giant Slide Trail & Grandgent to Sargent Mountain
Also in the Jordan Pond area, I like the Giant Slide Trail along Sargent Brook and the steep Grandgent climb.  You get two peaks for the price of one: first, spectacular views from Gilmore Peak and then from Sargent Mountain.  I make the 5.4 mile loop by descending on the North Ridge Trail, which Tom St. Germain recommends for its excellent views of Somes Sound.
4. We may watch the breathtakingly spectacular sunrise Cadillac Mountain is renown for (before departing).
A total of three bucket list hikes planned for Acadia (Weather permitting)!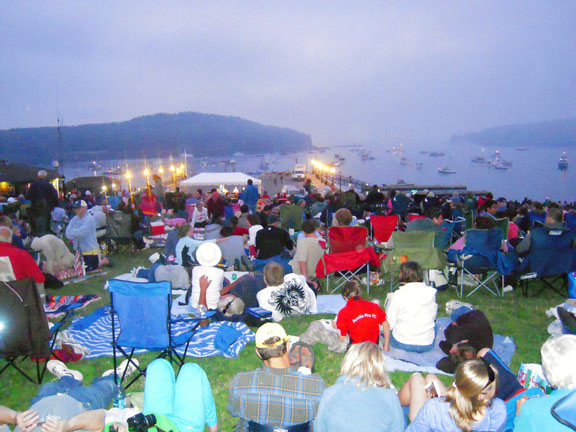 FIREWORKS AMERICANA - JULY 4th
Enjoy a Bar Harbor fireworks celebration American style as only can be enjoyed in vintage New England on July 4th near Pier in Bar Harbor. A live band plays as the fireworks launch and burst in the air above the harbor to the ohhs and ahhs from the thousands of party goers.
Biking, rock climbing, sightseeing, rides on schooner to view fireworks from within harbor and whale watching are other activities you can indulge your senses in.
---
Cost: Just $365 per person based on two guests per room*
*Includes: 5 days/4 nights Lodging, hotel taxes, lodging at the motel, room coordination, trip planning, ride share and dining logistics and coordination, administration, and on-site group coordination. At this point because this is a group reservation there are no refunds.


**Meals, beverages, ride share costs, meal and room gratuities, and personal purchases are based on whatever your order and are your own financial responsibility.
Sign up - https://maine2016.eventbrite.com
 *Includes: 5 days/4 nights Lodging, hotel taxes, 100% refund guaranteed for cancellation (minus $20) before June 1, 2016, reservations, room coordination, trip planning, ride share and dining coordination, administration, and on-site group coordination. Cancellation fee is $20 per person.

Meals, ride share, gratuities, and personal purchases are your own responsibility.
REGISTRATION:  https://maine2016.eventbrite.com.
FAQs
What are my transport/parking options getting to the event?
We are coordinating rides shares between car owners who are driving and passengers who need rides

Is my registration/ticket transferable?
You may transfer your reservation to someone of same gender; however, organizer must be notified with the requisite contact information. There are no adjustments whatsoever.

What is the refund policy?
*100% Guaranteed Refund on Cancellations (minus $10 bank fee) made to Organizer if request received before June 1, 2016. No refunds thereafter as funds will be committed.