July 27-31 Summer Institute in the Cloud
About this event

Join us ONLINE for an intense week of professional growth with Tina Hargaden and our talented coaching and teaching staff!
This week of LIVE, INTERACTIVE content will immerse you in a system of World Language teaching that builds proficiency, cross-curricular literacy, content knowledge, and student engagement...
and gives teachers a clear, purposeful pathway through the year.
Many World Language teachers need a solid plan to structure the year, sequence learning activities, select topics and themes, and assess student growth. Summer Institutes are designed to give you that plan.
We will demonstrate and unpack a standards-based, literacy-forward approach to World Language and ESOL teaching that builds cross-curricular literacy and students' basic interpersonal communication abilities, through instructional cycles based on the language functions of description and narration.

See demos in the mornings, participate in "nuts and bolts" sessions in the afternoons, and then take home twelve weeks of pre-planned curriculum aligned to the lessons you saw demonstrated.

These resources are leveled for Beginner, Intermediate, and Advanced learners, with resources to support you every single day as you implement a new system: slideshows, graphic organizers, plans for whole-class shared writing, leveled texts to reinforce the language used in the lessons, video clips, story scripts, and more.
Put booster rockets on your teaching next year...and watch your students' proficiency lift off to new heights, and your confidence soar.

This is, quite simply, the most comprehensive World Language teacher training program ever developed.
And the Stepping Stones curriculum materials are the most structured, flexible, integrated, standards-based system we have yet seen for teaching World Language, anywhere.

The sessions will be livestreamed and also recorded, so you can keep them forever. Even if you can't join the live events, you will still have access to five full days of intense training and resources to support you, plus a Facebook group where you can collaborate with Tina Hargaden, the founder of the World Language Proficiency Project, trained staff coaches, and attendees from all four sessions this summer.
Join us live from the comfort of your home, and be certain that this is one professional development commitment that will not be in jeopardy of canceled travel plans amid the ongoing uncertainty of the current pandemic crises.
We have "localized" the Institutes so that all U.S. time zones can participate live. And no matter how late you like to sleep, you can rest assured that you will have access to the livestreams for life, to watch or review any time.


Choose your strand: People, Places, and Stories (Description and Narration), Cultures, History, and Issues (Information and Opinion/Argument), or ONLY THIS WEEK: Advanced Institute on Assessment for Returning Participants
Or attend two or three weeks for a bundle discount!
Note: Advanced Institute on Assessment is only for returning attendees - from this year or previous years - and is only offered the week of July 27-31 9 AM to 5 PM Central time.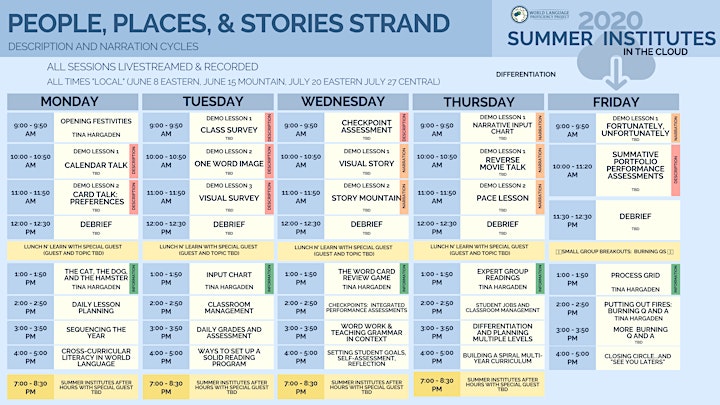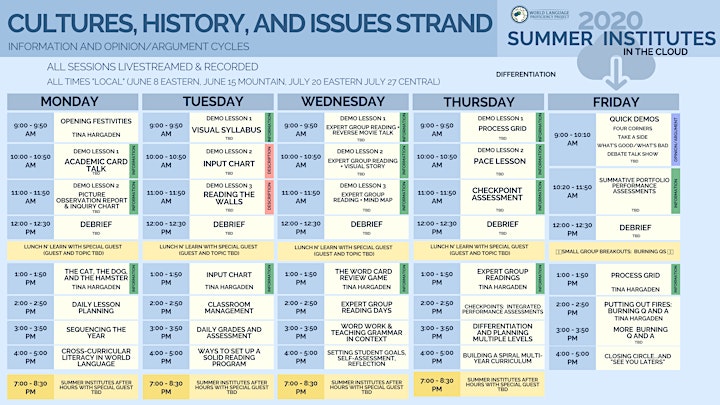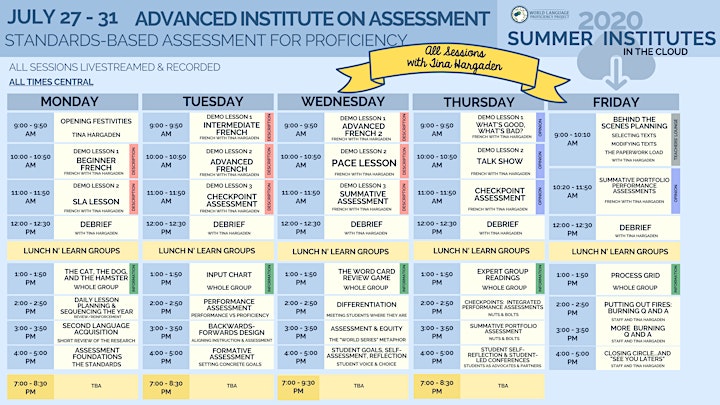 This year is THE YEAR to participate in Summer Institutes, as we are not sure if this online opportunity will happen again. The cost has been significantly reduced in light of the current situation and economic uncertainty.

Teacher Leadership and Welcome to the Profession Scholarships

Teacher Leadership Scholarships
75% off the regular registration price ($300, thus the scholarship price is $75) to teacher leaders of color and/or teacher leaders who teach Indigenous, First Nations, or Native languages
Please note that these scholarships are NOT limited in number nor are they competitive except insofar as the recipients agree to use their learning to lead others in some way, and that "teacher leader" does NOT mean anything except that YOU have the DESIRE to LEARN and then pass it on; no specific experience is required.
Deaf Teacher Leadership Scholarships
75% off the regular registration price ($300, thus the scholarship price is $75) for Deaf teacher leaders
Welcome to the Profession Scholarships
$100 registration for student teachers AND their cooperating teachers ($100 each), as well as for any teachers completing or entering their first year.
Please see these links to apply:
The application deadline has been extended to July 17, and recipients will be notified as soon as possible after completing the application.
Scholarship recipients can choose any session, and may receive up to three scholarships to attend all three different strands (the People, Places, and Stories Strand, the Cultures, History, and Issues Strand, and the Advanced Institute on Assessment (which is only offered live once, on July 27-31)
Note: to pay by purchase order, or if you have additional questions, please contact help@ciliftoff.com