Description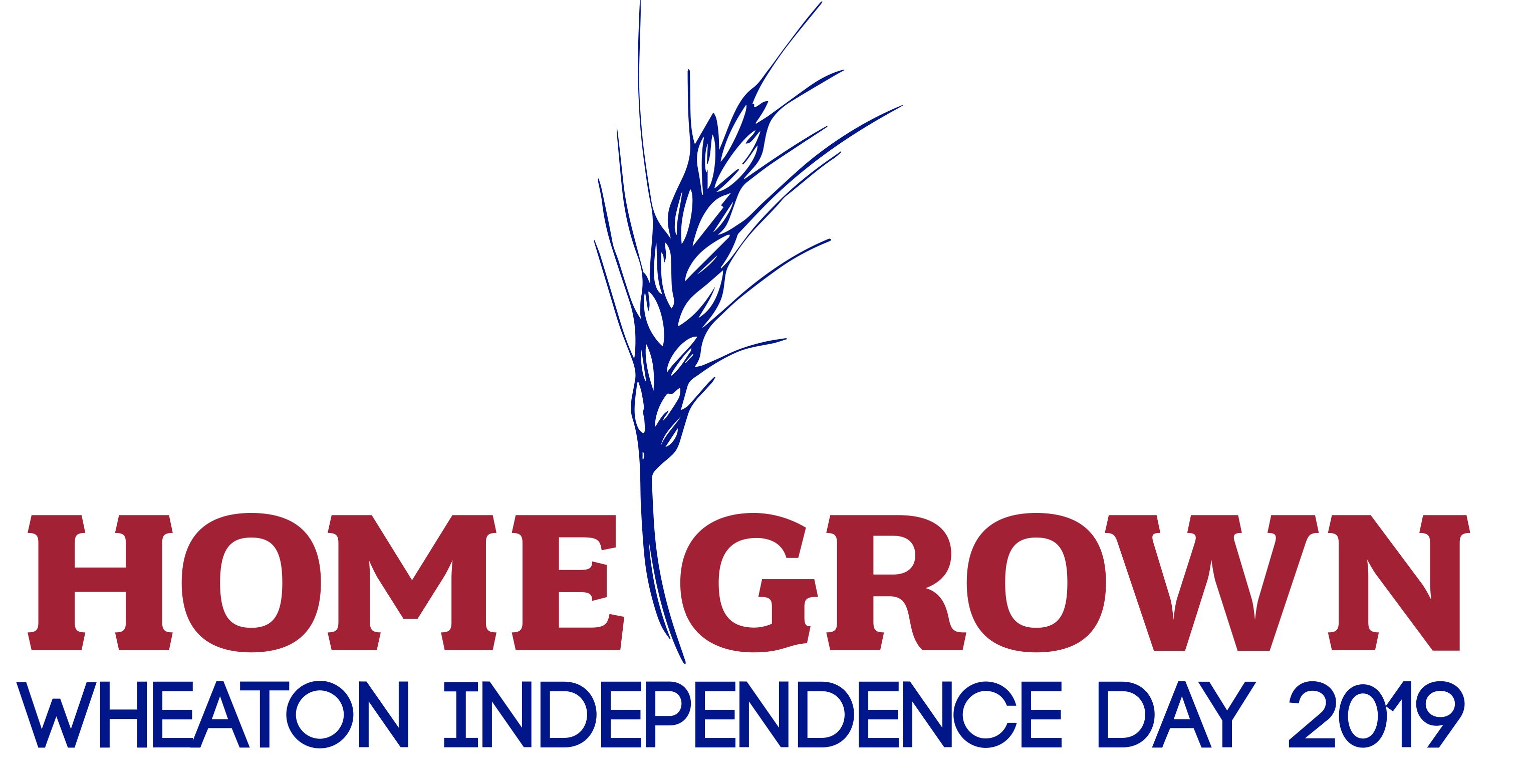 The Wheaton Independence Day Parade is a long standing tradition that draws thousands of people and more than 90 parade entries each year. This year's parade theme "Home Grown" pays tribute to hometown Wheaton and those who were born and raised here and those who continue to call Wheaton home even if they have moved afar. We encourage parade entrants to use your imagination as you design your parade entry (float, car, etc.). Parade step off will begin at 10A.
Your entry is contingent upon the receipt of this completed, authorized form, along with your payment. Paper registration is available upon request for an additional $10 fee.
ENTRIES WILL NOT BE ACCEPTED AFTER 11:59P ON JUNE 24, 2019.
Questions? Please contact Kristina Nemetz at knemetz@wheatonparks.org
The parade with happen rain or shine! Entries fees are non-refundable.
Community entries are considered nonprofit, neighborhood, athletic or church groups. Please register yourself according to which category your group fits into.
Rules for all entries:
All vehicles must be decorated appropriately for July 4th holiday

.

Candy must be handed out and not thrown into or at the crowd.

Participants distributing information must walk along and keep up with their specific entry.

Water guns or super soakers are not permitted.

Parade marshals will be present along the parade to ensure safety and to keep the parade moving. You are required to follow their instructions. Please be respectful of these volunteers and the police who will be assisting them.

The Wheaton Park District is not responsible for any of your entry's actions.

Your participation is contingent upon the receipt of your signed entry form and the appropriate payment.
Rules in addition to the above for business entries:
Business entries are allowed a maximum of 3 vehicles plus 1 float (if applicable).

In the spirit of the holiday, do something within your entry to celebrate the day remembering the theme of the parade. Don't just put a truck in the parade; it must be decorated.
Rules in addition to the above for political entries:
Political candidate entries are specifically limited to no more than

15 (fifteen) people per candidate/entrance fee

and 2 (two) vehicles. This number includes vehicle/float drivers, banner carriers, walkers, float riders and/or technical support.

Negative campaigning is not permitted.
Please inform all of your participants of these rules. These rules have been based on community feedback. It is strongly suggested that your entry follow the spirit of these rules and not try to work around them in order to be fair to all entries. If your entry pushes the limits of these rules, your constituents will assume that the rules have been broken.
Above all else, have a great time and enjoy the parade. The Wheaton Park District reserves the right for all group placement and lineup in the parade. Our intent is for participants and spectators alike to have fun and enjoy the event!


2019 Awards:
Go Green | Best use of recycled materials
Best Youth Group | Best entry from participants under 16 yrs. old
Best Nonprofit (includes churches) | Best entry from a nonprofit organization
Best Neighborhood | Best entry by a Wheaton neighborhood
Carlsons' Best of Show | Overall best entry/ float
Mayor's Spirit | Best representation of Wheaton
Best Musical | Best entry performing music
Bart Loiacono Most Creative | A creative idea brought to fruition
Best Use of Theme | Demonstrates best use of current parade theme
Most Patriotic | Symbolizes America and the Fourth of July
Best Political | A political entry that entertains or is patriotic
Honorariums are not eligible for awards.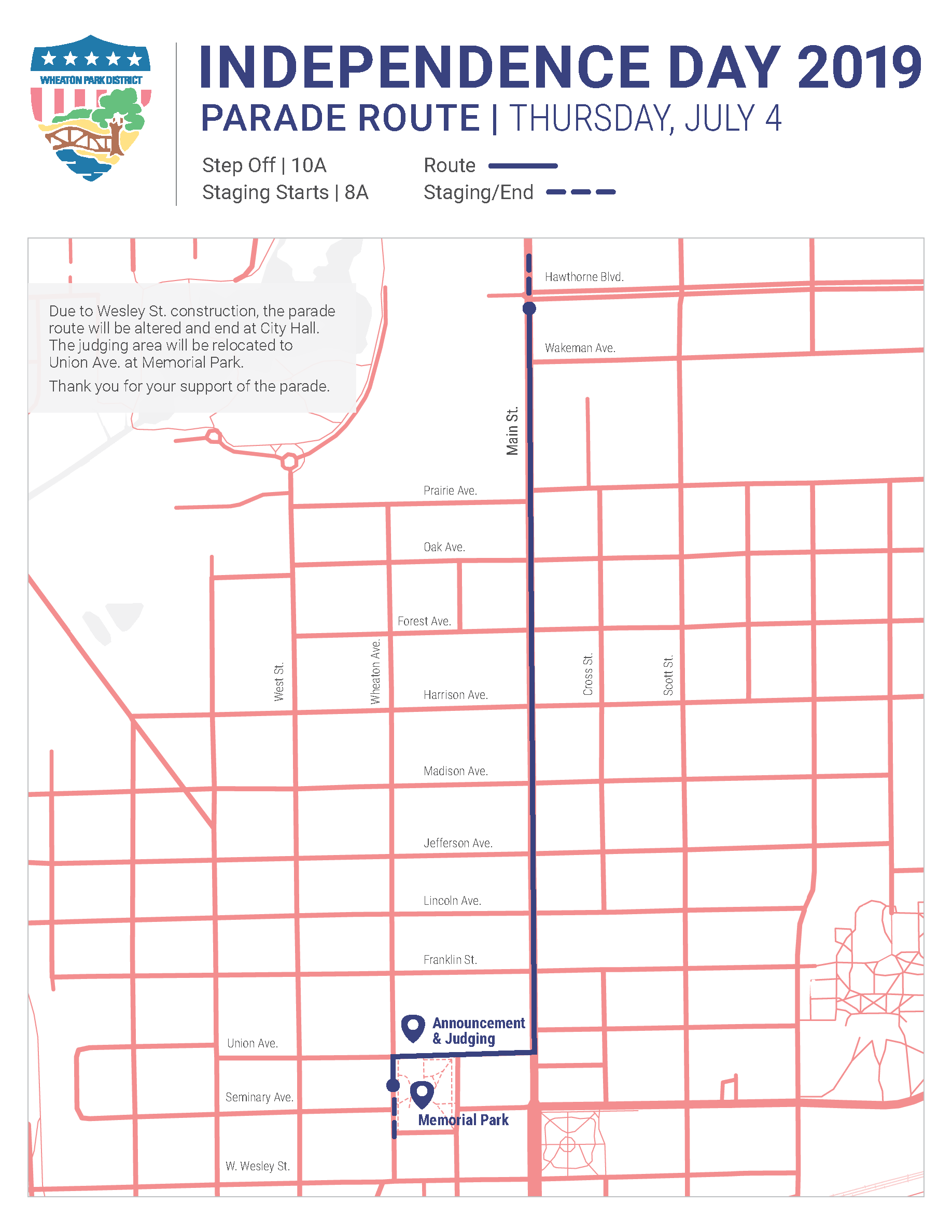 2019 Parade Route is subject to change. Please check the website and City of Wheaton press releases closer to the parade to confirm route.