Description
Join us as we have the time of our lives in Cozumel, Mexico for the 4th of July 2018!!!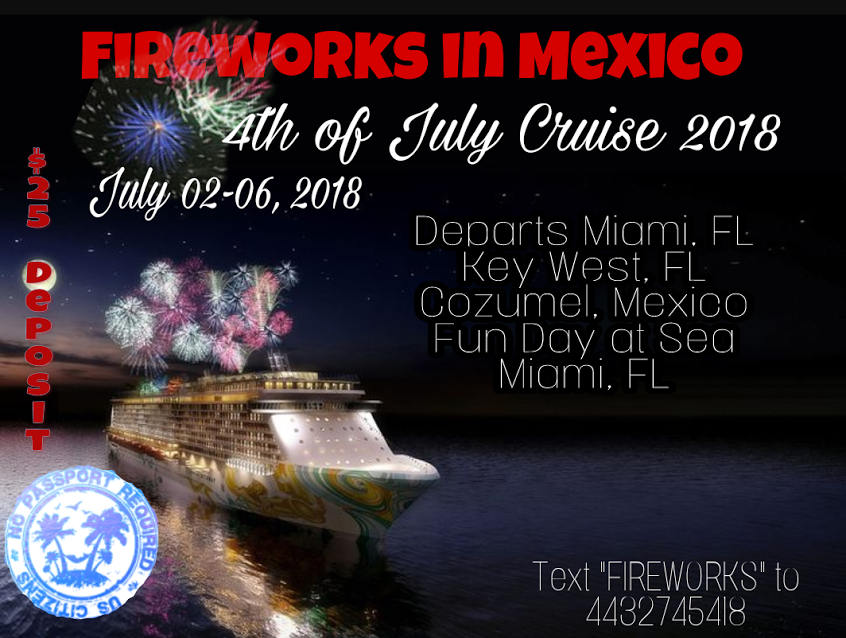 Reserve your Cabin for ONLY $25 TODAY!
NO PASSPORTS REQUIRED FOR U.S. CITIZENS!
Text "FIREWORKS" to 4438214582 to make your deposit and lock in your cabin
***PAYPAL IS NOT AN ACCEPTABLE FORM OF PAYMENT FOR THIS EVENT. PLESE CONTACT THE HOST DIRECTLY TO MAKE THE PAYMENTS***
---
Your Cruise Package Includes
4 Days aboard Carnival's Victory Ship visiting Key West, Florida & Cozumel, Mexico

Meet & Greet 1 hour Open Bar Party with unlimited Cocktails, Beer, Red & White Wines, Coffee and teas

Complimentary bottle of Bon Vogue Sparkling Cider & Chocolate Delights

Meals and non-alcoholic beverages on ship

24-hour room service

24-hour steward

Safety deposit box in your cabin

Private Bathroom

Cruise bag full of goodies compliments of Radiant Travelz, LLC

Onboard entertainment such as Skybox Sports Bar, Comedy Club, Stage Show, Alchemy Bar, Serenity Adult Only Retreat, Live Music, Karaoke, Dive-In Movies, Carnival Seaside Theater, Twister Waterslide, Fitness Center, Dance classes and so much more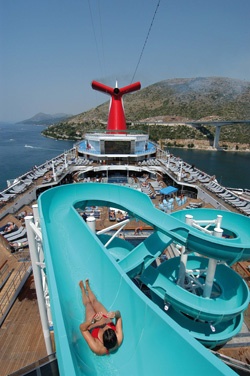 What's NOT included in your Cruise Package
Gratuities $12.95/per day per person (option to add to final payment or billed during trip)

Required Port charges & taxes

Travel Insurance of $79 pp (available per request)

Your transportation to & from Miami, FL (contact me if you need to book airfare)
Cruise Itinerary
Monday, July 2nd Miami, FL Departing time 4:00PM

Tuesday, July 3rd Key West, FL 7:30am-1:30pm

Wednesday, July 4th Cozumel, Mexico 12:00pm-10:00pm

Thursday, July 5th Fun Day at Sea

Friday, July 6th Miami, FL 8:00am
Cabin Rates Starting at*
Interior $439-$459 pp

Oceanview $494-$514 pp

Balcony $579-$609 pp
*Prices are based on double occupancy. Children rates are the same as published rates. Triple and quad rates are also available. Only 4 guests per cabin is allowed.
Total Cabin Rates with REQUIRED port taxes & fees
Interior $541.25-$561.25

Oceanview $591.25-$611.25

Balcony $681.25-$696.25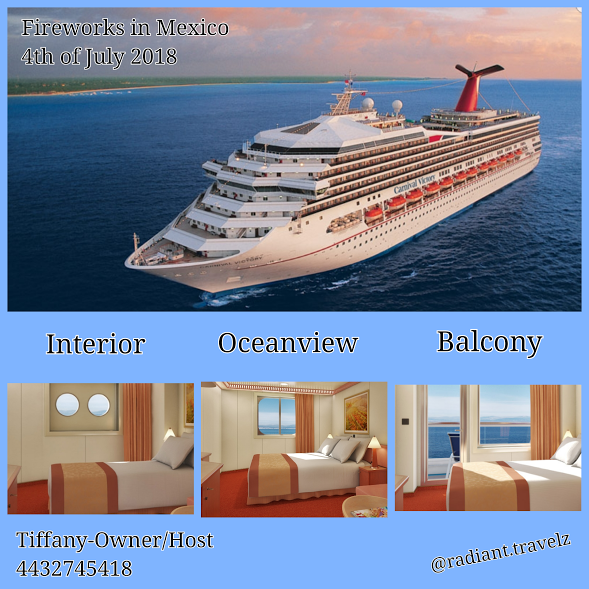 Payment Schedule
$25 pp deposit by September 21, 2017

$150 pp by January 5, 2018

Full payment pp by May 3, 201

Payment plans as low as $25 available
*Deposits are non-refundable.
Event details can be substituted or modified without notice.
---
Contact Information
Tiffany-Owner/Host
Radiant Travelz, LLC
(443) 821-4582
https://www.facebook.com/Radianttravelz/
Instagram: @radiant.travelz
---
FAQs
How can I get in contact with the Organizer for questions about the event?
You can email Radiant Travelz, LLC at bookluxury@radianttravelz.com or text Tiffany directly at (443) 821-4582
What if I do not live in Miami, Florida, can I still go on the cruise?
Of course! Closer to the event I will have hotel accommodations and pricing for airfare.
Are payment plans available?
Absolutely. $25 per person will reserve your cabin. After your cabin is reserved, we will decide on the monthly payment plans. The full amount of your cabin is due May 3, 2018
Do I need a Passport?
U.S. citizens embarking on a cruise that both originates and terminates at the same U.S. port are not required to have a passport, but will need proof of citizenship such as an original or certified copy of a birth certificate, a certificate of naturalization, a passport card, an enhanced driver's license as well as a government-issued photo ID. Children are also required to bring proof of citizenship, and if 16 and over, a photo ID is also required.