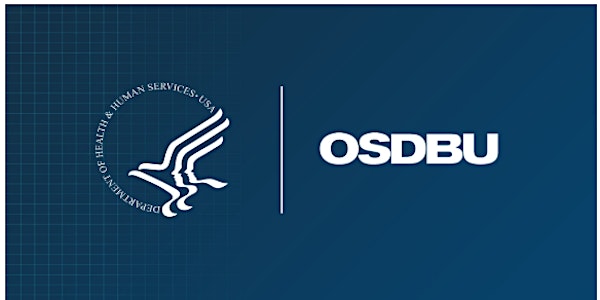 July 12, 2022 Vendor Engagement Session (VES)
About this event
Each company can only attend up to 3 VES events within the FY22 Fiscal Year
All Companies will be vetted according to the following criteria:
You must create a profile and upload a Capability Statement in SBCX https://osdbu.hhs.gov
Each company is allowed no more than 4 OpDiv & HUBZone appointments and 1 Prime appointment, including GSA for a total of 5 (COMPANIES REGISTERED FOR MORE THAN 5 APPOINTMENTS WILL BE CANCELLED!)
Registered vendors must meet at least one of the NAICS Code criteria provided for a Prime appointment. Other VES sessions are open to all.
After the vetting process, each confirmed registrant will receive a confirmation email from Eventbrite containing their appointment meeting link. Each registrant is required to use the meeting link to have their meeting.
All appointments are in the Eastern Standard Time Zone (EST.)
The featured Prime Companies for this event are:
General Services Administration(GSA): 611420, 541511,541512,541513,541519,517110,517911, 517919, 518210, 519130
Eric Fears, MSEE, MS-MGMT
The General Services Administration (GSA) is committed to providing innovative solutions to meet the needs of all Federal agencies through our contracting vehicles and by so doing, foster effective, sustainable and transparent government for the American people.
Information Technology Category
We offer a full suite of IT and telecommunications products, services, and solutions from highly qualified industry partners. Our pre-competed contracts enable:
• Faster acquisition
• Federal Acquisition Regulation (FAR) compliance
• Lower prices that help you save money
Aveshka: 541990, 511210, 541511, 541512, 541513, 541519
Kimberly Purlia, VP
Aveshka is a professional services and information technology firm that provides forward-leaning and practical solutions to federal, state, local, international, and commercial clients.
Research Triangle Institute(RTI):541720, 541380,541990,541611,541613,541618,54160, 611710
Noah Robins, Senior Small Business Partnering Specialist
RTI International (www.rti.org) is an independent, nonprofit research institute dedicated to improving the human condition. Our vision is to address the world's most critical problems with science-based solutions in pursuit of a better future. Clients rely on us to answer questions that demand an objective and multidisciplinary approach—one that integrates expertise across the social and laboratory sciences, engineering, and international development. Combining scientific rigor and technical proficiency, we deliver reliable data, thorough analysis, innovative methods, novel technologies, and sustainable programs that help clients inform public policy and ground practice in evidence. We scale our approach to fit the demands of each project, delivering the power of a global leader and the passion of a local partner.
Leidos Biomedical Research: 541715, 236220, 541330, 325998, 327215, 561210
Chemise Smith, Small Business Liaison Officer
Frederick National Laboratory is dedicated in improving human health through discovery and innovation in the biomedical sciences, focusing on cancer, AIDS, and emerging infectious diseases. As a national laboratory and a Federally Funded Research and Development Center, we support the National Cancer Institute, the National Institute of Allergy and Infectious Diseases and other institutes and centers in the National Institutes of Health. The Frederick National Laboratory provides leadership, scientific expertise, project management, and other technical administrative services.
Maximus Federal: 541511, 541512, 541513, 541519, 541611, 561422
Abeer Bhatia, Manager, GWAC Center and Partnership Office
Maximus Federal delivers a wide range of business operations and technology services to the government in support of large, complex programs across the spectrum of federal agencies. Always putting our client's mission first, we design and implement justifiable solutions for the government that deliver successful outcomes.
Citizens First. At every touch point throughout the Citizen Journey, Maximus Federal effectively delivers a world-class customer service experience for all citizens accessing government services. More than just answering questions, we are committed to resolving citizens' issues each time, every time.
Focused on Value. Whether an agency requires business operations or technology services, we achieve efficiency by applying a cost-effective service model that ties payment directly to outcomes, rewarding high performance while also increasing our accountability to the government and citizens.
Insights that Get Results. With our deep knowledge of each agency's unique requirements, existing operating environments, and specific constituents' needs, we rapidly stand-up major programs and deliver the best possible outcomes for citizens and the government.
Battelle: 541715, 541714, 621511, 923120
Every day, the people of Battelle apply science and technology to solving what matters most. At major technology centers and national laboratories around the world, Battelle conducts research and development, designs and manufactures products, and delivers critical services for government and commercial customers. Headquartered in Columbus, Ohio since its founding in 1929, Battelle serves the national security, health and life sciences, and energy and environmental industries.