Sales Have Ended
Registrations are closed
Time has run out. Please try again. Thank you.
Sales Have Ended
Registrations are closed
Time has run out. Please try again. Thank you.
Description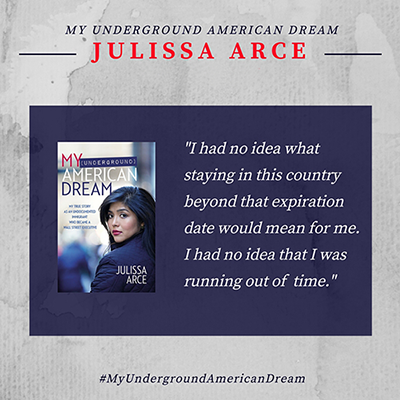 For an undocumented immigrant, what is the true cost of the American dream? Julissa Arce's memoir tells the story of how she learned she was an undocumented immigrant on the day of her quinceañera, before conquering the corporate ladder at Goldman Sachs.
Join Julissa at Queens Library for a discussion of her memoir, as well as her experience of being a woman on male-dominated Wall Street, the stigma of being undocumented, and navigating a multicultural identity in America. After the discussion, Julissa will take part in a Q&A session, followed by a book signing. Books can be purchased on the day of the program.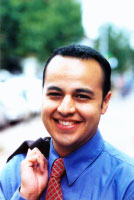 The event will be moderated by Assemblymember Francisco Moya of the 39th Assembly District, the first Ecuadorian-American elected to public office in the United States. Francisco was instrumental in the passage of the New York State DREAM Act, which will create a DREAM fund to advance the educational opportunities of immigrant students. Francisco is a lifelong resident of Corona, Queens.
This program is available in English (at 2pm) and Spanish (at 3:15pm). Free tickets are available for both sessions!
Para un inmigrante indocumentado, ¿cuál es el verdadero costo del sueño americano? En las memorias de Julissa Arce, ella nos cuenta la historia de cómo se enteró que era una inmigrante indocumentada en el día de su quinceañera, antes de conquistar la escalera corporativa en Goldman Sachs. Únase a Julissa en la biblioteca de Queens para una conversación de sus memorias, así como su experiencia en un mundo dominado por hombres en Wall Street, el estigma de ser indocumentada, y navegando por una identidad multicultural en América.
Después de la conversación, Julissa participará en una sesión de Q&A, seguido por una firma de libro. Los libros pueden adquirirse en el día del programa.
Este programa está disponible en inglés a las (2 pm) y en español a las (3:15 pm). ¡Entradas gratuitas están disponibles para ambas sesiones!
About Julissa's Memoir, My (Underground) American Dream
When she was 11 years old, Julissa Arce left Mexico and came to the United States on a tourist visa to be reunited with her parents, who dreamed the journey would secure her a better life. When her visa expired at the age of 15, she became an undocumented immigrant. Thus began her underground existence, a decades long game of cat and mouse, tremendous family sacrifice, and fear of exposure. After the Texas Dream Act made a college degree possible, Julissa's top grades and leadership positions landed her an internship at Goldman Sachs, which led to a full time position--one of the most coveted jobs on Wall Street. Soon she was a Vice President, a rare Hispanic woman in a sea of suits and ties, yet still guarding her "underground" secret. In telling her personal story of separation, grief, and ultimate redemption, Arce shifts the immigrant conversation, and changes the perception of what it means to be an undocumented immigrant.
About Julissa Arce
Julissa Arce is a writer, speaker, and social justice advocate. She is the Co-founder and Chairman of the Ascend Educational Fund, a college scholarship and mentorship program for immigrant students, regardless of their immigration status, ethnicity or national origin. Julissa is also a board member for the National Immigration Law Center and College Spring. She is the former Director of Public Affairs at Define American, a media organization that uses the power of story to change culture around immigration and citizenship. Prior to becoming an advocate, she built a successful career on Wall Street working at Goldman Sachs and Merrill Lynch and had seemingly achieved the American Dream, and yet she was not part of what defined America.