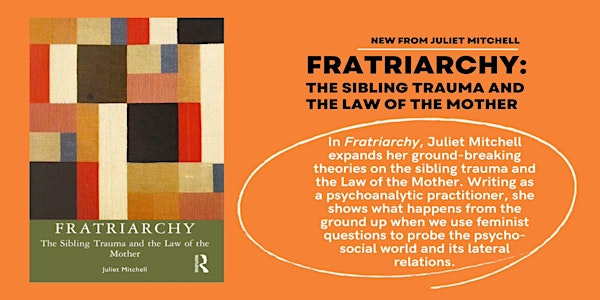 Juliet Mitchell's Fratriarchy / Psychoanalysis & Feminism - VIRTUAL
Launch of Juliet Mitchell's new Fratriarchy and celebration of 50 years of her Psychoanalysis and Feminism. At the Freud Museum and online.
Date and time
Friday, June 16 · 10am - 12pm PDT
Refund Policy
Contact the organizer to request a refund.
Eventbrite's fee is nonrefundable.
About this event
This is a hybrid event to be held at the Freud Museum, London. For in-person tickets please click here.
In Fratriarchy Juliet Mitchell expands her groundbreaking theories on the sibling trauma and the Law of the Mother. Writing as a psychoanalytic practitioner, she shows what happens from the ground up when we use feminist questions to probe the psycho-social world and its lateral relations.
In this pivotal text, Mitchell argues that the mother's prohibition of her toddler attacking a new or expected sibling is a rite of passage from infancy to childhood: this is a foundational force structuring our later lateral relationships and social practices. Throughout the volume, Mitchell chooses the term 'Fratriarchy' to show that, as well as the up-down axis of fathers and sons, there is also the side-to-side interaction of sisters and brothers and their social heirs. Making use both critically and affirmatively of Freud, Klein, Winnicott, Bion, Pontalis and others, Fratriarchy indicates how the collective social world matches the individual family world examined by established psychoanalysis. Decades on from Mitchell's work on psychoanalysis and feminism which argued that feminism needed psychoanalysis to understand the position of women, Fratriarchy now asks psychoanalysis to take on board the developing practices and theories of global feminism.
This volume will be essential reading for analysts, psychotherapists, psychologists and anyone who wants to re-think the ubiquity of unconscious processes. It will also interest students and teachers of social theory, psychoanalysis, group analysis, gender studies and feminism.
It is also 50 years since the publication of Professor Mitchell's hugely influential Psychoanalysis and Feminism, in which she shocked her fellow feminists by challenging the entrenched belief that Freud was the enemy and arguing instead that a rejection of psychoanalysis as bourgeois and patriarchal was fatal for feminism. However it may have been used, she pointed out, psychoanalysis is not a recommendation for a patriarchal society, but rather an analysis of one. "If we are interested in understanding and challenging the oppression of women," she says, "we cannot afford to neglect psychoanalysis." Our panel will reflect on the changing relationship between these two major influences on twentieth-century thought and the current status of their intersection.
Speakers:
Juliet Mitchell is a psychoanalyst trained at the British Society, a socialist feminist, author, and research professor who worked for many years at Cambridge and UCL.
Rosemary Davies is a Training and Supervising psychoanalyst at the British Pstychoanalytic Society.
Holly Porter is an anthropologist, associate professor, and deputy Director of the Centre for Gender Studies, at the University of Cambridge. Author of After Rape: Violence, Justice, and Social Harmony in Uganda (Cambridge, 2016).
Chair: Jean Arundale, British Psychoanalytic Association. Author of Omnipotence (Routledge, 2022).