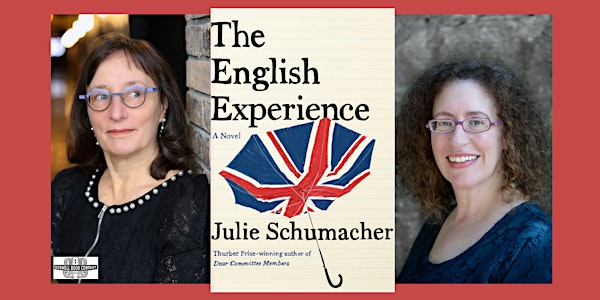 Julie Schumacher, author of THE ENGLISH EXPERIENCE - a Boswell event
Julie Schumacher, author of THE ENGLISH EXPERIENCE - an in-person Boswell event
Date and time
Starts on Wednesday, August 30 · 6:30pm CDT
Location
Boswell Book Company 2559 North Downer Avenue Milwaukee, WI 53211
About this event
Boswell Book Company presents an evening with Julie Schumacher, author of The English Experience. In conversation with Lauren Fox.
Jason Fitger may be the last faculty member the dean wants for the job, but he's the only professor available to chaperone Payne University's annual "Experience: Abroad" (he has long been on the record objecting to the absurd and gratuitous colon between the words) occurring during the three weeks of winter term. Among his charges are a claustrophobe with a juvenile detention record, a student who erroneously believes he is headed for the Caribbean, a pair of unreconciled lovers, a set of undifferentiated twins, and one young woman who has never been away from her cat before.
Through a sea of troubles—personal, institutional, and international—the gimlet-eyed, acid-tongued Fitger strives to navigate safe passage for all concerned, revealing much about the essential need for human connection and the sometimes surprising places in which it is found.
From Ann Patchett: "The English Experience can be read as a very clever farce about shepherding clueless American students through their study abroad program, or as an careful dissection of the education system itself, depending on whether or not the reader has ever taught at a small liberal arts college. Either way, Julie Schumacher packs us in the suitcase and takes us along for the hilarious, harrowing ride."
Julie Schumacher graduated from Oberlin College and Cornell University, where she earned her MFA. Her first novel, The Body Is Water, was published by Soho Press in 1995 and was an ALA Notable Book of the Year and a finalist for the PEN/Hemingway Award. Her 2014 novel, Dear Committee Members, won the Thurber Prize for American Humor; she is the first woman to have been so honored. She is a faculty member in the Creative Writing Program and the Department of English at the University of Minnesota.
Click here to order your copy of The English Experience from Boswell. Signed copies and personalization available on pre-orders. Please note that signed copies will not be shipped until after the event.