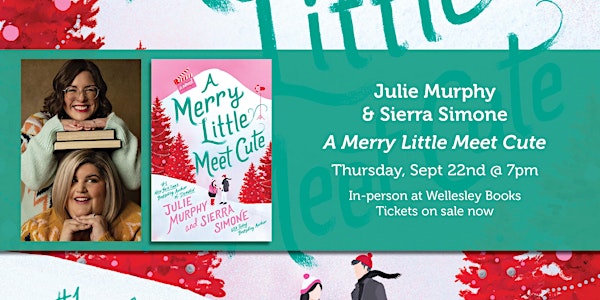 Julie Murphy & Sierra Simone present "Merry Little Meet Cute"
It's "Pumpkin Spice: Naughty & Nice" at Wellesley Books for this special book launch party!
When and where
Location
Wellesley Books 82 Central Street Wellesley, MA 02482
About this event
What do you do when a Christmas book comes out at the beginning of fall? You celebrate with pumpkin spice treats and festive cheer, that's what! Wellesley Books is thrilled to welcome authors Julie Murphy (Dumplin') and Sierra Simone (Priest) to celebrate the release of their hilarious, charming, and slightly NSFW new novel, A Merry Little Meet Cute. It's sure to be a fun night, so bring your friends, enjoy some refreshments, and settle in for a spicy good time!
Your admission ticket includes a copy of A Merry Little Meet Cute, which can be signed by the authors at the event. If you would prefer to order your ticket by phone, you may call Wellesley Books at 781-431-1160.
Please note that we cannot issue refunds within 48 hours of the event.
COVID Protocols
• Attendees must wear masks at all times during the event.
• Attendees must present proof of COVID-19 vaccination along with a picture I.D.
ABOUT THE BOOK
"The holiday romcom of my dreams! Sexy, progressive, hilarious, and full of good cheer." –Helen Hoang, author
"Murphy and Simone's holiday romance is laugh-out-loud funny and so deliciously hot that readers will be glad it's made for chilly weather. A sexy holiday romp that's the perfect combination of naughty and nice." –Kirkus Reviews
Co-written by #1 New York Times bestselling author Julie Murphy and USA Today bestselling author Sierra Simone, a steamy plus-sized holiday rom-com about an adult film star who is semi-accidentally cast as the star of a family-friendly Christmas movie, and the bad boy former boy band member she falls in love with.
Bee Hobbes (aka Bianca Von Honey) has a successful career as a plus-size adult film star. With a huge following and two supportive moms, Bee couldn't ask for more. But when Bee's favorite producer asks her to star in a Christmas movie he's making for the squeaky-clean Hope Channel, Bee's career is about to take a more family-friendly direction.
Forced to keep her work as Bianca under wraps, Bee quickly learns this is a task a lot easier said than done. Though it all becomes worth it when she discovers her co-star is none other than childhood crush Nolan Shaw, an ex-boy band member in desperate need of career rehab. Nolan's promised his bulldog manager to keep it zipped up on set, and he will if it means providing a more stable living situation for his sister and mom.
But things heat up quickly in Christmas Notch, Vermont, when Nolan recognizes his new co-star from her ClosedDoors account (oh yeah, he's a member). Now Bee and Nolan are sneaking off for quickies on set, keeping their new relationship a secret from the Hope Channel's execs. Things only get trickier when the reporter who torpedoed Nolan's singing career comes snooping around—and takes an instant interest in mysterious newcomer Bee.
Can Bee and Nolan keep their off-camera romance behind the scenes, or will they lose it all?
ABOUT THE AUTHOR
Julie Murphy is a librarian turned #1 New York Times bestselling author of novels for all ages including Dumplin' (now a Netflix original film), Dear Sweet Pea, and If the Shoe Fits. Julie lives in North Texas with her spouse, who loves her; her dog, who adores her; and her cats, who tolerate her.
Sierra Simone is a USA Today and Wall Street Journal bestselling former librarian. Her notable works include Priest, American Queen, and Misadventures of a Curvy Girl, and her books have been featured in Marie Claire, Cosmopolitan, Entertainment Weekly, and Buzzfeed. She lives with her spouse and family in Kansas City.